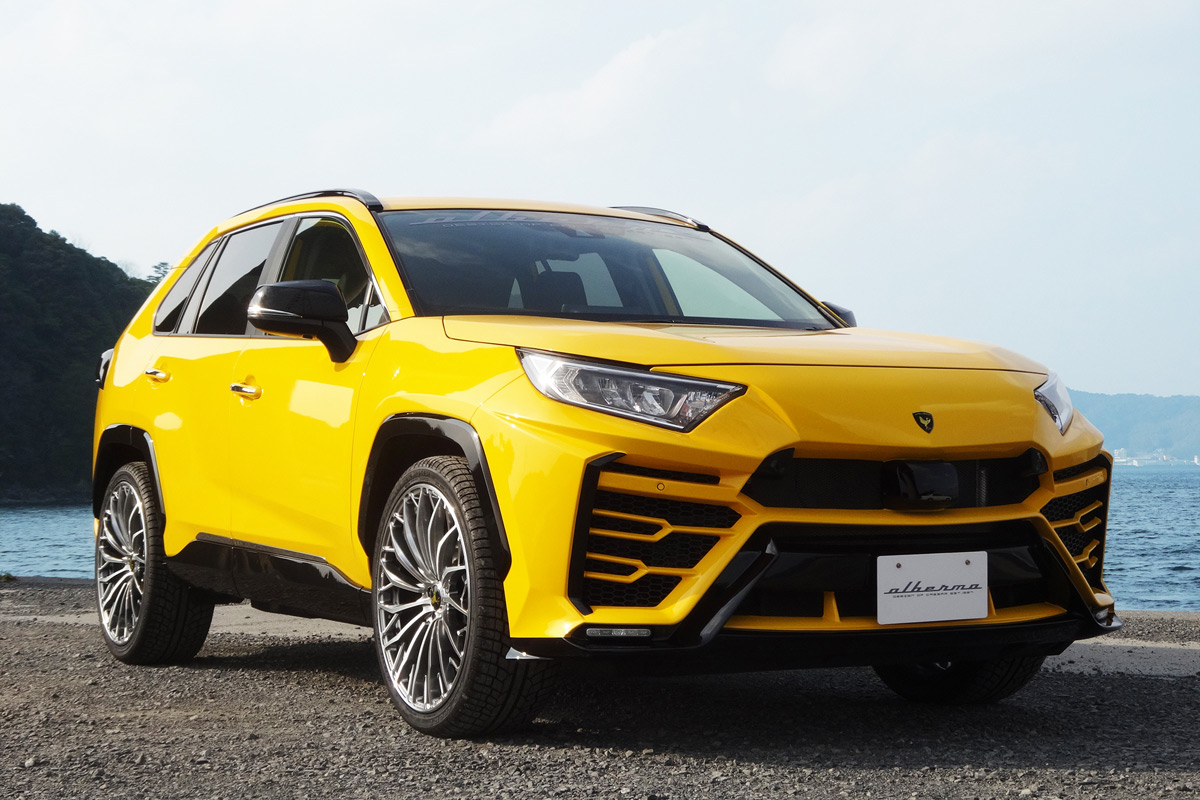 While the current-generation Toyota RAV4 is a marked improvement over the outgoing model in terms of styling and such, at the end of the day, it's still "just a RAV4" and it's not going to turn any heads at your local Cars and Coffee.. that is, unless your is rocking this insane XR51 body kit from Japanese tuner Albermo, which makes your RAV look like a $250,000 Lamborghini Urus!
And if that's not enough, they've also got a body kit to make your Prius look like a Ferrari.. or Fauxrarri, if you will. Neither one sports the power of the Italian supercars that they proport to be, but they give these otherwise vanilla cars a big dose of testosterone, while retaining that reliability that Toyota is known for.
The Lamborghini body kit consists of a bumper, headlights, honeycomb insert, rear half spoiler, and side pieces, and it'll set you back around ¥240,000 for the whole kit, which comes to about $2,260 at current exchange rates. While that price isn't too bad, shipping, painting, and installation will be the real costs here.
As for the Ferrari SP42 body kit, it includes a front bumper, mounts for the Toyota Sense sensor, a rear half spoiler, rear reflector and more. The complete kit costs ¥186,000, or around $1,746 at current exchange rages. Personally, this one is really speaking to me!
Both body kits look just different enough to keep them out of Lamborghini's and Ferrari's lawyers, it would seem. But who knows for how long? That said, if you want to give your boring Toyota a little Italian flair, head over to Albermo's website and order yourself a kit. Hopefully your Japanese (or Google Translate) is up to the task.
Not gonna lie, this is the first time that I wish I owned a Prius.. You've gotta love Japanese tuners and their out-there ideas! Want to see even more photos of these crazy creations? Then head over to their Instagram page. You can also see a RAV4 rocking the Albermo XR51 Body Kit in the YouTube video below:
What do you think of Albermo's knock-off body kits for the RAV4 and Prius?