Rally car / stunt driver Ken Block has become a household name thanks to his wild Gymkhana videos, with the crazy Hoonigan continuing to push the limits of what a car can do in the most spectacular of ways and setting the current bar for automotive action movies. It's no wonder his videos have generated over a billion total views.
While his past Gymkhana rides have all been high-horsepower, gas-guzzling monsters, for his next act he's driving an entirely bespoke all-electric ride developed and built by Audi, the one-of-one prototype Audi S1 Hoonitron. That's right people, Ken Block is electrifying Gymkhana in the first ever Electrikhana!
Not only that, but to provide the perfect setting for the Audi S1 Hoonitron's tire-slaying debut, Hoonigan Media Machine shut down one of the busiest cities in the world: LAS VEGAS.
"Over the past decade, we have continually pushed to do something new and different with my Gymkhana series," says Ken Block. "When Audi approached us with the idea of doing a film in a special electric vehicle, that they would construct solely for the film, we jumped at the challenge. While I may love the sound of a turbo engine, or the grunt of a V8, we have done that all before. The instant torque and shiftless nature of an electric motor allowed for us to push certain tricks to a whole new realm. From extremely exaggerated backward entries or flawless high speed 360s and four-wheel smoking launches, this Hoonitron is an all-new experience in our Gymkhana world. The final, tire-killing, center axis donuts reached wheel speed of over 140kph, and created G forces I have never experienced before in any racecar."
The Hoonitron concept work began in March 2021 at Audi Sport in Neckarsulm, Germany. A team of Audi's best engineers and designers thrashed to turn a concept into reality in just nine months. Modernizing design cues from the legendary Audi quattro S1 E2 Pikes Peak rally car and adding e-tron performance developed for Formula E racing, Audi created the first ever factory-built Gymkhana machine. The all-wheel-drive, bi-motor coupe is a torque monster generating over 4,400 pound-feet of torque at the wheels. A number that resulted in killing three times the number of Toyo Tires than typical during filming. Again, this beast does things others just can't.
Oliver Hoffmann, Member of the Board for Technical Development at AUDI AG says: "With the S1 Hoonitron we broke entirely new ground at Audi. Developing a fully electric prototype for the unique requirements of our partner Ken Block was a big and exciting challenge to which the whole team rose with flying colors. It is great to see how 'Vorsprung durch Technik' is presented in an all-new environment. After seeing Electrikhana, all I can say is 'Well done everyone and thank you very much for having us involved in this truly exceptional project.'"
The neon glow, casino bulb flicker and radiating vibrance of Sin City after hours set an iconic scene for the first installment of Electrikhana. And the unprecedented access to multiple casinos (of which he drifts through), the Las Vegas Strip and Fremont Experience make this one of the most technically ambitious films for the Hoonigan crew.
"Vegas is such a unique place, it's literally pulsing with energy at night, and that's what we wanted to capture by going there, "says Electrikhana Director Brian Scotto. "It's still shocking to me the level of access we pulled off. We locked down The Strip for HOURS. I haven't had that 'Can't believe they are gonna let us do this' feeling since Gymkhana FIVE in San Francisco."
Here are some photos to whet your appetite: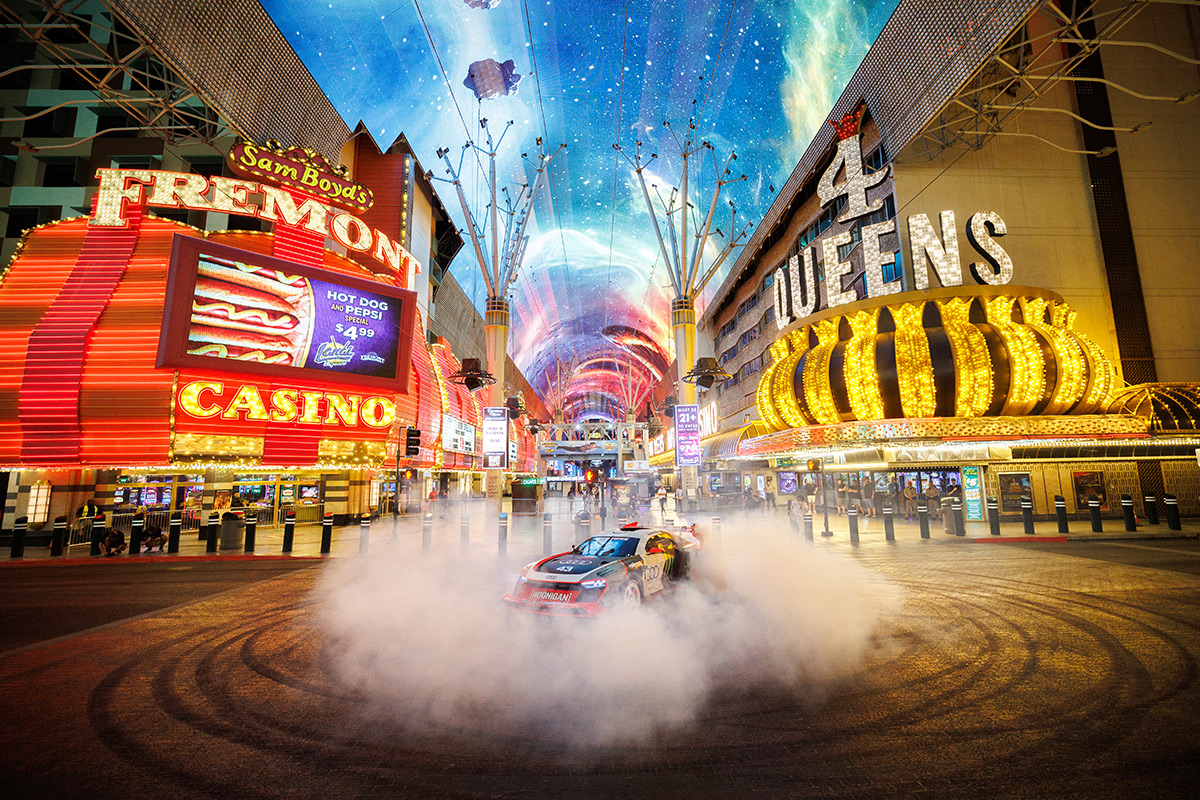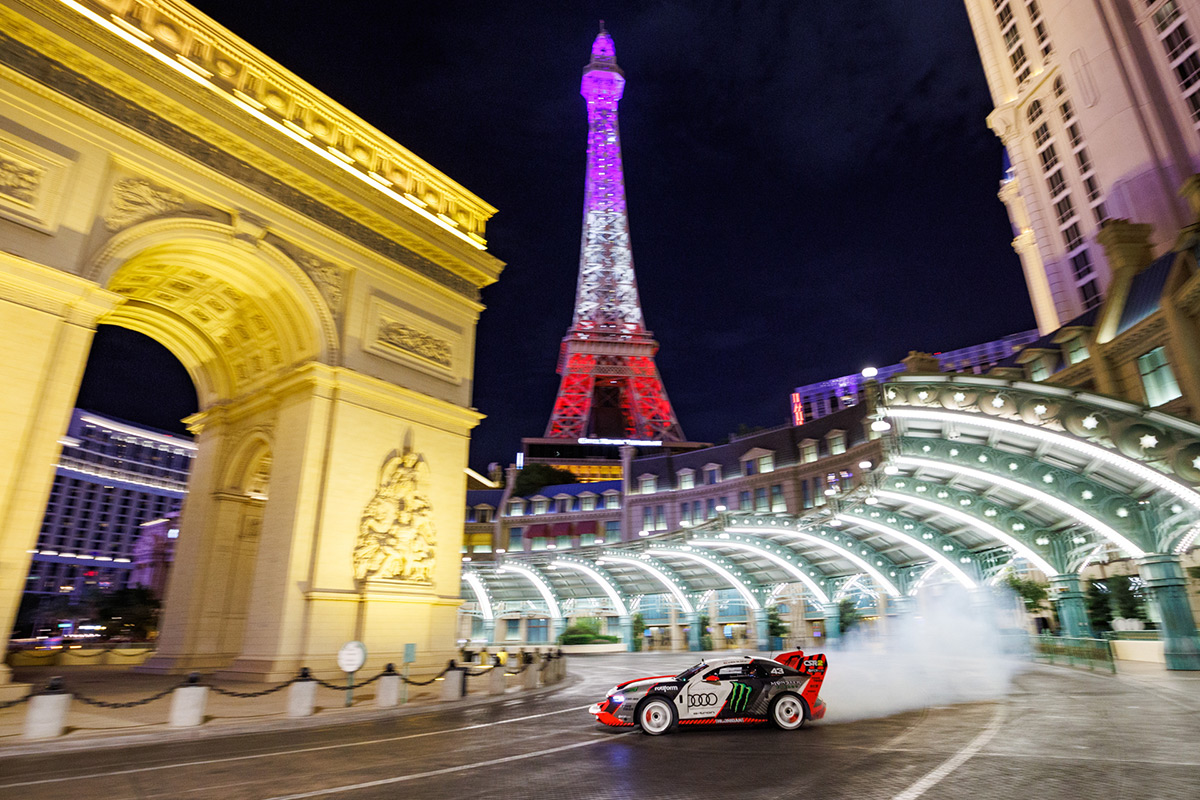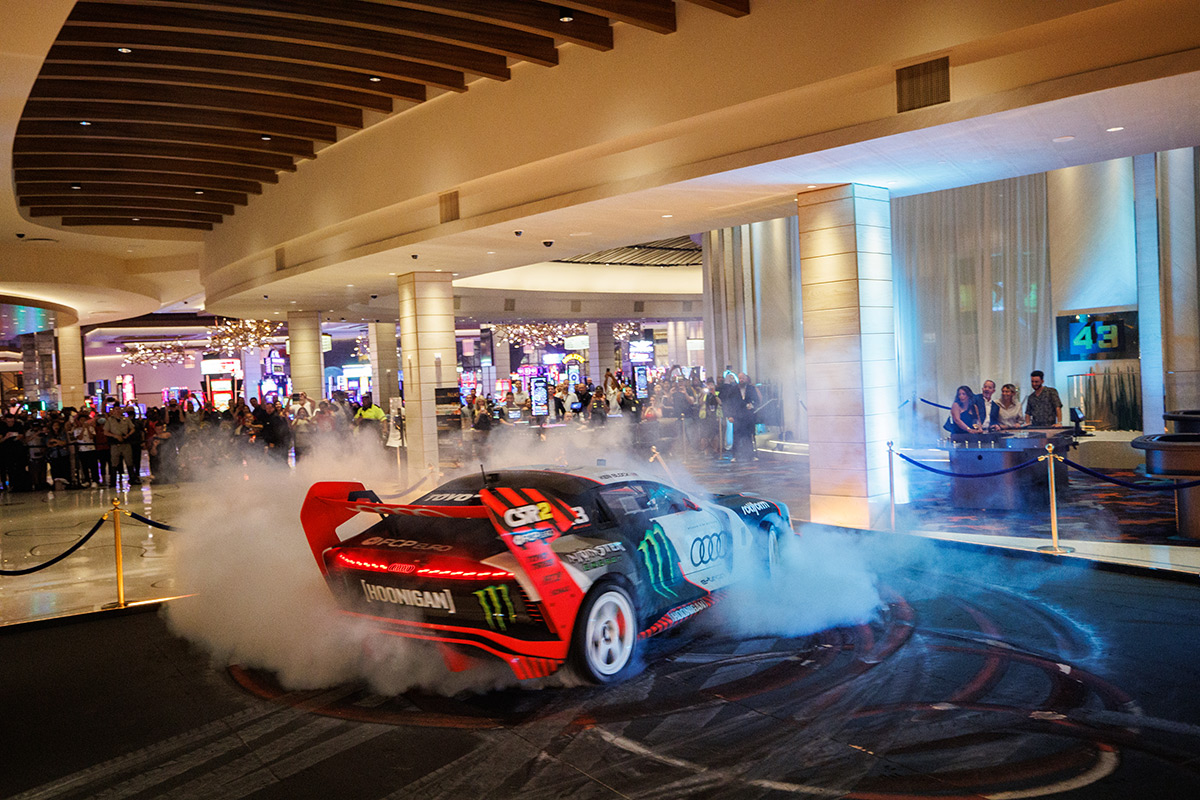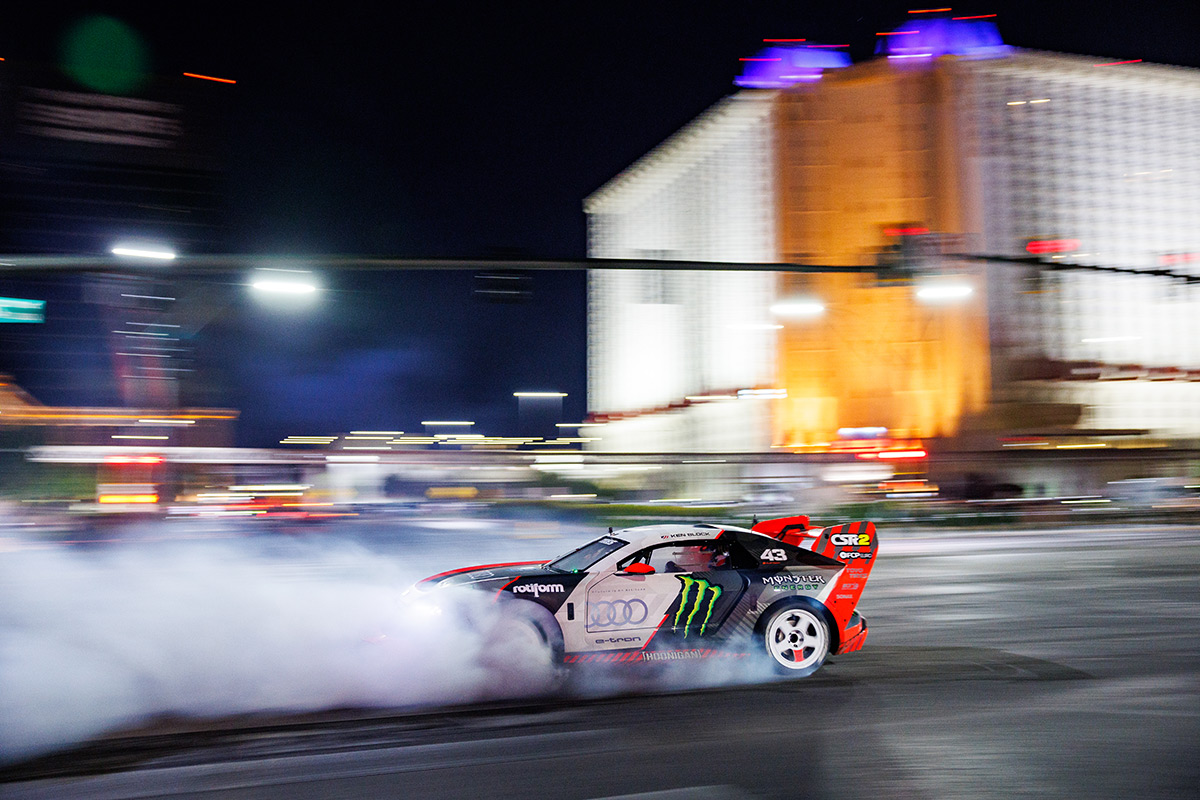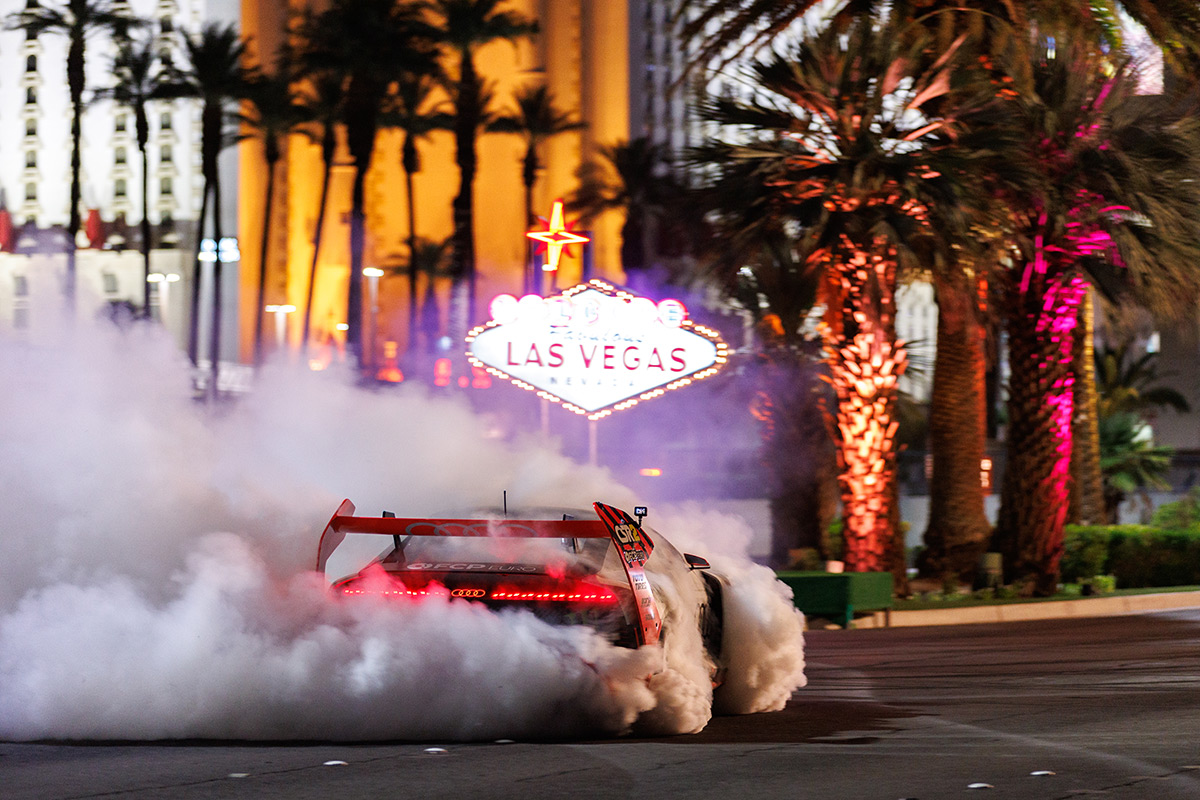 Electrikhana is pretty freaking awesome, so stop what you're doing and watch it right now.