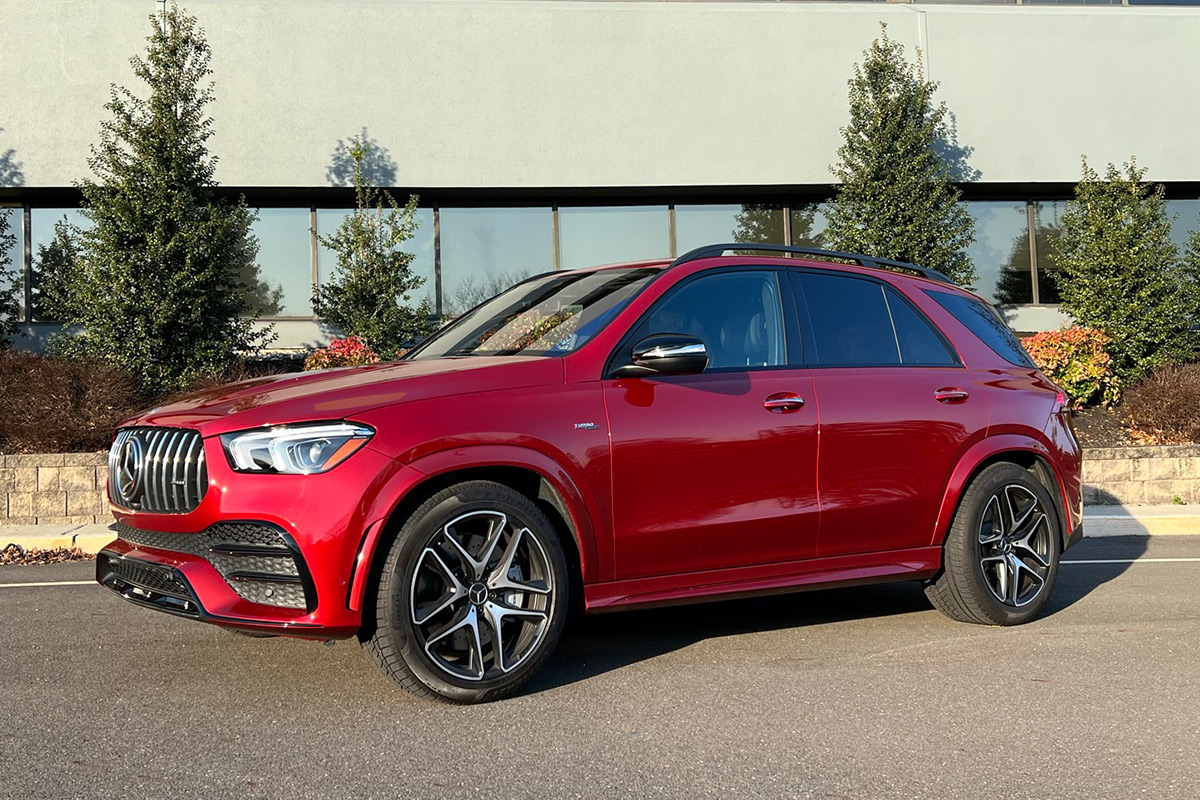 Last year, we reviewed the 2021 Mercedes-AMG E63 S Wagon, calling it a supercar in sheep's clothing. But many readers couldn't get past that station wagon look, wanting something fun but "more traditional". Lucky for them, Mercedes-AMG has a plethora of super-fast SUVs that fit that bill that cover the gamut, with one that's sure to fit your individual needs.
First off, it's important to understand Mercedes' lineup of SUVs and how they all size up. The GLA is at the smallest end of the scale, while the GLS is absolutely massive. In between, you've got the GLB, GLC, and GLE, along with the rugged G-Wagon. Awhile back we drove the 2020 Mercedes-AMG GLC 43, and while that was a hoot to drive, it's best suited for smaller families.
The Mercedes GLE Class is the next step up in size, and it's really the sweet spot in their SUV lineup, right sized for most people as it's not too big and not too small. This is the car that we recently spent a week with, and ours was the especially spicy 2022 Mercedes-AMG GLE 53 model, with that AMG badge letting you that this isn't just some ordinary SUV.
The 2022 Mercedes-AMG GLE 53 is the milder of the two GLE AMG variants offered, putting out 429 horsepower and 384 lb-ft of torque, and good for a 0-60 time of 5.2 seconds. For an SUV that can haul up to 7 people, that's pretty darn respectable. But for those who want even more power, the GLE 63 puts out a jaw-dropping 603 hp and 627 lb-ft of torque, rocketing you and your passengers from 0-60 time of 3.7 seconds!
Under the hood is a 3.0-liter six-cylinder in-line engine with dual forced induction – a turbo on the exhaust system, plus an innovative 48-volt electric supercharger, along with an EQ Boost starter that provides additional power under acceleration. It sounds wildly complicated (and it is), but this mild electrification solution provides plenty of power, a dynamic response without turbo lag, and good fuel efficiency (18 city / 22 highway).
With 4MATIC+ all-wheel drive standard, the GLE 53 has no problem putting the power down to the road, and it ensures four-season capability. An AMG SPEEDSHIFT TCT 9-speed automatic transmission delivers smooth shifts for normal driving, but if the driver wants more rapid shifts to take advantage of some fun roads ahead, you can quickly switch between drive modes with the simple twist of a dial.
Click here to read the rest of my review of the 2022 Mercedes-AMG GLE 53.