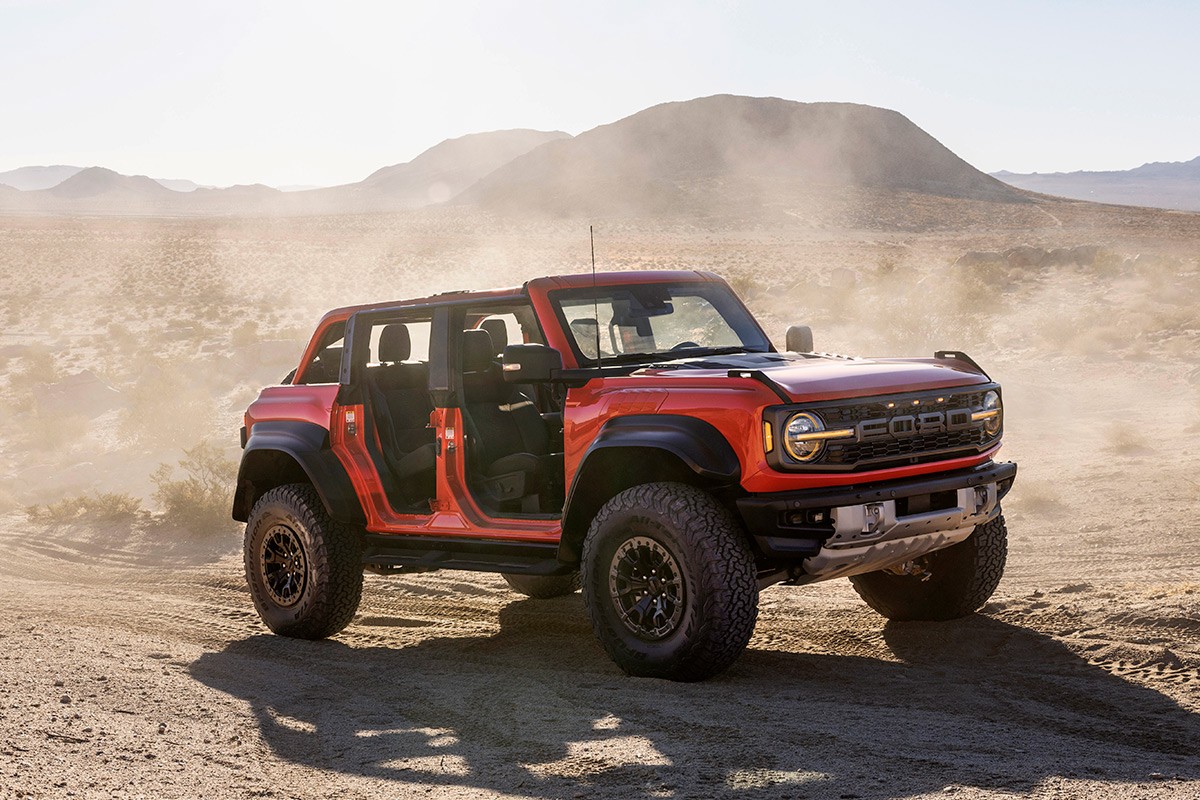 Feast your eyes on the all-new 2022 Ford Bronco Raptor, a 400HP+ high-performance variant of the popular Bronco that dials up the excitement to 11 by giving it the full Raptor treatment. Rumors about a Bronco Raptor (Braptor?) have been circulating for awhile now, so it's exciting to see this wild beast come to fruition finally.
Designed and engineered by Ford Performance to be the world' first Ultra4 Racing-inspired SUV, the Bronco Raptor promises to be even faster and bring more off-road capability, agility and maneuverability than the current Bronco, which isn't exactly a slouch to begin with.
"We had to build the Bronco Raptor. It's our ultimate vehicle for hardcore off-road enthusiasts who demand something more," said Carl Widmann, Ford Performance chief engineer. "Like the Ultra4 desert race trucks, the 'Raptor of SUVs' conquers desert dunes at highway speeds and is equipped with competition-level off-road technology and hardware."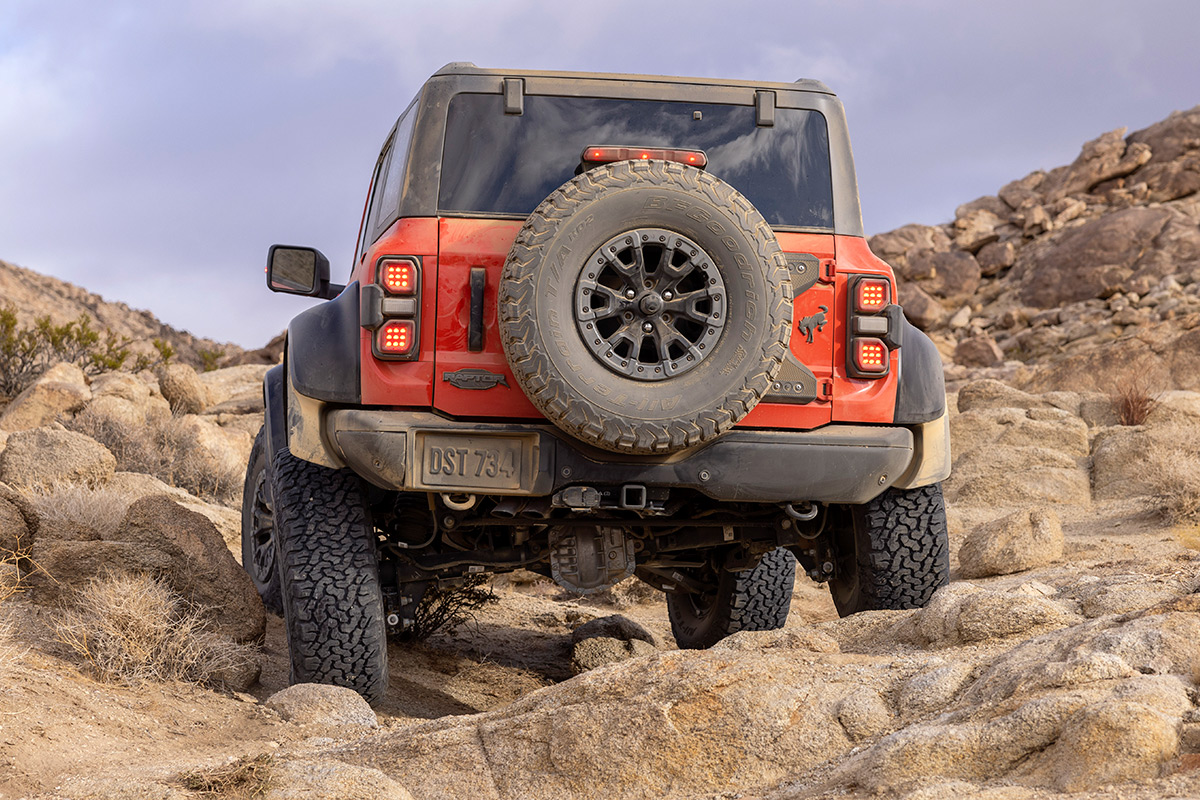 How did they accomplish this? Check out the extensive list of upgrades that the Bronco Raptor receives to make it capable of highway-speed desert-dune conquering and Baja rock-crawling:
– 3.0L Twin-Turbo EcoBoost V6 delivering "more than 400 horsepower"
– 10-Speed SelectShift automatic transmission
– Fully boxed high-strength steel frame
– Standard 37″ BFG K02 all-terrain tires
– 9.8″ wider and 3″ taller than the standard Bronco
– Solid rear axle upgraded to DANA 50
– DANA 44 up front with upgraded half-shafts
– Upgraded Ford Performance axles, half-shafts, and tie rods
– Raptor High Performance Off-Road Stability System (HOSS) 4.0 with semi-active dampers
– True dual-exhaust system with four selectable exhaust modes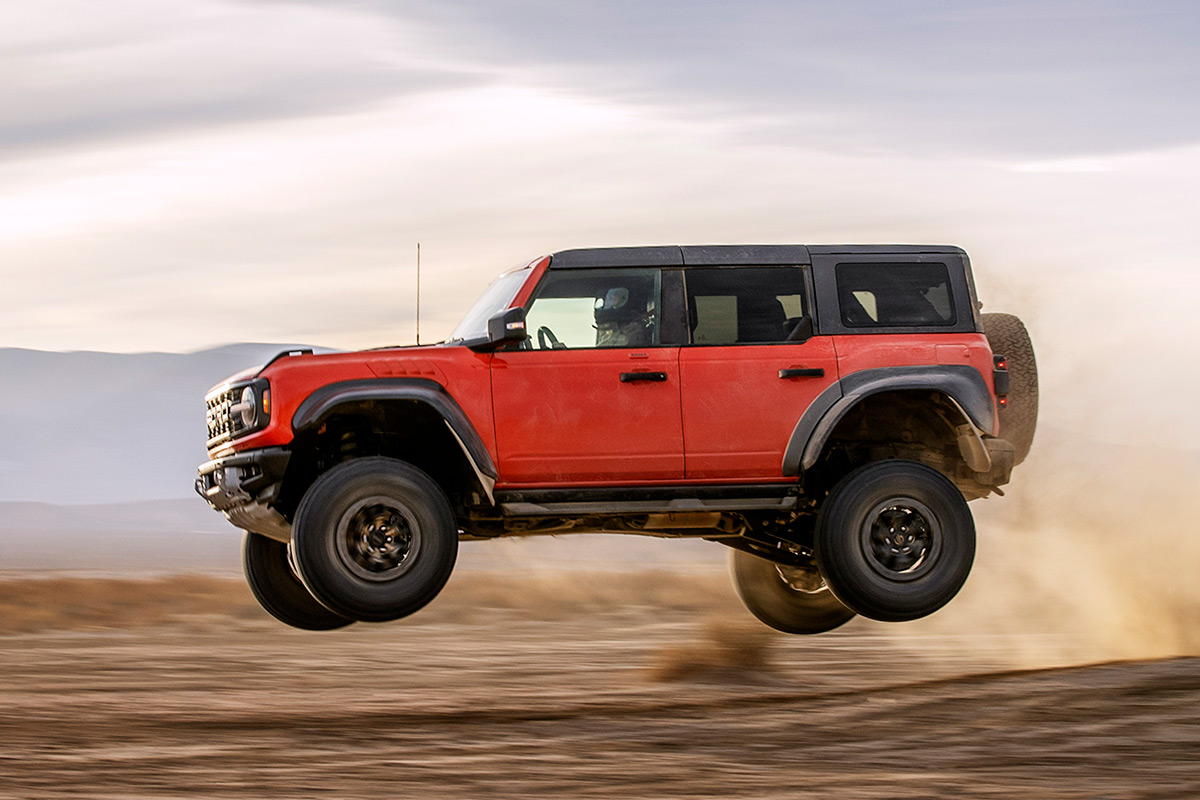 Parked next to a regular Bronco, you can really see the differences between the two vehicles. The Bronco Raptor design is pretty extreme. It's muscular, while maintaining an underlying simplicity with performance-focused details added for outstanding high-speed capability.
For those wanting even more of the technical nitty-gritty about the Bronco Raptor, Ford's press release breaks it all down for you. But really, the details above really tell you the story. Sadly, the Bronco Raptor will only be offered as a 4-door, likely because of stability concerns. But a 2-door, shorter wheelbase version would have been super cool.
As far as pricing goes, the 2022 Ford Bronco Raptor starts at $69,995, which is about $5,000 cheaper than the Jeep Wrangler Rubicon 392. Of course, the Jeep is packing a 470HP V8, and we still don't know what the Braptor's final numbers will be. But it's competitively priced for sure, which just further ignites the rivalry between the two off-road brands.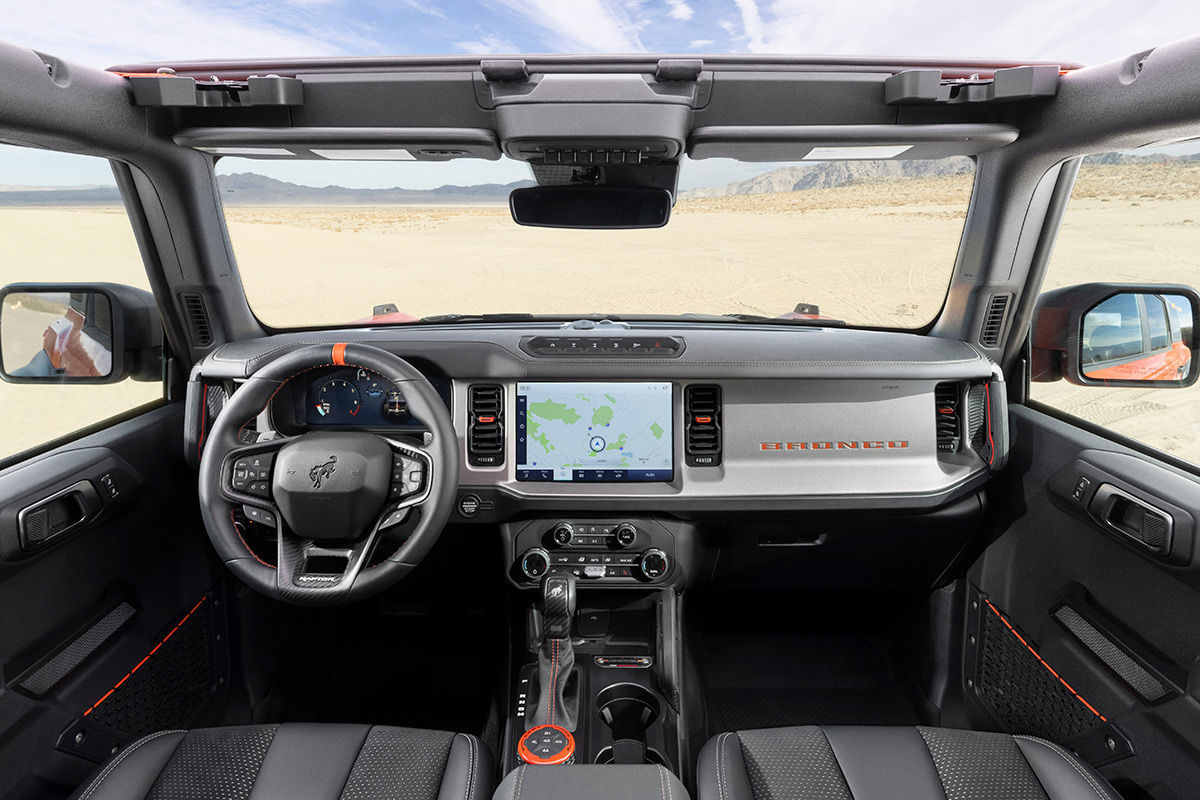 Customers can begin placing orders in March, and Ford claims that vehicles will begin to arrive this summer, with Bronco Raptor allocation will go to existing reservation holders based upon their original reservation timestamp. Of course, seeing as what a disaster the current Bronco's delivery situation has been (with some Day 1 reservation holders still waiting for their trucks), it's anyone's guess when you will get it, and what kind of dealer markups they'll hit you with.
Given what a blast the F-150 Raptor is to drive, I can only imagine how much fun this Bronco Raptor should be, both on- and off-road. Kudos to Ford for continuing to push the envelope, and we can't wait to put this bad boy to the test, hopefully sooner than later!
What do you think of the 2022 Ford Bronco Raptor?