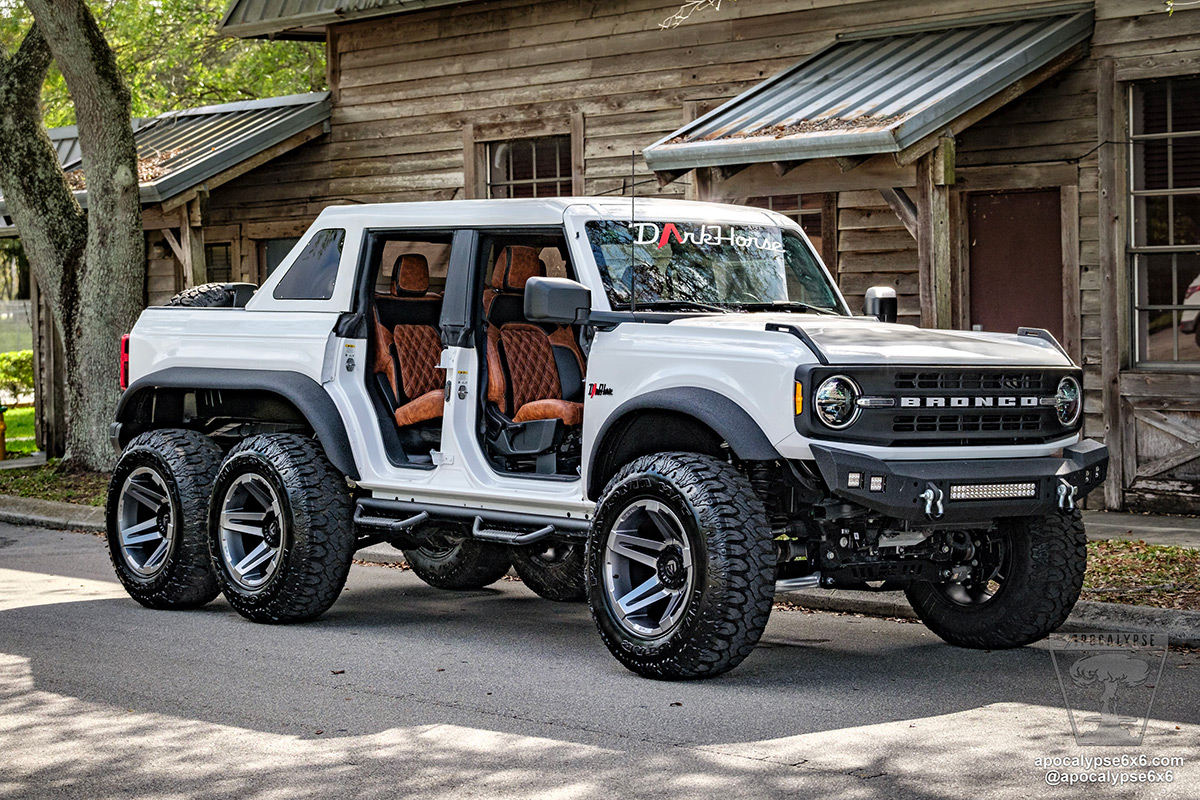 Apocalypse Manufacturing, the company known for constructing innovative six-wheel-drive trucks to combat all on/off-road scenarios, have debuted their Dark Horse, the world's first and only Ford Bronco 6×6. As you can see from these photos, these guys have given the most coveted truck on the planet a truly apocalyptic upgrade, and it's definitely going to turn heads wherever you go!
This masterfully created 400 horsepower, six-wheel-drive super truck you see here is build #1 and it's set to cross the auction block at Barrett-Jackson Palm Beach on Saturday, April 9th with no reserve price. Those interested in obtaining the Holy Grail of conversions can either wait for next month's auction or contact Apocalypse Manufacturing to secure a spot for their own Dark Horse build now.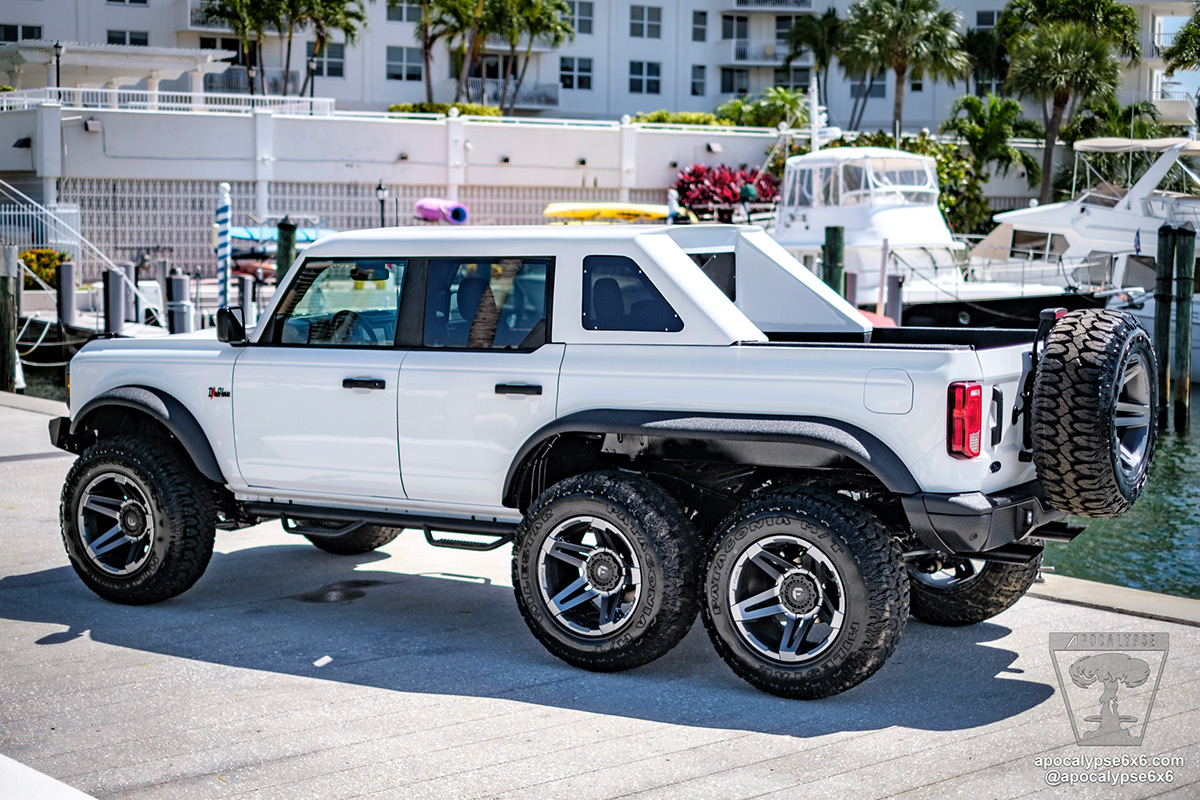 "This is such a nostalgic bring back from Ford, that as soon as we were able to get our hands on one, we knew exactly what we had to do and created the world's first Bronco six-wheel drive truck," said Joseph Ghattas, owner, engineer and head designer of Apocalypse Manufacturing.
"Our competitors hide behind renderings, and use these drawings to take deposits on vehicles that haven't even been created yet, much less driven. Apocalypse doesn't do that and will never engage in an automotive sleight of hand. The Dark Horse is proof that we put our money where our mouth is, delivering another stunning off-road, luxury, everyday-driving vehicle."
Apocalypse's Dark Horse starts off life as a stock four-door, four-wheel 4×4 Ford Bronco with a factory turbocharged V-6 engine. To enhance the truck's look and function, Apocalypse tunes that motor to produce a trampling 400 horsepower, through the use of software tuning, larger injectors and a full exhaust upgrade, giving it a distinctive snarl. But of course, the real magic in this off-road Clydesdale is not only its beefed-up appearance, but the patented middle tandem axle, created in house by Apocalypse, that delivers power to all six-wheels.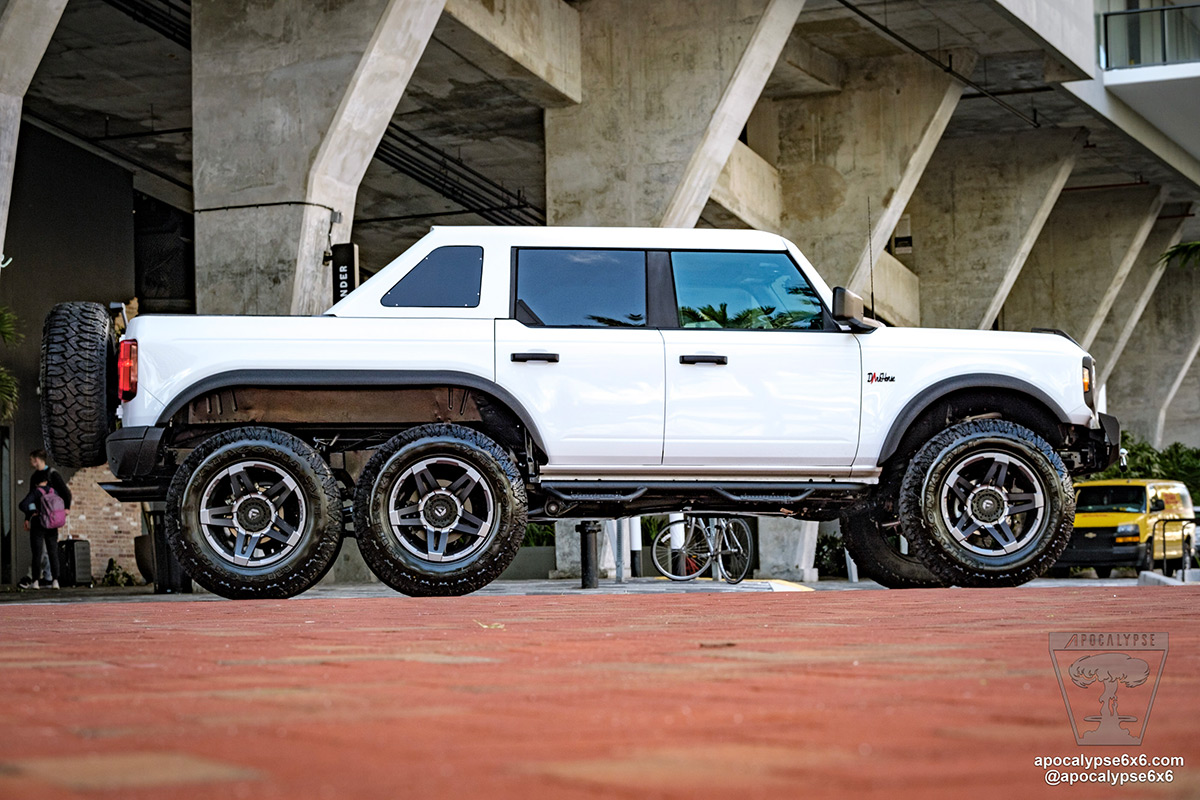 What begins as an SUV that measures 189″ in length will end up a pickup truck that measures 225″ bumper to bumper. As the standard Ford Bronco enters the warehouse, its back is immediately cut off before its body is extended through the use of steel and fiberglass to create a five-foot-long, fully functional, bed. The Bronco's convertible roof is discarded in favor of a custom-made elongated fiberglass, hardtop, slant back, that can be easily removed and added back as much the owner desires.
The Dark Horse and other Apocalypse Manufacturing 6×6 models, like the Doomsday, HellFire and Sinister 6, have some similarities in their rear-end drivetrain and some glaring differences when it comes to each truck's front end. All models feature a custom tandem, handmade, middle-axle that adds powers to all wheels. The Dark Horse's back end, which features its four rear tires, is completely different from their other models due to its coilover suspension, which supports each individual wheel providing a stiffer, more comfortable driving experience.
The Dark Horse can be utilized as a fulltime six-wheel drive vehicle when auto mode is activated, with the truck's internal computer determining when to engage the front axle when needed, as the rear four tires are always being powered.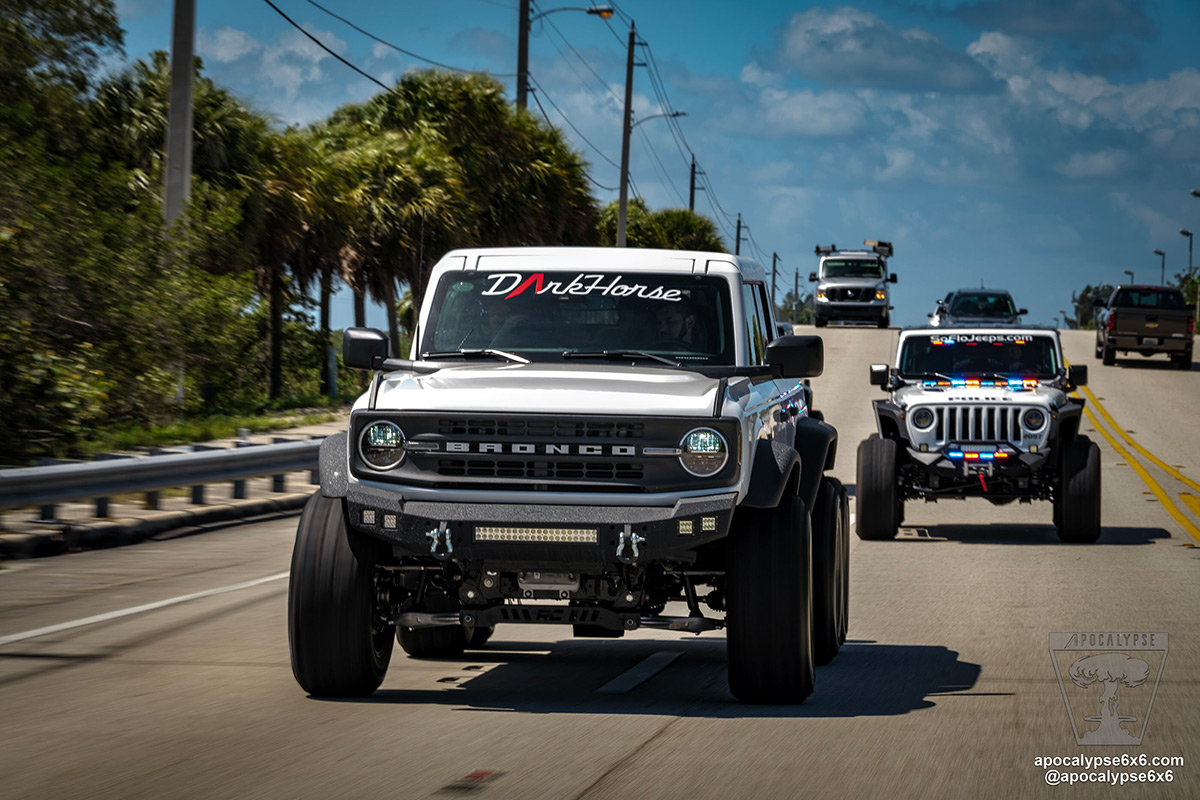 The Dark Horse comes with an interior that truly stands out, especially when the truck's doors and top are removed. The extremely durable, marine grade leather upholstery is completed in King Ranch style pattern with a mix of tan and black color. This interior upgrade is not only stylish, but also very functional as it is weather resistant, standing up to the hot Florida sun, while also protecting against rain and snow.
Build number one features a Black Diamond trim package that has almost all been replaced by custom, inhouse made Apocalyptic add-ons including:
Patented tandem middle axle delivering full power to all wheels (zero harmonics and feedback noise)
Removable custom hardtop slant back (can be fully taken off)
37″ Patagonia tires (quiet, center tread riding everyday driver of a tire)
20″ alloy SFJ rims (designed inhouse)
4" lift with a steering stabilizer (ensures full control at high speeds and off-road scenarios)
King Ranch marine grade dark brown leather interior on seats and doors (weather resistant and durable quality)
Front steel bumper, coated in Kevlar
Steel sidesteps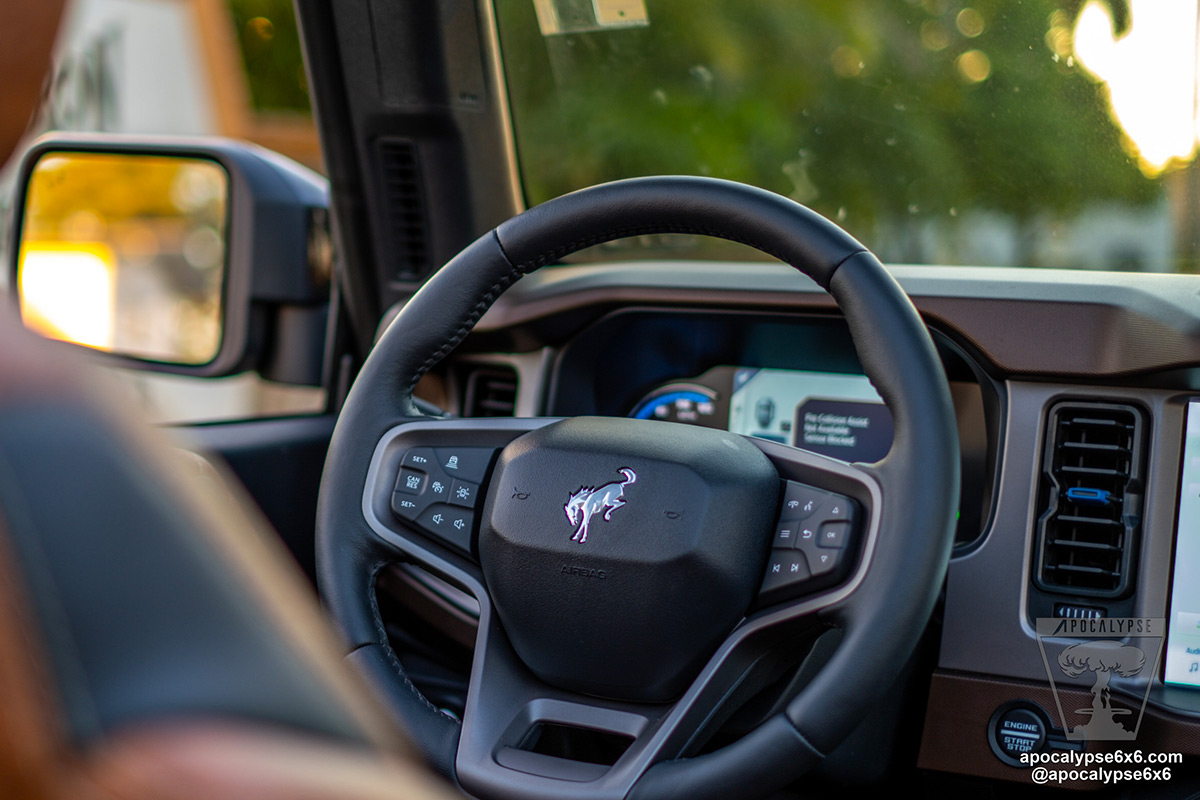 "The Dark Horse came out better then we could ever have dreamt, with several in-house upgrades that give it a style all its own while still keeping a huge chunk of its Bronco identity." continued Ghattas. "In future builds for this model, customers could expect to see a 700HP+ supercharged V8 Coyote 5.0L motor upgrade, as well as a Kevlar coated exterior paint job."
The world's first ever Ford Bronco 6×6, The Dark Horse, will be auctioned off with no reserve at Barrett-Jackson Palm Beach on Saturday April 9th between 5pm and 8:30pm. For future builds, Apocalypse Manufacturing will be building several Dark Horses in the upcoming months, while also converting current Bronco 4×4 customers' trucks into 6x6s.
For more information, head over to https://www.apocalypse6x6.com/.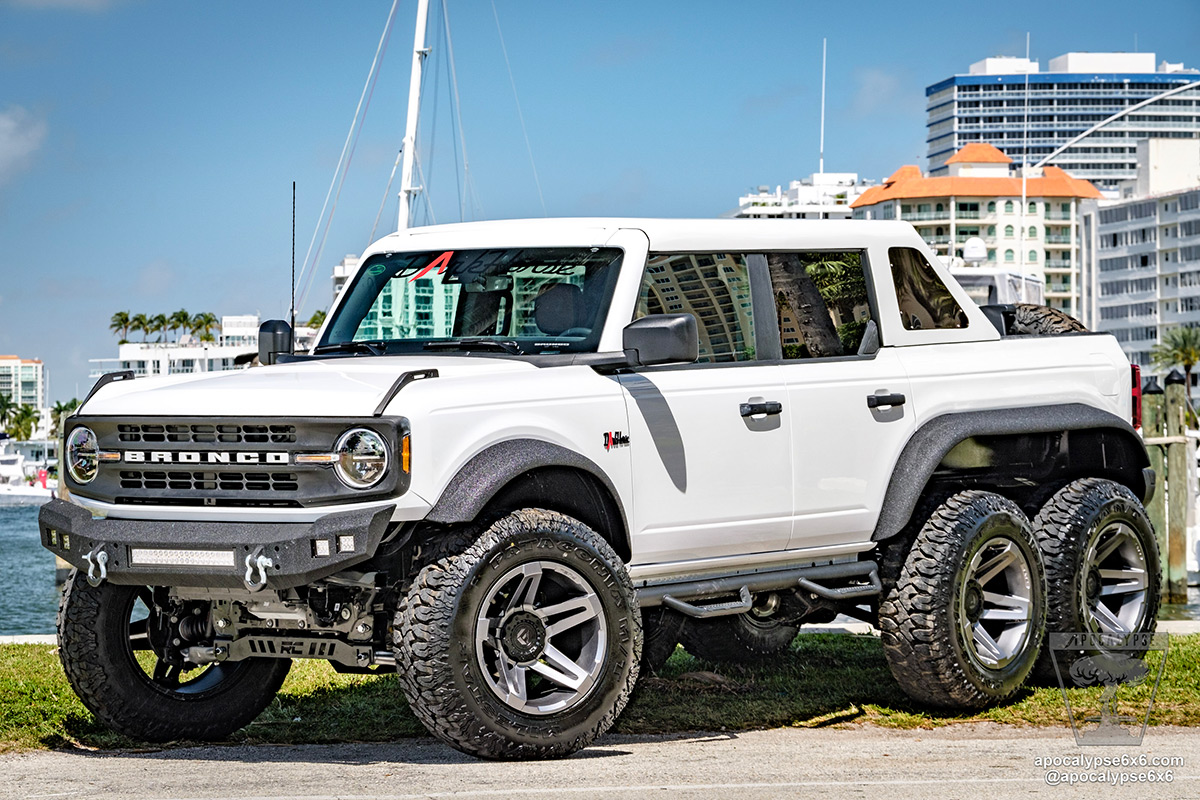 What do you think of the Apocalypse Manufacturing Dark Horse Ford Bronco 6×6?