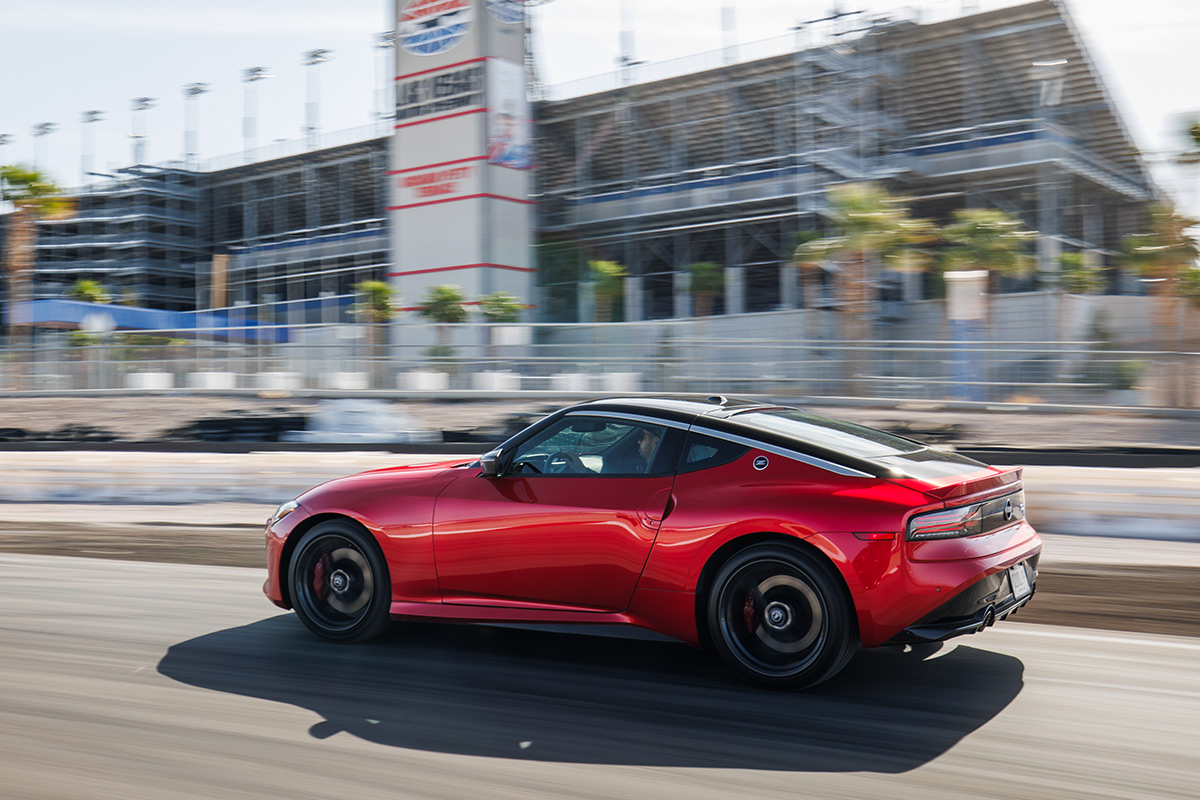 Awhile back, we gave you guys a rundown on the all-new 2023 Nissan Z, and while it sounded like a great car (and a serious competitor for the Toyota Supra), the only piece missing from the equation was its price. In that article, we mentioned that Nissan indicated that it should have a starting price of around $40,000, but that number was far from a certainty.
Well today we got our answer, with Nissan announcing that that MSRP for the 2023 Nissan Z is $39,990 for the Z Sport and $49,990 for the Z Performance. Both grades are scheduled to arrive at Nissan dealerships nationwide in Summer 2022. (It was originally slated for Spring 2022, but the launch was delayed "due to unforeseen supply chain issues")
That's a seriously competitive price, undercutting the four-cylinder Toyota Supra 2.0 by $3,550 and undercutting the six-cylinder Supra 3.0 by a whopping $11,900! While putting out more power than either of them. The Ford Mustang GT is still competitive though, with a starting price of $38,670. But I don't know that many will be cross shopping those two.
"The Nissan Z is our company's heart and soul, bringing sports car design, performance and excitement to a broad range of buyers, starting with the introduction of the first generation more than 50 years ago," said Michael Colleran, senior vice president, Nissan U.S. Marketing and Sales. "With a starting MSRP of less than $40,000, this latest version is ready to create a whole new generation of Nissan Z fans when it comes to market this summer."
The 2023 Nissan Z is offered in Sport and Performance grade levels, along with a special "Proto Spec" edition. Limited to 240 units for the U.S. market, the Proto Spec edition will feature a special plaque, as well as exclusive interior and exterior features, all paying homage to the Z Proto launched in 2020.
All grades are equipped with a 400-horsepower 3.0-liter V6 twin-turbo engine and choice of 6-speed manual transmission or a new 9-speed automatic transmission with paddle shifters.
2023 Nissan Z Coupe Sport 6MT or 9AT – $39,990
2023 Nissan Z Coupe Performance 6MT or 9AT – $49,990
2023 Nissan Z Coupe Proto Spec 6MT or 9AT – $52,990
The 2023 Nissan Z boasts a fresh & sleek exterior design with a silhouette that communicates respect to its lineage with its long hood and short deck. Inside, the driver-centric cockpit takes inspiration from past Z generations with its traditional three analog pod gauges while including modern amenities like a 12.3-inch customizable racing-inspired TFT meter and available 9.0-inch touchscreen display.
For more information on the 2023 Nissan Z, please visit nissanusa.com.