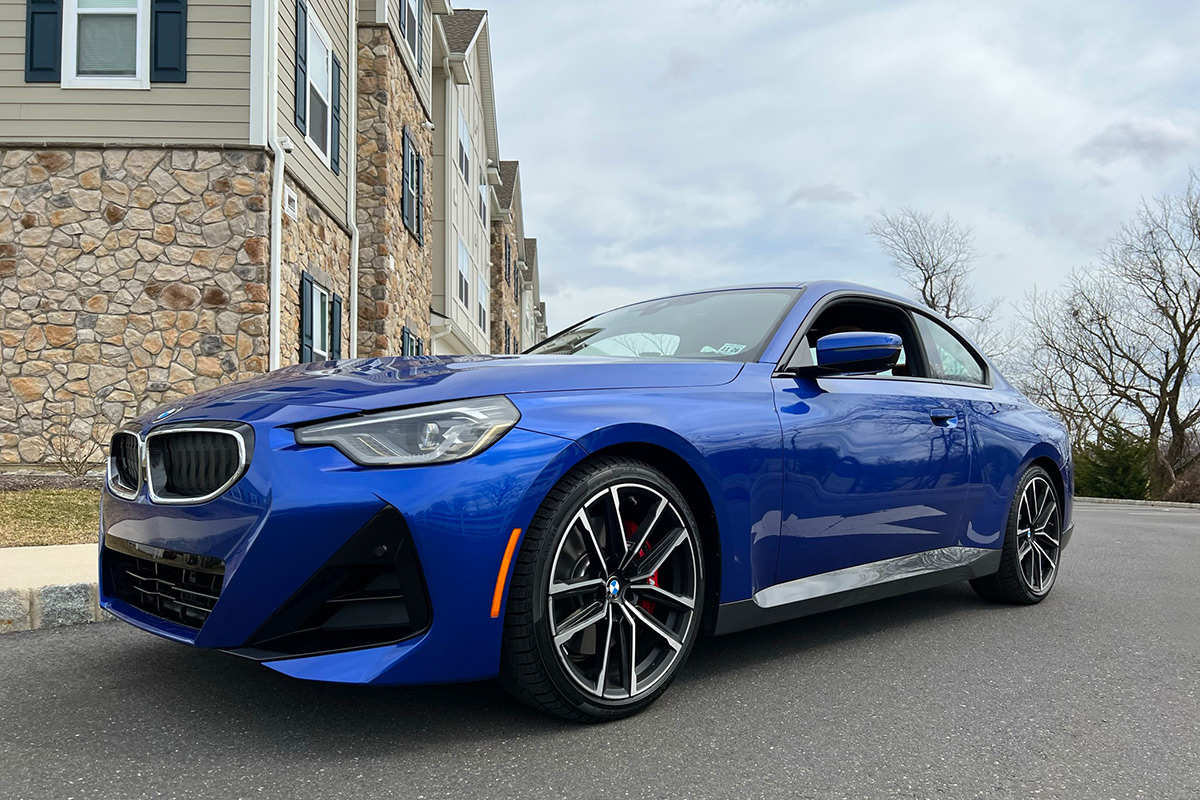 For years now, cars have kept getting bigger and bigger, and BMW is no exception. The BMW 3 Series has grown considerably over the years, and the current generation is actually longer than an E28 5 Series from the 80's! That's frustrating for enthusiasts like me who are looking for a small, lightweight, fun-to-drive car that can tear up some twisty canyon roads.
Thankfully, BMW eventually got the memo that bigger isn't always better, and they filled that void with the 1 Series (later becoming the 2 Series), a more compact sporty car that reminds me of the iconic E30 3 Series that started America's love affair with BMWs. I was a big fan of the previous generation 2 Series (especially the 405-horsepower BMW M2), so I was excited to take the new one for a spin and see how it compared.
Introduced last summer as a 2022 model, my first impressions upon laying eyes on the new car were something like "Ewww, what did they do to the 2 Series!?" But photos don't always do a car justice, so I decided to reserve judgement until getting some seat time with the car. And I was able to do just that a few weeks ago, spending a week with the all-new 2022 BMW 230i.
While BMW redesigned the 2 Series, they kept the most important qualities of the car intact: it's still small and it's still rear-wheel drive. Yes, the 2022 BMW 230i is slightly larger than was the model it replaces, but we're talking a few inches longer and wider, nothing too major. But enthusiasts will be saddened to learn that it's no longer offered with a manual transmission, with BMW stating that very few 230i/240i buyers opted for the manual. 🙁
Also noticeably absent is a convertible model.. at least for now. The 2 Series convertible was a nice option for sun lovers who didn't want to commit to the roadster life and the limited cargo space that comes with those, but also didn't want to drive a Sebring-sized boat. We suspect that a convertible variant will return in the next year or so, as that's a common thing when full redesigns happen.
The good news is that the added size and weight are minimal overall (and more than made up for with power increases). The base model 2022 BMW 230i now has 255 horsepower and 295 pound-feet of torque, while the M240i xDrive model has 382 HP and 369 pound-feet of torque, along with all-wheel drive. The 2022 BMW 230i is actually the only rear-driven sport coupe in the compact market, its primary competitors from Audi (in the A3 and S3) and Mercedes-Benz (CLA) being front-wheel drive models.
Click here to read the rest of my review of the 2022 BMW 230i.