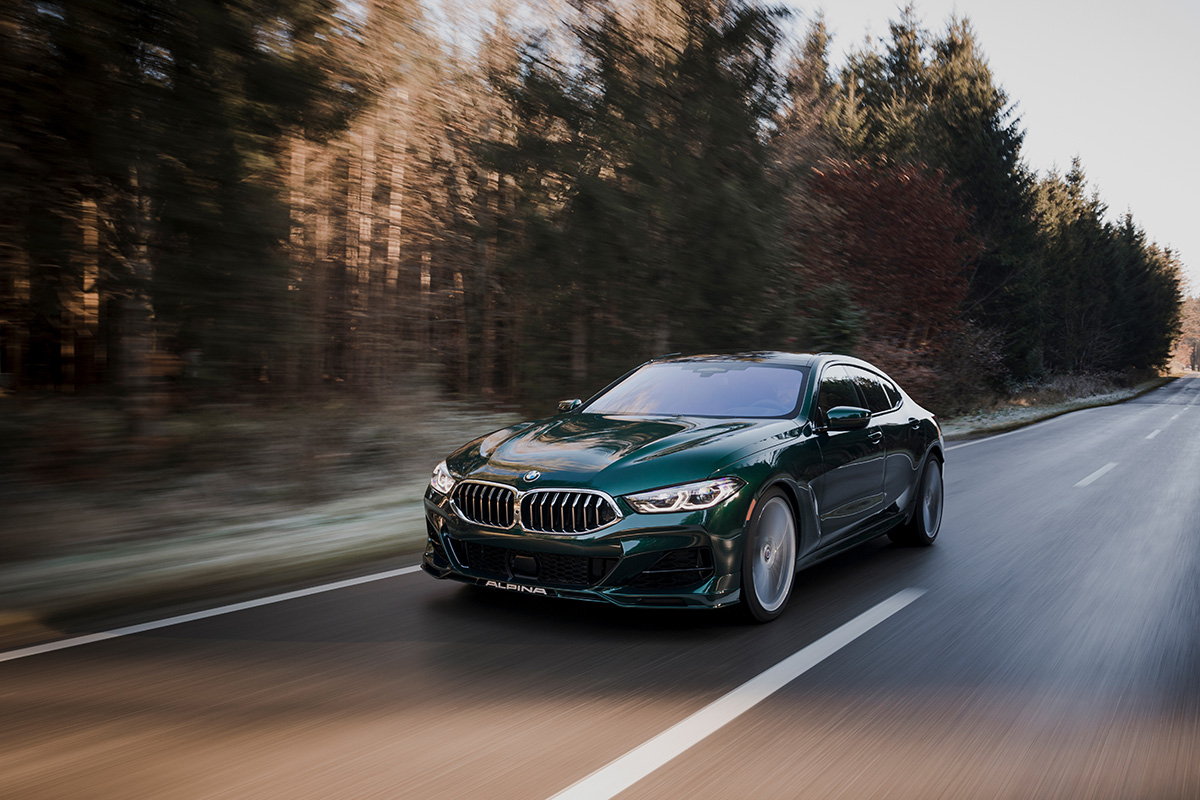 We spent a week with the 2020 BMW M8 Competition last year, and it was incredible. So imagine my surprise when I heard that BMW was axing the M8 Coupe and Convertible.
The 2022 BMW ALPINA B8 Gran Coupé is the next best thing, with the famed Bavarian tuning company working their magic on the 8 Series Gran Coupe, delivering a monster of a car that combines the highest levels of performance, dynamics and comfort in a bold and beautiful design.
Here are some bullet points on the BMW ALPINA B8 Gran Coupe to make it easy for you:
Power to spare: The 4.4-liter V8 engine with bi-turbo charging produces an impressive 612 hp. The maximum torque of 590 lb.-ft is available from just 2,000 rpm for power delivery at all times.
Explosive driving performance: From a standing start, the BMW ALPINA B8 accelerates to 60 mph in 3.3 seconds and reaches ¼ mile in just 11.5 seconds. The maximum speed is 201 mph.
Tailored V8 sound: The specially developed ALPINA sport exhaust system is a stainless-steel wonder. Providing both visual and auditory delight, it is designed to reduce backpressure, and features the bold, natural sound of a powerful V8 engine. The driver can influence the sound by switching between COMFORT and SPORT mode, which controls the active exhaust flaps.
Fascinating dynamics, superior driving experience: The BMW ALPINA B8's chassis and suspension set-up is harmoniously balanced, combining superior long-distance travel comfort with precise handling characteristics. The adaptive dampers provide for a wide range of driving experiences, ranging from COMFORT+ to SPORT+.
Precision design: The B8 Gran Coupé's appearance is distinguished by elegant lines that masterfully emphasize the vehicle's flowing silhouette. The athletic character is further emphasized by the ALPINA aerodynamic components. The ALPINA CLASSIC 21-inch forged wheels with their minimalistic 20 spoke design are an unmistakable, exclusive ALPINA identifier.
Look, touch, and feel: The interior design reflects the luxurious comfort of the BMW ALPINA B8 in every detail. High-quality materials, an extensive range of standard equipment and exclusive ALPINA details contribute to an exquisite interior.
The 2022 BMW ALPINA B8 Gran Coupé arrives in U.S. dealers in Late Spring 2021 and will have an MSRP of $139,900 plus $995 Destination.
If you're looking for more details, you can refer to the press release, which is chock full of information.