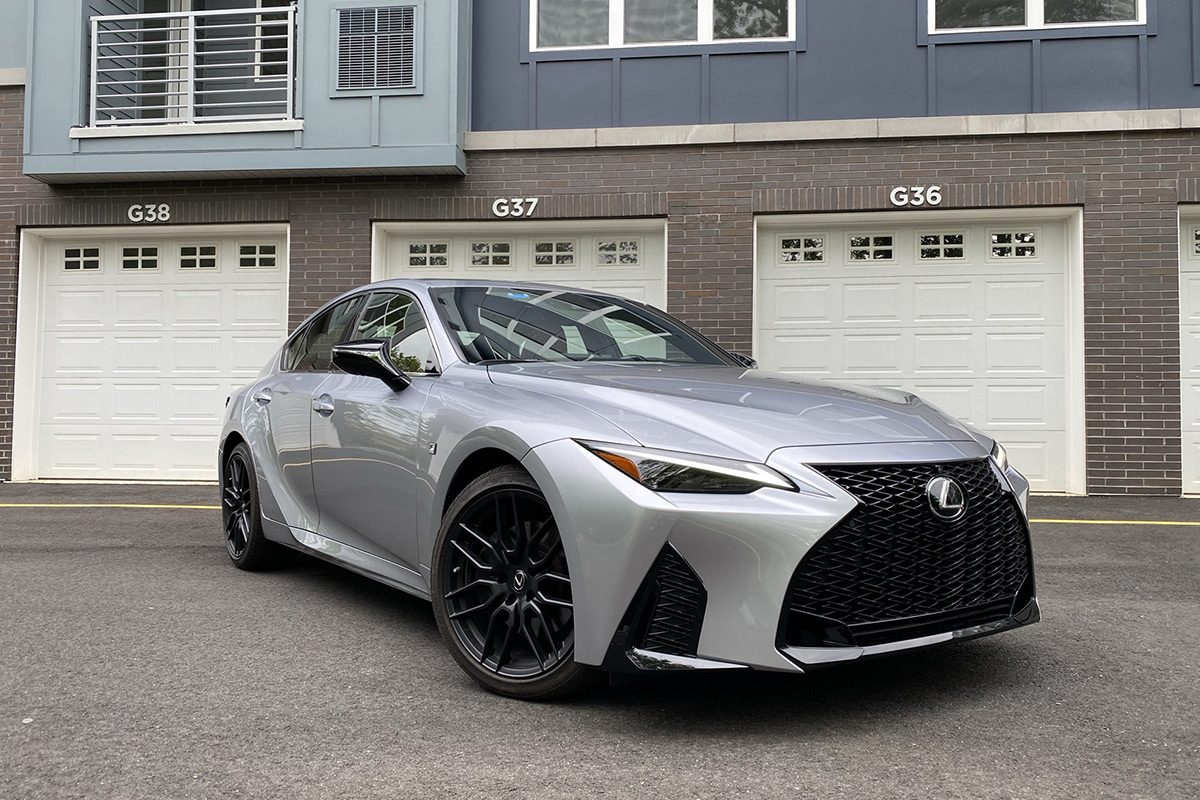 When the 2021 Lexus IS was revealed last June, I was more than a little let down, as they didn't introduce an "all-new" model as most had expected, but rather a second mid-cycle refresh for the third-generation IS, riding on the same platform from 2013. Sure, it's sporting some sleek new sheet metal and mechanical upgrades, but would that be enough to remain competitive?
To find out, we recently spent a week with the 2021 Lexus IS 350 F SPORT AWD. And let me tell you, it really exceeded our expectations on all fronts, with Lexus engineers working their magic to breathe some new life into this old dog. While it may not be perfect, it's damn close. The same can't be said for the Infiniti Q50, which hasn't changed much in 8 years.
Visually, the 2021 Lexus IS 350 F SPORT is quite the head turner, with designers smoothing out the profile, normalizing those quirky headlights, and introducing a larger grille. Out back, a singular taillamp runs the full length of the vehicle. Add in some more dramatic character lines, along with the F SPORT gloss black trimmings, and it really delivers an aggressive look. When it pulled up to my house, I was just blown away by its good looks.
Sadly, Lexus didn't feel the need to give us anymore power, with the IS 350 F SPORT powered by the same naturally-aspirated 3.5-liter V6 engine from before, which puts out a respectable 311HP and 280 lb-ft of torque. With a 0-60 time of 5.6 seconds and a quarter-mile time of 14.2 seconds, it's decently quick, but those numbers pale in comparison to some of the competition, and the acceleration doesn't really pin you in your seat like you'd hope. The phrase "all show and no go" is how one friend described the car after getting a ride.
And therein lies the rub, as the Lexus IS 350 is the most powerful of the three engines offered, while the the 2021 BMW 430i / 330i offer similar performance numbers from its base models, with two more powerful offerings above that. In addition, the Genesis G70, Acura TLX Type-S, Infinti Q50 Red Sport 400 and others offer significantly more power at similar price points.
My guess? Lexus didn't want to encroach on their upcoming 472-horsepower Lexus IS 500, which comes out later this year. While that may be the case, an extra 25-50HP would have helped even the playing field a bit and made the car more competitive. But as we found out, there's more to this car than just raw power.
You can read the rest of our 2021 Lexus IS 350 F SPORT review here.