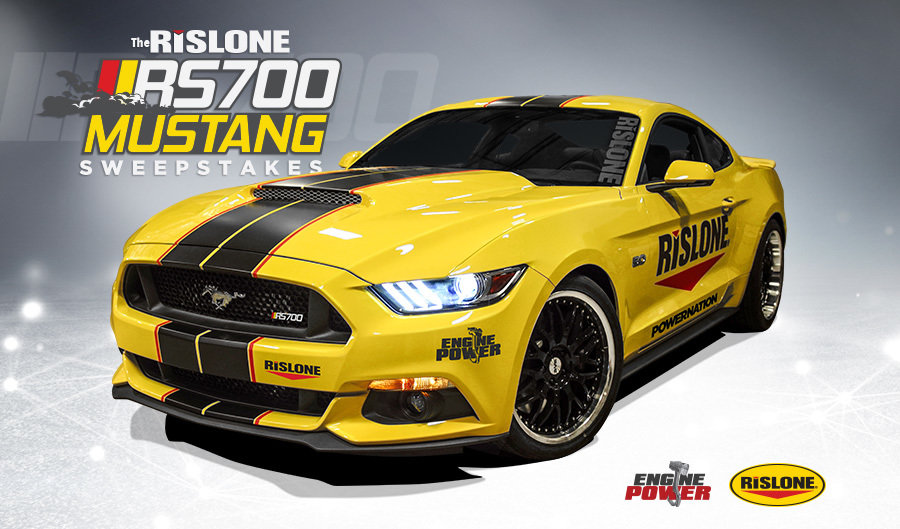 One lucky winner will drive away in the the 700-horsepower Ford Mustang GT that's being modified on PowerNation TV's Engine Power show this season. The triple yellow RS700 Mustang supercar is the grand prize offered by Rislone, America's best-selling engine treatment brand for more than 90 years, in the RS700 Mustang Sweepstakes that kicks off this week.
In back-to-back episodes of Engine Power, Pat and Mike and their team transform a stock Ford Mustang GT on-air into the Rislone RS700 Mustang Sweepstakes supercar ride. They install a supercharger and a slew of performance parts, including a track-engineered handling system, Hooker Blackheart Cat-Back exhaust, high-flow radiator, six-speed transmission, and Brembo racing brakes. To match the car's looks to its performance, they add a ram air hood, carbon fiber rocker panels, front splitter and rear spoiler, as well as 20-inch gloss black spoke wheels and racing stripes. The one-of-a-kind car will then tour the country before it is given away to the sweepstakes winner next January.
The Rislone RS700 Mustang episodes of Engine Power will air on Spike, NBCSN and CBS Sports from June through December 8. Visit powernationtv.com/schedule for the schedule.
The Rislone RS700 Mustang Sweepstakes is open to legal U.S. and Canada residents, and there is no purchase necessary to win. Click here for full sweepstakes rules and the entry form. Contest valid through December 8, 2017.
Good luck!