The all-new 2022 Ford Maverick compact pickup truck is finally here, and it's clear that Ford has another hit on their hands! For years now, people have been clamoring for a smaller, low-cost pickup truck, something like the Rangers that were sold back in the '90s, back when sport compact trucks were all the rage.
While the new Ford Ranger is a decent truck in its own right, compact it is not, at roughly the same size as an older F-150, while the current F-150 has grown even larger. But now with the Maverick, Ford has filled out their truck lineup nicely, giving customers options for every need, from casual truck owner to hardcore construction worker.
Here's why you should be excited about the Maverick. This compact but mighty truck comes as a standard five-passenger, four-door pickup, with a full-hybrid powertrain that should deliver a projected 40 mpg city fuel economy and 500 miles of range on a single tank of gas. All for the low starting price of $19,995. Boom, mic drop!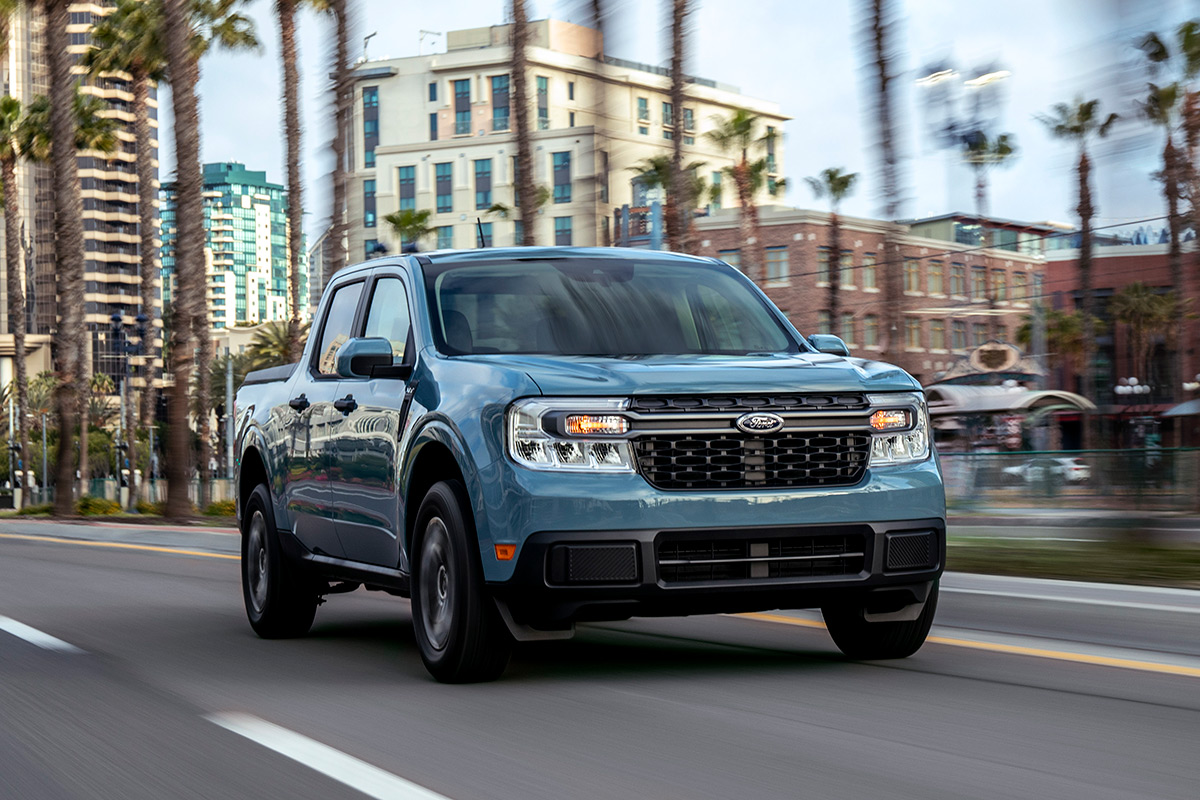 The all-new Ford Maverick is a compact truck with a unibody design (it shares a platform with the Escape and Bronco Sport), and its the first pickup in America with a standard full-hybrid powertrain. Its 2.5-liter four-cylinder hybrid powertrain delivers 191 horsepower and 155 lb-ft of torque mated to a continuously variable transmission driving the front wheels.
Along with its targeted EPA-estimated fuel economy of 40 mpg city and 500 miles of range on a tank of gas, it offers standard payload of 1,500 pounds and the volume to carry a standard ATV, plus it has the capability to tow 2,000 pounds – enough for a pair of personal watercraft or a good-sized pop-up camper trailer.
Those who want more capability can upgrade to a 2.0-liter EcoBoost gas engine delivering 250 horsepower and 277 lb-ft of torque with an 8-speed automatic transmission and standard FWD or available AWD. Equipped with the optional 4K Tow Package, conventional towing doubles to 4,000 pounds. No word on fuel economy with the EcoBoost engine, but seeing as how it's only an extra $1,085, this is the engine choice that I would go with.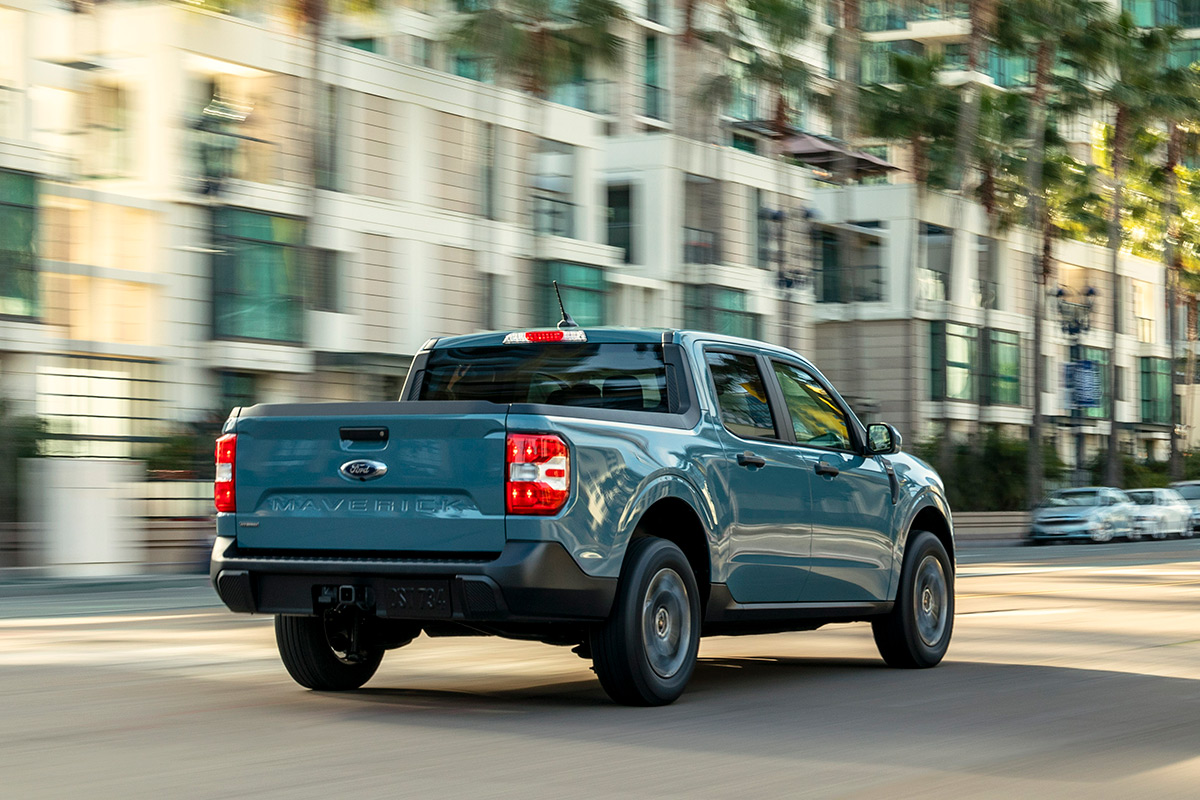 As you can see from these photos, the Maverick has a rather small bed (4.5 feet of bed length with the tailgate up, 6 feet with the tailgate down), but that's more than enough space for most casual truck owners. The 4.5-foot bed can carry 1,500 pounds of payload – roughly 37 bags of 40-pound mulch. Maverick can carry long and wide stuff too with its multi-position tailgate. It opens normally but also has a halfway-open position – just unclip the support cables and hook them onto the latch pins so the tailgate lip and wheelhouses can support up to 18 sheets of 4×8-foot three-quarter-inch plywood without needing to angle the panels.
Maverick's FLEXBED system provides organization and cargo solutions to fit owners' lifestyles. People can create segmented storage, elevated floors, bike and kayak racks and more by sliding 2x4s or 2x6s into slots stamped into the side of the bed. There are two tie-downs, four D-rings and built-in threaded holes in the sides to bolt in new creations. Like the F-150, there's a 110-volt outlet available in the bed (great for tailgating or small construction projects), and it even has a built-in bottle opener.
The tailgate is rated to hold 500 pounds of friends hanging out and taking a seat, so you don't need to bring chairs with you when tailgating before a sporting event or concert. It's also nice how the bed floor and sides are low, so almost any size adult can reach over and grab items off the floor.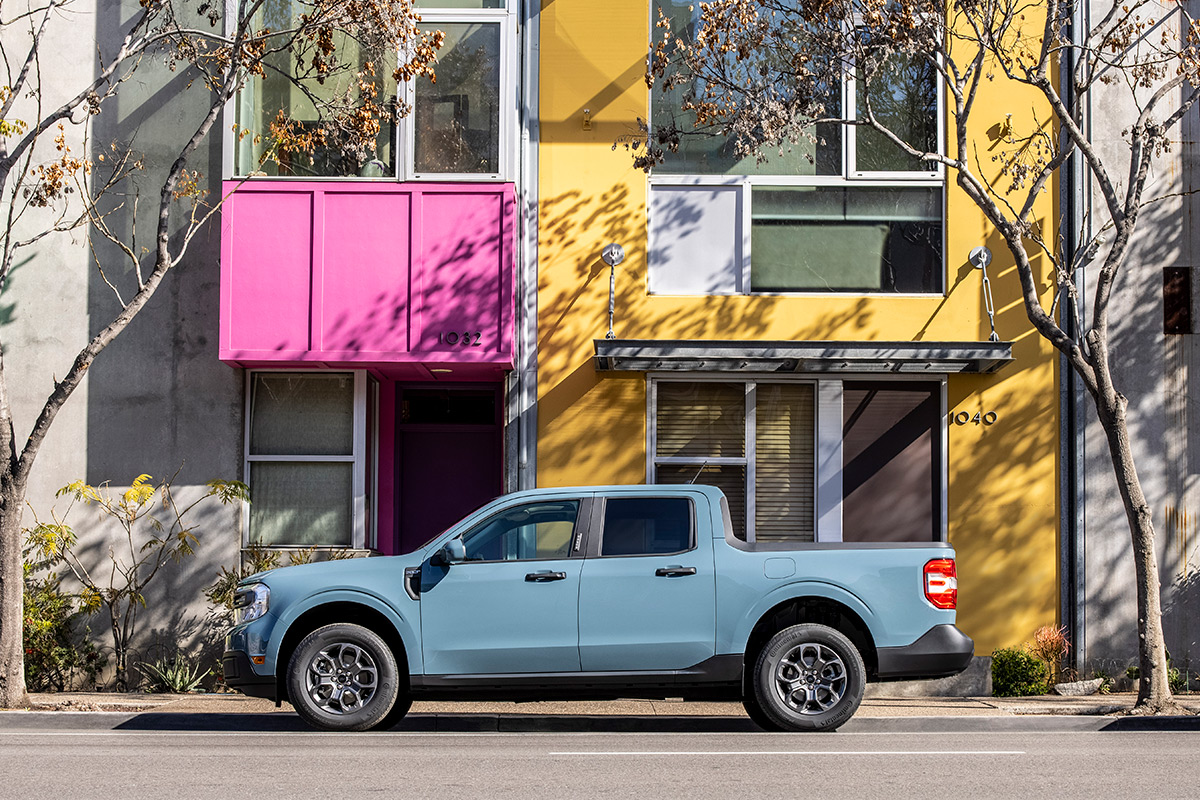 Inside, the Maverick is stylish and spacious, with excellent leg and headroom, shoulder and hip width, and a comfortable seating position for both rows. It's also got plenty of standard tech, including an 8-inch center touch screen features Apple CarPlay / Android Auto, and FordPass, which makes it easy to find the truck, check fuel level, lock and unlock the doors, and start or turn off the vehicle – all from your phone. Plus Wi-Fi for up to 10 devices, Ford Co-Pilot360, and more.
"This customer wants simple but not basic, and Maverick is all about thoughtful details that are executed well," said Barb Whalen, who led the team in choosing materials and colors. "We want this to have a straightforward, durable, honest, well-built feel. The interior was designed with function, purpose and ease of cleaning in mind to help make our customers' lives better. We're using unique textures and materials like reground carbon fiber for strength and visual interest. The dash panel has a stonelike finish, like a countertop. We strategically placed pops of color for functionality, creating an energetic space you want to be in."
Form following function can be seen all over the interior of the Maverick. Door armrests have a split design to allow a one-liter water bottle to sit upright in a bin rather than rolling around on the seats, while door pockets are huge and have lots of vertical clearance to store a tablet or notebooks. There's a spacious storage bin under the rear seats that is large/deep enough to fit a fully inflated volleyball, laptop bags, roller blades, tools and other gear.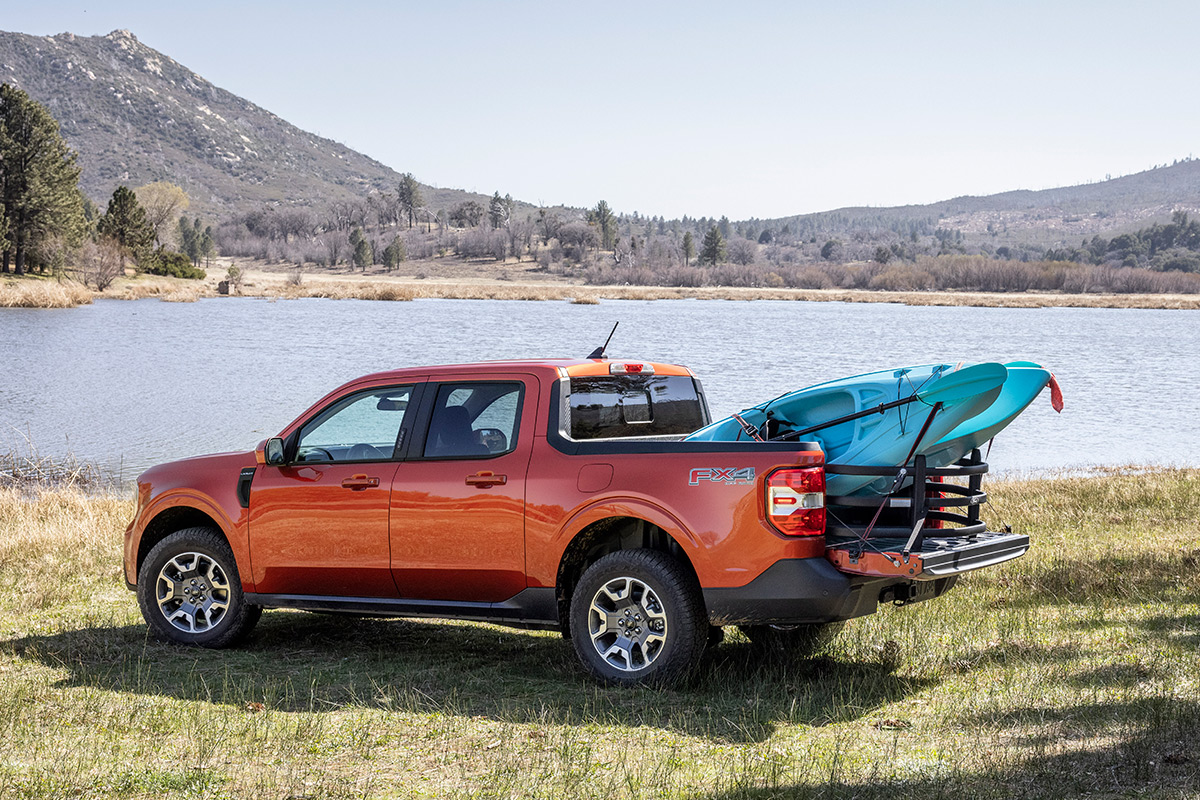 Maverick is offered at three trim levels – XL, XLT and Lariat. An FX4 package available for all-wheel-drive XLT and Lariat trucks adds more off-road capability with rugged all-terrain tires and suspension tuning, additional underbody protection, and off-road-focused drive modes like Mud/Rut and Sand, as well as the addition of Hill Descent Control.
Available for the first model year only is the Maverick First Edition package. Built off the Lariat trim level, it includes unique graphics on the hood and lower doors, high-gloss black-painted roof, soft tonneau cover, body-color door handles, high-gloss black skull caps, and gloss black-painted and machined 18-inch wheels for hybrid or unique 17-inch aluminum wheels for the gas model. It comes in Carbonized Gray, Area 51 and Rapid Red, unique to First Edition.
Like I said, pricing starts at just $19,995, and even a fairly well-equipped truck with the bigger engine, AWD and a bunch of options comes in at right around $30K. Ford really knocked it out of the park with the all-new Maverick, from the looks to the utility to the price, and I think we're going to be seeing a LOT of them on the road in the near future.
The 2022 Ford Maverick goes on sale this fall. The build and price website is live at Ford.com and reservations or orders can be placed today.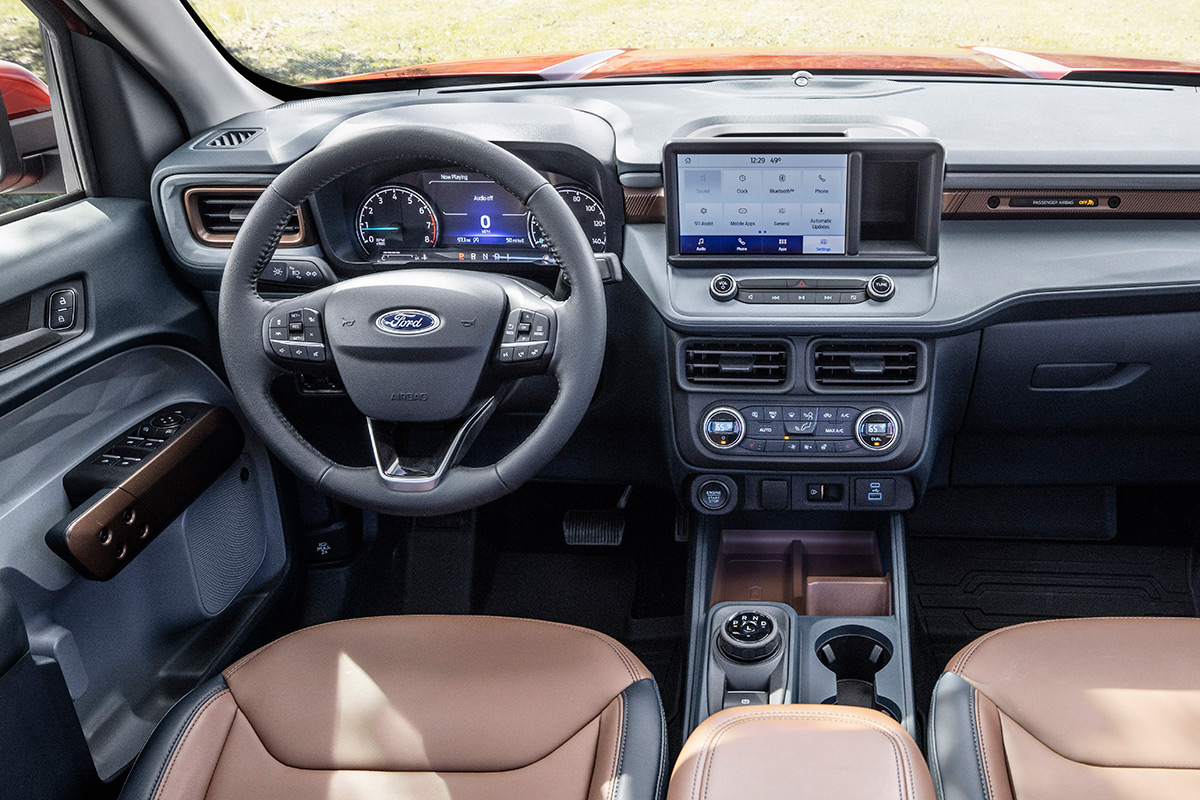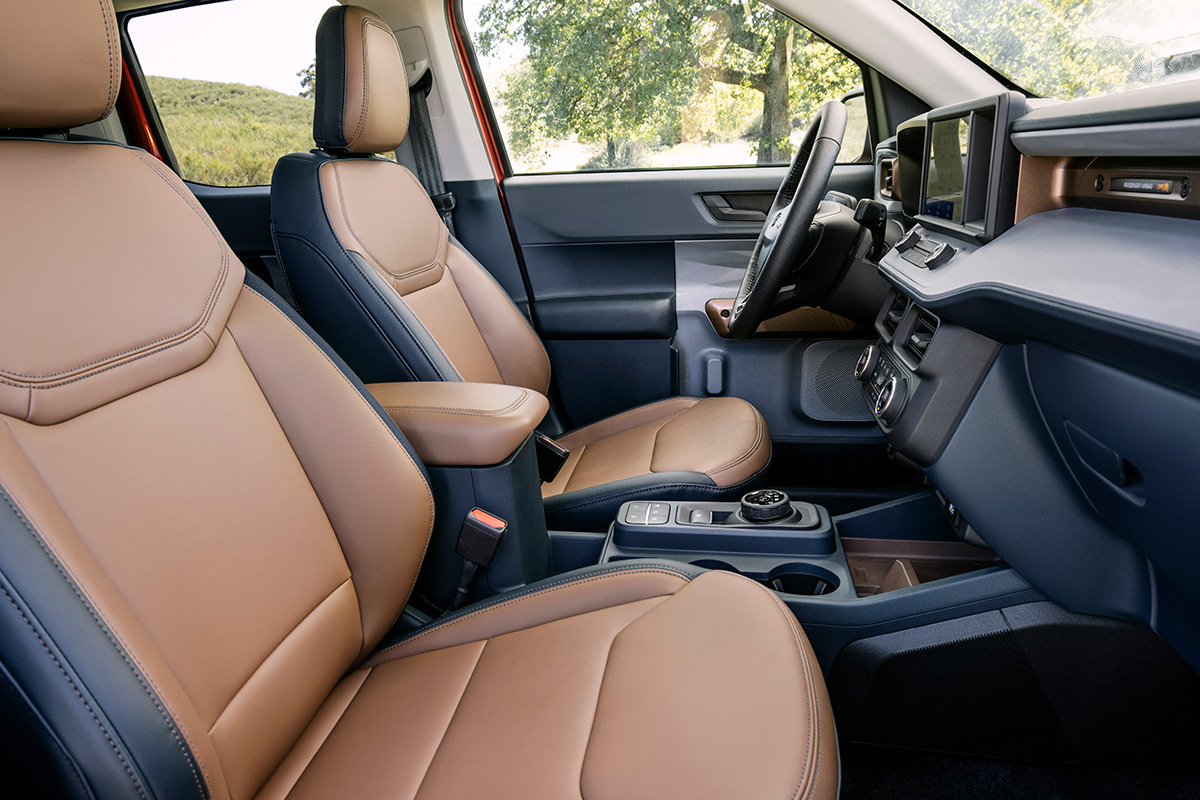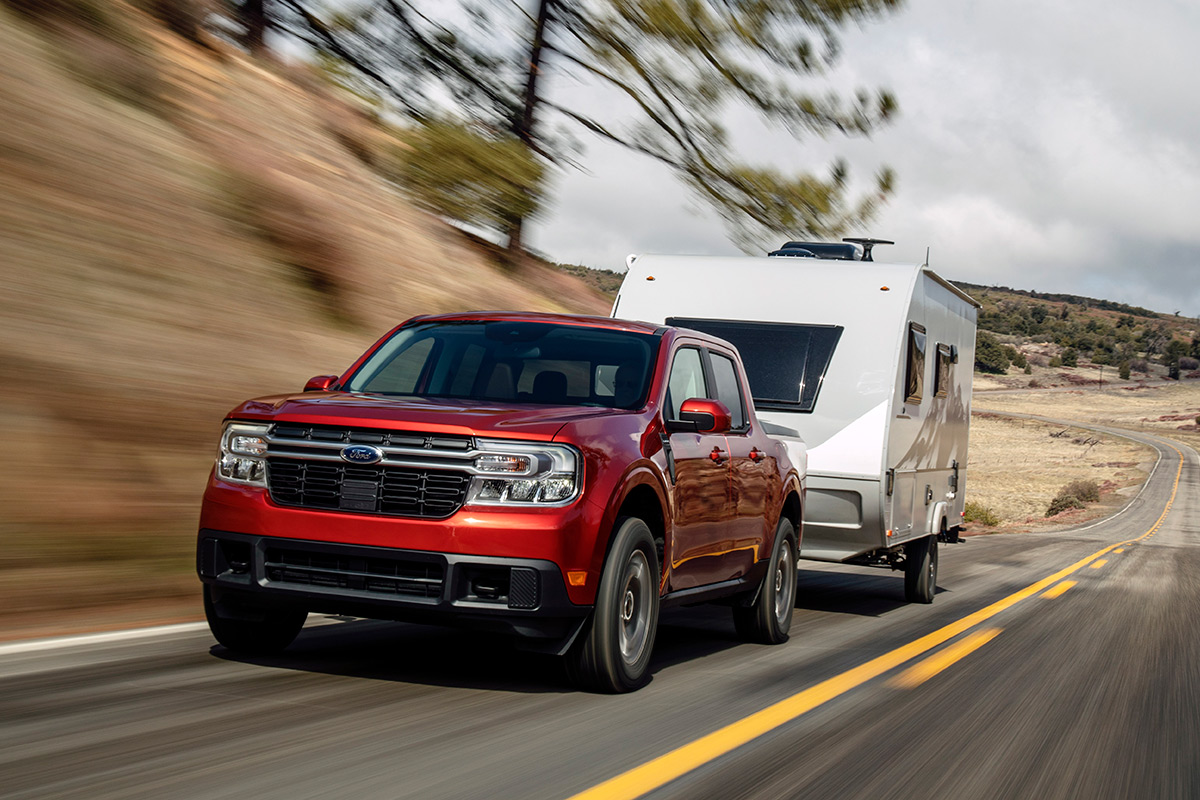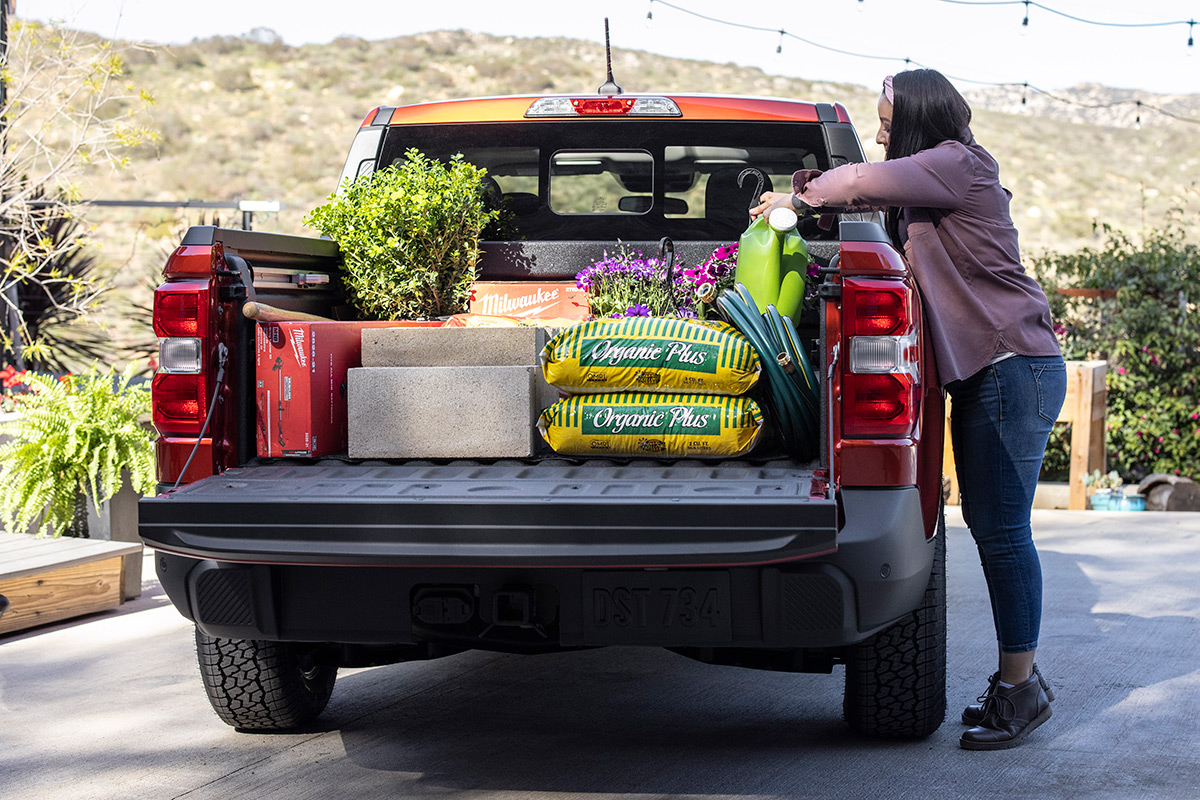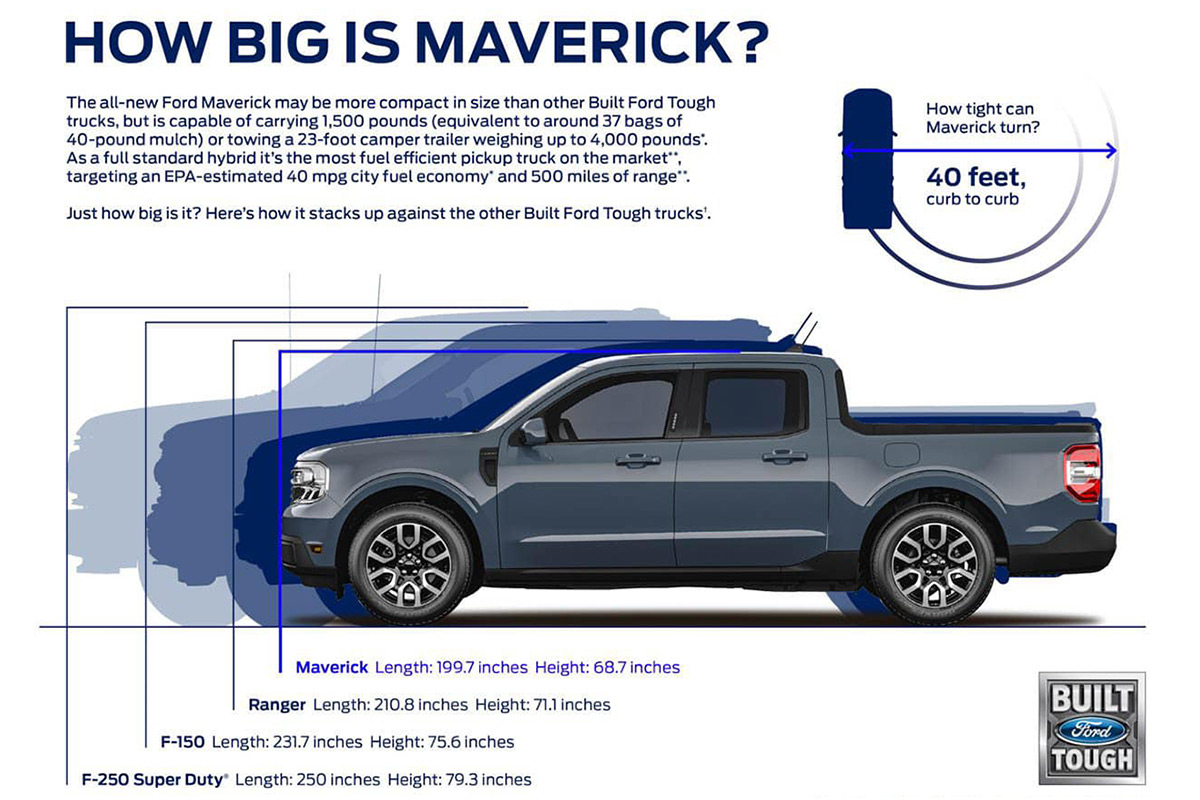 What do you think of the all-new 2022 Ford Maverick?