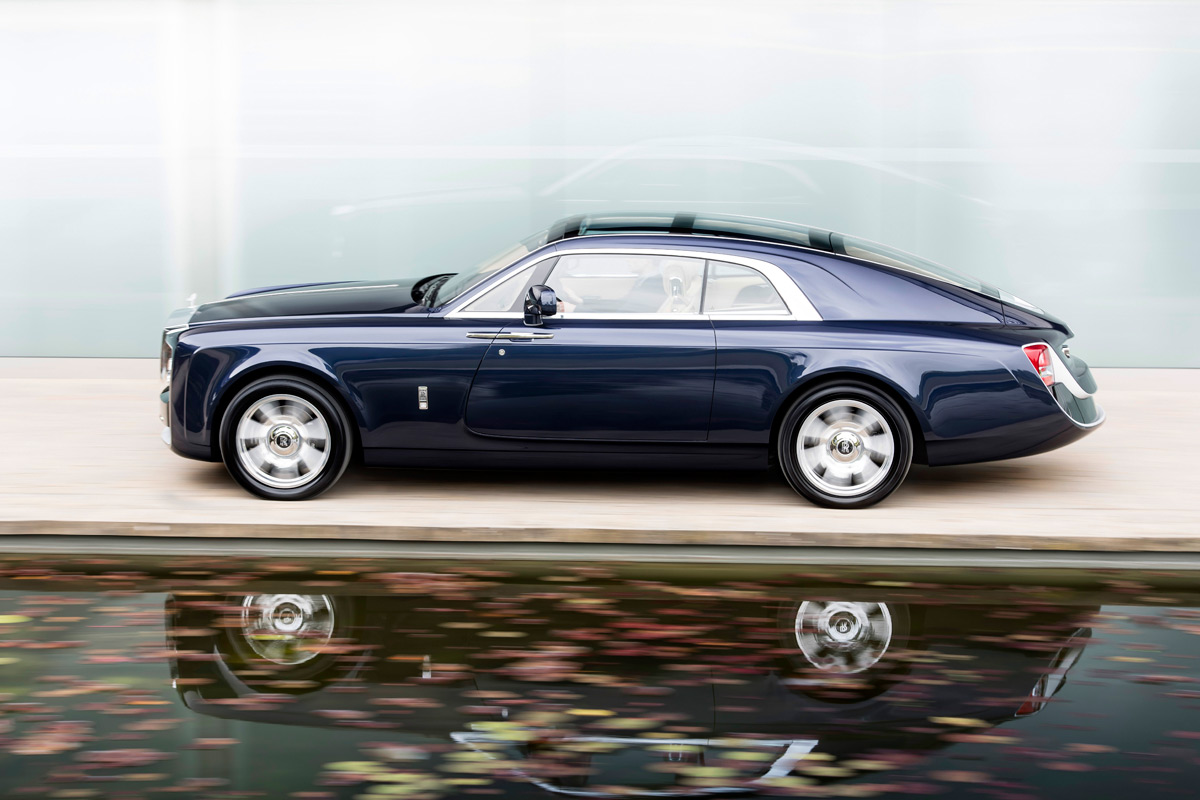 In 2013, one of Rolls-Royce's most valued customers approached the brand to build him a completely unique, one-off luxury motor car like no other. Four years and $12 million later, his vision rolled onto the lawn at the Concorso d'Eleganza at Villa d'Este, and it was simply breathtaking.
The Rolls-Royce Sweptail is named after the tapered "swept tail" rear ends that helped the Phantoms become famous in the 1920s and '30s. In fact, many of this beskoke car's design elements were inspired by those iconic coupes, including the 1925 Phantom I Round Door, the 1934 Phantom II Streamline Saloon, the 1934 Gurney Nutting Phantom II Two Door Light Saloon, and the 1934 Park Ward 20/25 Limousine Coupé, all ultimate examples of the coachbuilder's art.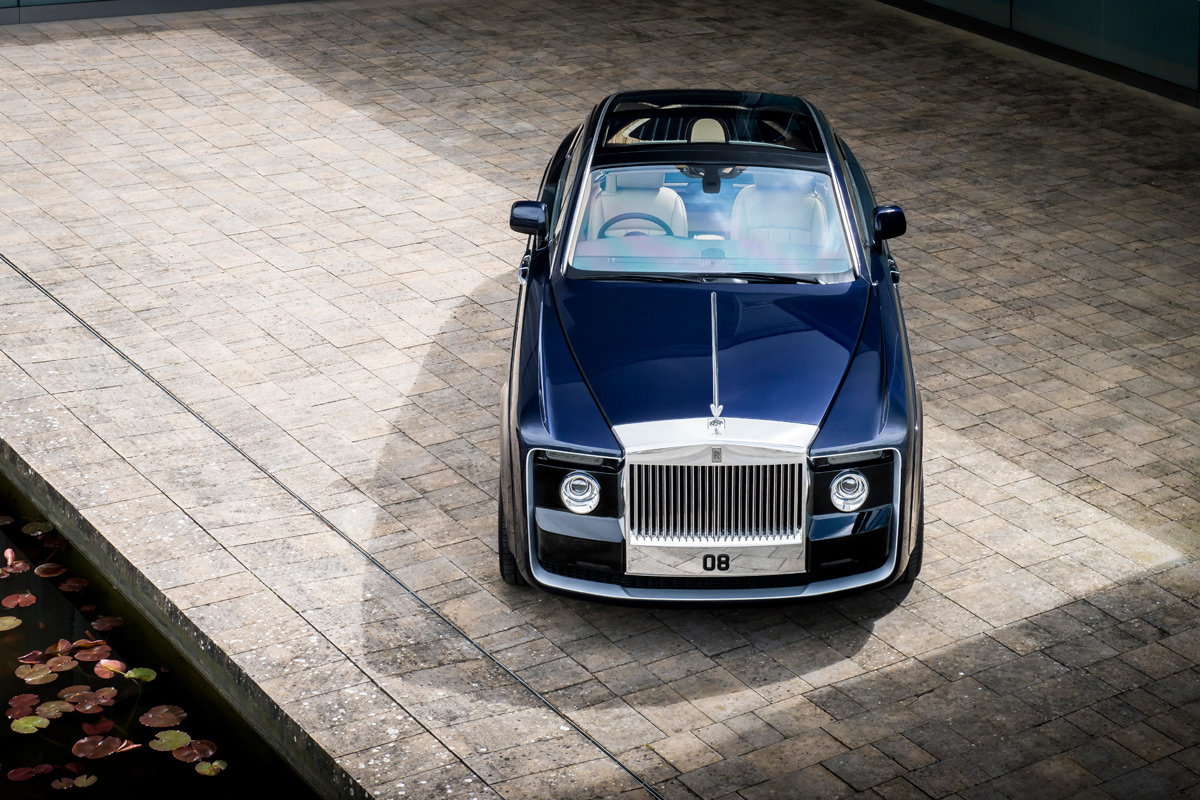 But perhaps the most distinctive feature of the Sweptail is its sweeping, tapered panoramic glass roof that extends all the way back to the trunk, giving passengers an unencumbered view of the sky. Rolls-Royce's press release describes the panoramic roof in a more baroque fashion: "What a place to be as one watches the world slip by through the vast windows and roof, detached from the outside world in a cocoon of luxury whilst feeling one is part of that passing landscape."
Step inside, and you're greeted by generous quantities of polished Macassar Ebony and exotic Paldao wood in contrasting dark & light tones, set off by gorgeous Moccasin and Dark Spice leather wrapping the seats, armrests and dashboard top. The center console hides a champagne chiller and two crystal flutes. Instead of a hidden umbrella like in the Dawn, concealed in the walls are a pair of carbon fiber attaché cases, which match a full set of custom luggage found in the trunk.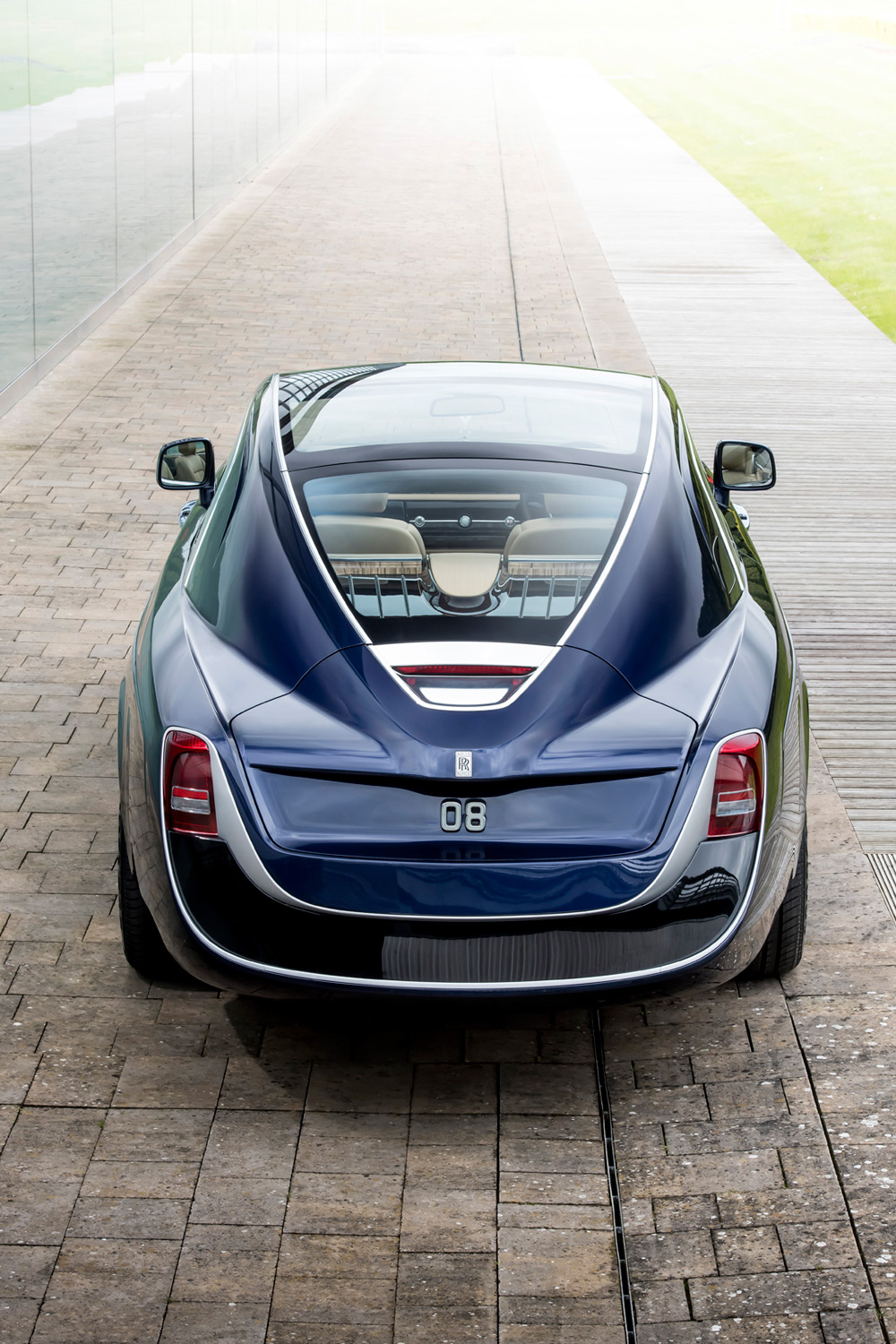 As for the rear seats, they have been completely removed to make way for a highly polished wood shelf with an illuminated glass lip, inset with luggage rails, designed for the owner's hat. An odd choice for sure, as this seems like a vehicle that you'd be chauffeured in, rather than driving it yourself.
The Rolls-Royce Sweptail is a tribute to the lost art of coachbuilding, and while the Sweptail might not be everyone's cup of tea, something tells me the owner will see every penny of his $12 million when he finally decides to sell it. Because lets face it, rich people love have those elusive one of ones!
This slideshow requires JavaScript.
What do you think of the Million Rolls-Royce Sweptail?