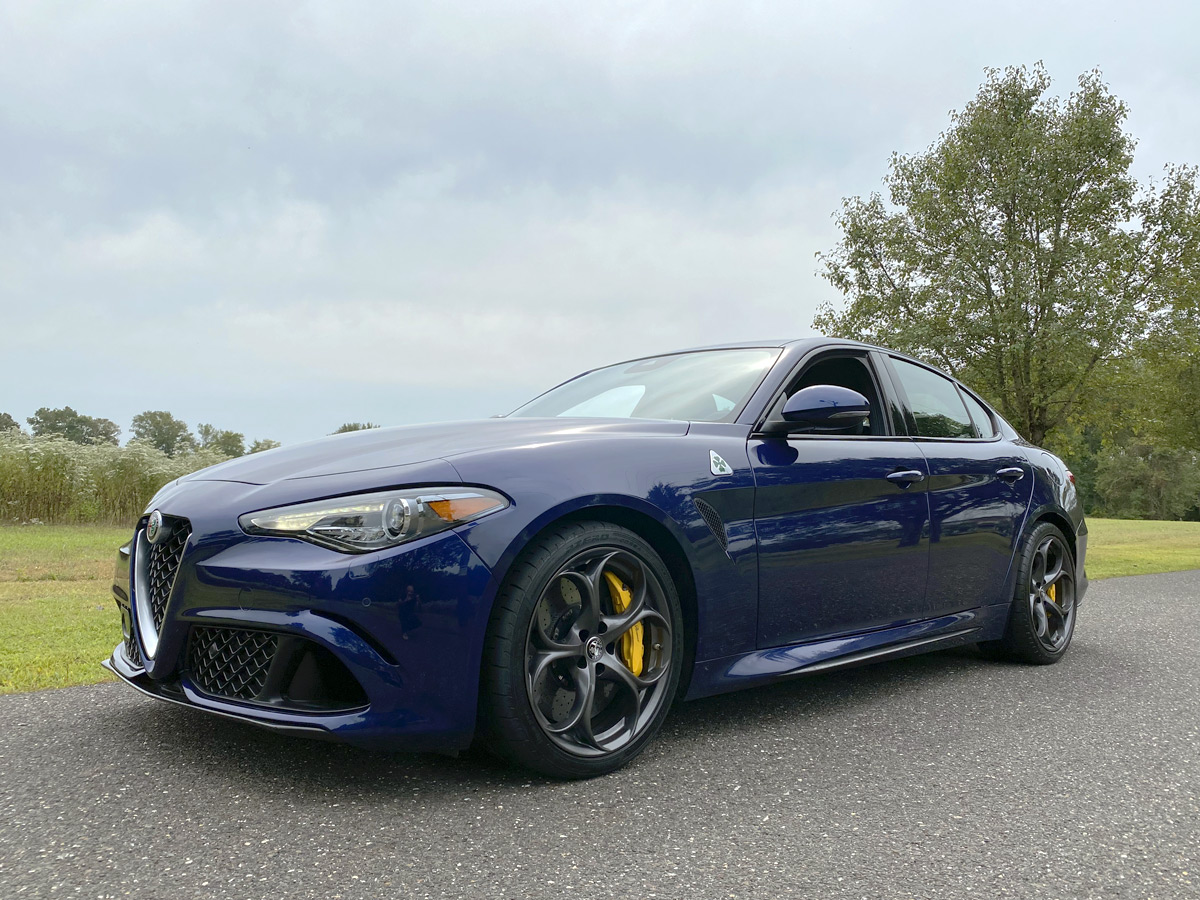 Last year, I spent a week with the 2019 Alfa Romeo Giulia Ti Lusso AWD, and I was really impressed with it, as it was a ton of fun to drive, delivering a great mix of performance, handling and style, all for a pretty reasonable price. I thought the Giulia delivered worthy competition for the BMW 3 Series, Mercedes C-Class, Audi A4, and other sports sedans in the segment, and wondered why I didn't see more people driving them.
What's more, Alfa Romeo has a high performance Quadrifoglio line that competes with BMW's M, Mercedes-Benz's AMG and Audi's S vehicles. It's signified by a hand-painted clover badge on the car's fenders and subtle other visual cues. These Quadrifolgio models dial up the excitement level to 11. And that's the car I really wished I were driving.
Thankfully, my wish came true, with this gorgeous Montecarlo Blue 2020 Alfa Romeo Giulia Quadrifolgio delivered to my house last week. And while the two cars may look the same at first glance, they couldn't be more different. This bad boy is packing 505 horsepower, 443 lb-ft of torque, delivering a 0-60 time of 3.8 seconds, on its way to a top speed of 191 mph. In fact, the Giulia Quadrifoglio set a record-breaking lap time of 7:32 at the infamously demanding Nürburgring racing circuit in Germany, making it the fastest five-passenger vehicle in the world. Yeah, it's one seriously fast sports sedan.
Inside, it's more of the same, with a driver-focused, bespoke looking cockpit with a nice mix of leather, Alcantara, and carbon fiber throughout, supportive seats that keep you in place without being uncomfortable, a flat-bottom Formula One-inspired steering wheel, DNA Drive Mode selector dial, and red stitching. There's also a new standard 8.8-inch center touchscreen display with improved graphics and state-of-the-art connectivity and more standard content.
Find out what I thought about the 2020 Alfa Romeo Giulia Quadrifolgio by clicking here to read the rest of the review.