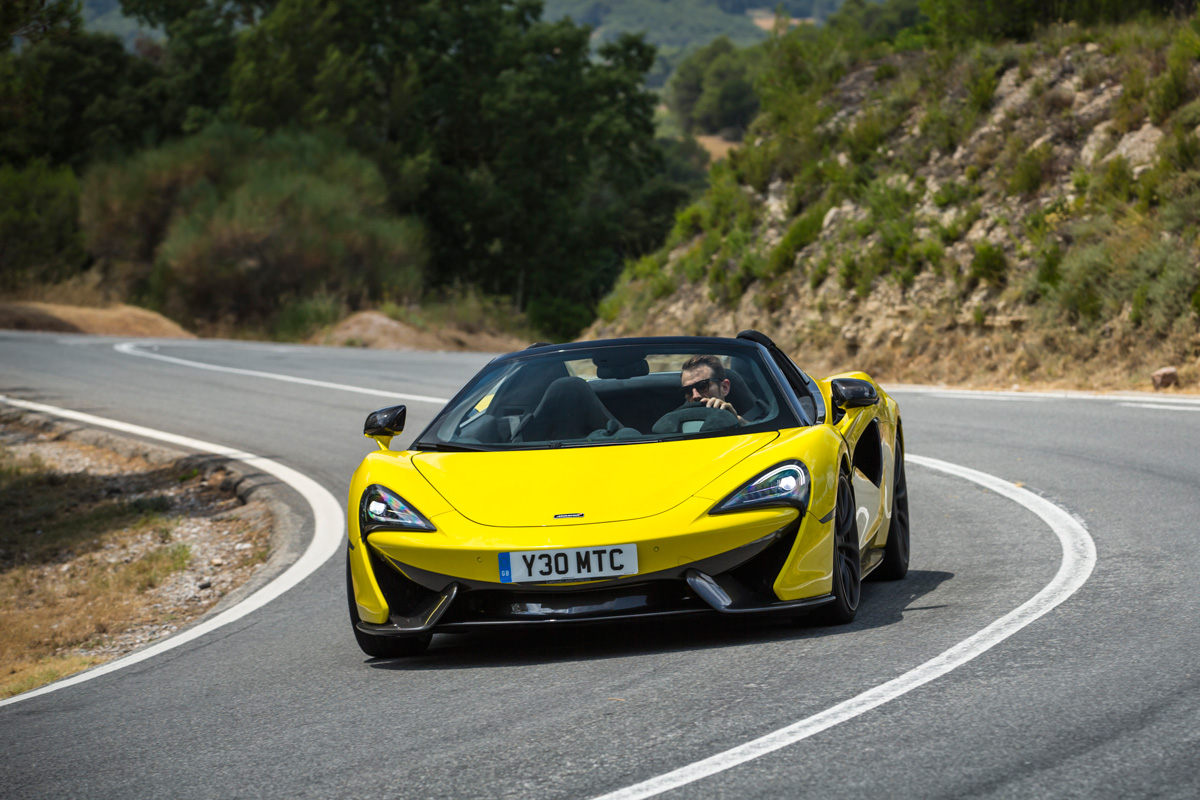 I was fortunate enough to spend several days with the 2020 McLaren 570S Spider as my daily driver. It was extremely informative. The car itself, of course, is beyond awesome. After all, it's a mid-engine British sports car with a 3.8-liter turbocharged V8 that outputs a whopping 562 horsepower and 443 lb-ft of torque to the rear wheels through a silky smooth dual-clutch automatic transmission, delivering a 0-60 time of just 3.1 seconds and a top speed of 204 mph. But the car's performance is only part of the story.
Driving a supercar like the 570S Spider is like becoming an overnight celebrity. Everyone wants to see you, stalkers follow you around, and simple tasks like stopping for gas or driving to the grocery store become gauntlets of paparazzi. Of course, the attention is on the car, not you, but the result is about the same.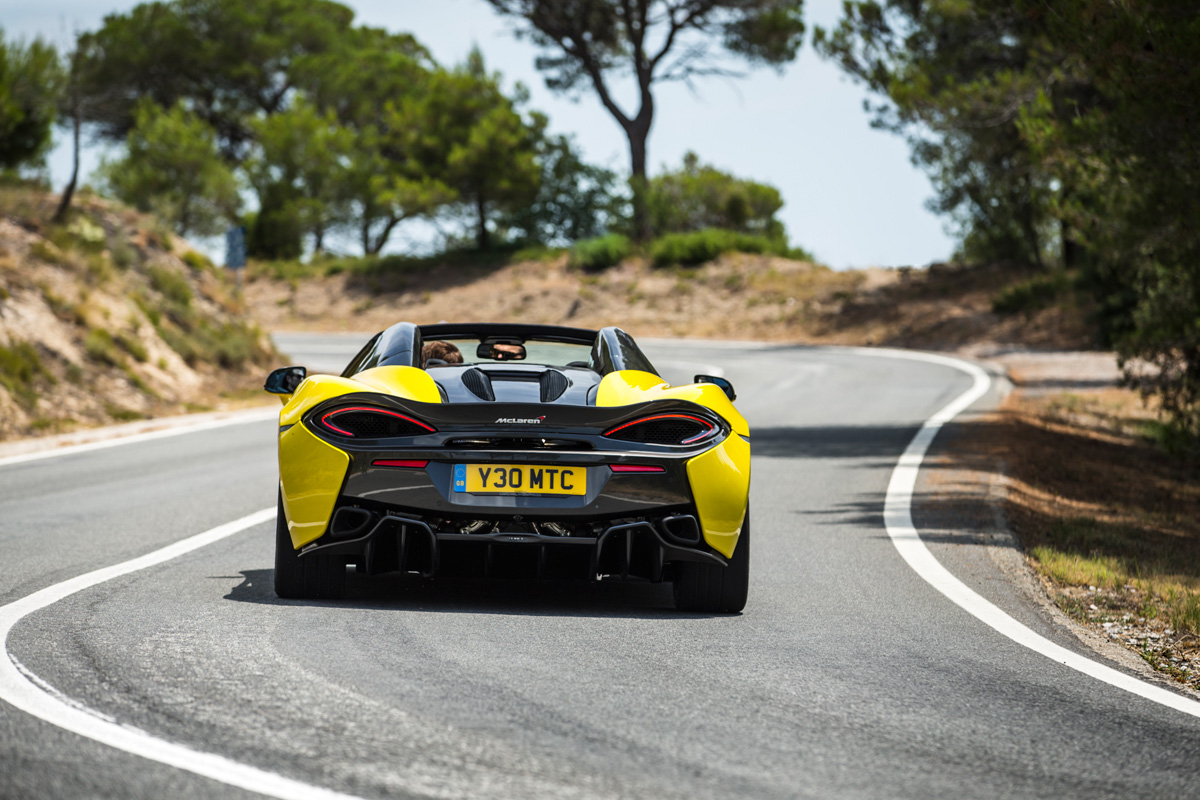 This might sound arduous, and it really can be, but most of the time it's something that you just learn to expect. And it's fun, in its own way, and proves that a vehicle like the McLaren 570S Spider is more than just a sports car. It's rare enough to be a celebrity wherever it goes, but not quite so unattainable that some of us can dream of owning one. The 2020 McLaren 570S starts at about $192,000, with the price climbing from there depending on options (carbon fiber, convertible vs coupe, etc). Personally, the McLaren 570S Spider that we drove is the one to get. 
The experience, beyond the celebrity, is also one of a kind. The 3.8 grunting out its 570 metric horsepower (hence the name) is a refined, well-mannered beast. This is no banal barbarian V8 shoving as many horses into the crank as possible. It's a mannered, intelligent powerhouse that has a distinctly British sound. Coupled to a beautifully-done dual-clutch transmission, which shifts smoothly and very quickly, it delivers.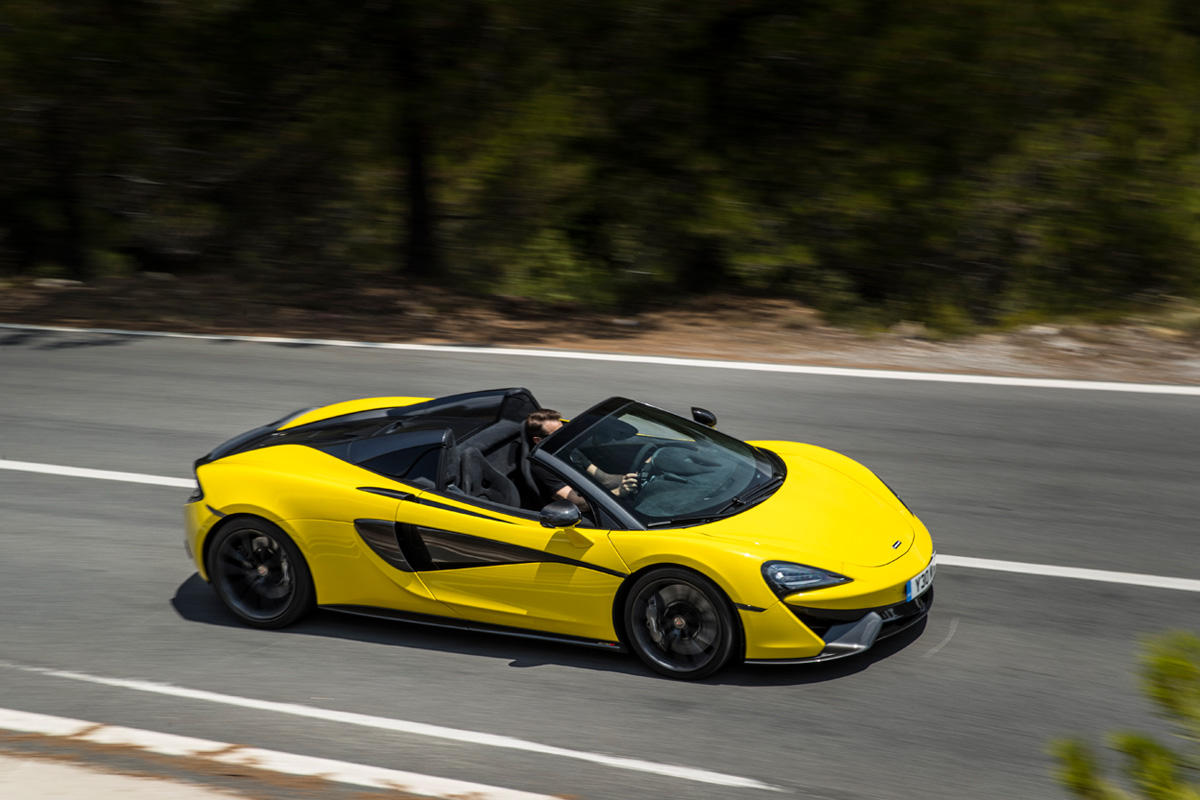 This level of know-how in huge muscular refinement comes from McLaren's decades as a race winner. The company is a driving force in most European circuits of many descriptions. Like a lot of British car companies, McLaren began making cars to sell at retail as a way to fund their costly racing habit. And it's a win-win for everybody.
The McLaren 570S Spider has a lot of race car in its DNA and that shows when sitting behind the wheel. The paddle shifters "rock" on the column, allowing up or down shifts from either side. Summer tires are standard equipment, as are adaptive dampers, carbon-ceramic brakes, and launch control. The interior is opulent race car, with leather seating and a few details for comfort. Mostly, though, it's about the drive, making the purpose of this car very clear.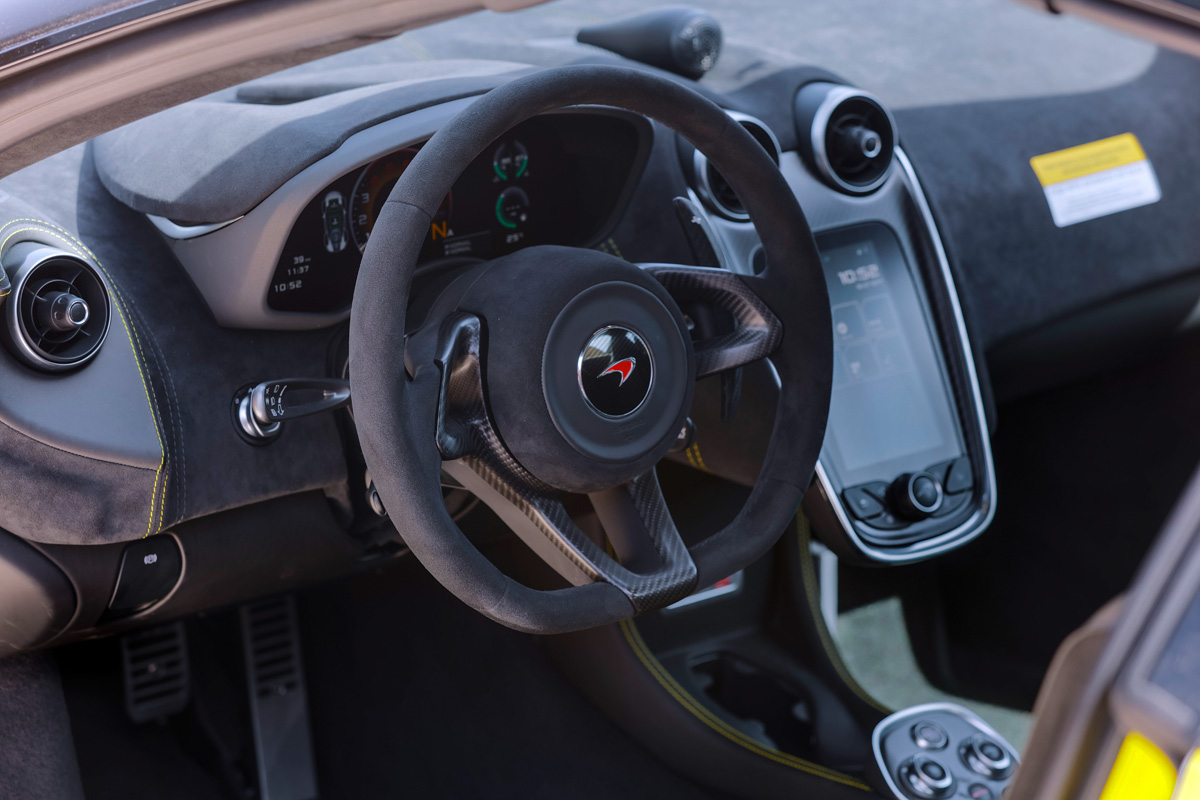 The big V8 sits behind the seats and requires a special key to access outside of the fluid refill ports. Up front, a frunk opens to allow a couple of carry-ons. The space also houses a roadside emergency kit and a plug to keeps the McLaren 570S's battery charged if the car will be parked for a long period of time (a common occurrence among rich people with multiple cars in their stable that they rotate between).
From behind the wheel of the convertible model, there is just enough adjustment that someone of average/tall height can find a good spot for a great view out the windscreen. Side mirrors are useful enough for lane changes, but they don't show much of what's going on behind. And why do you need to see all that? Those are the ones who are losing. The view is straight ahead.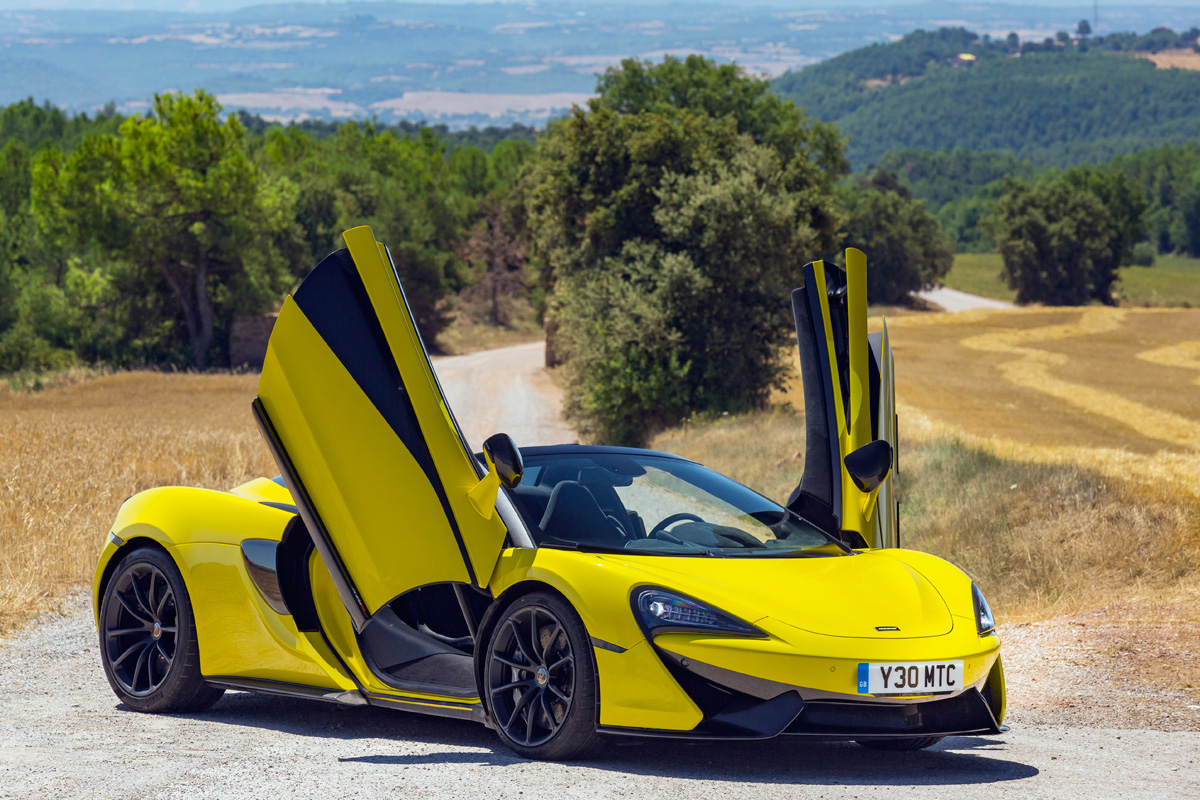 There are numerous options available for the McLaren 570S Spider, many of which I had on my test model. The sport exhaust system is highly recommended, as are the soft-close doors. The latter because butterfly-style doors opening up and out are not easy to maneuver from inside the vehicle. Lightweight carbon fiber seats and several other carbon fiber swapouts can be had for the 570S Spider as well. As can a Bowers and Wilkins 12-speaker audio system, a special lift system that raises the front end of the McLaren 570S Spider by about 3 inches to clear speed bumps and steep driveways, and the aforementioned lithium-ion battery charger. 
There is a lot to love about the McLaren 570S Spider. The car weighs just 3,313 pounds (light for a supercar), accelerates like a rocket, and sounds really cool doing so. Not to mention it's exceptional handling and and refinement. The 2020 McLaren 570S Spider isn't like anything else on the road. It's a truly beautiful machine.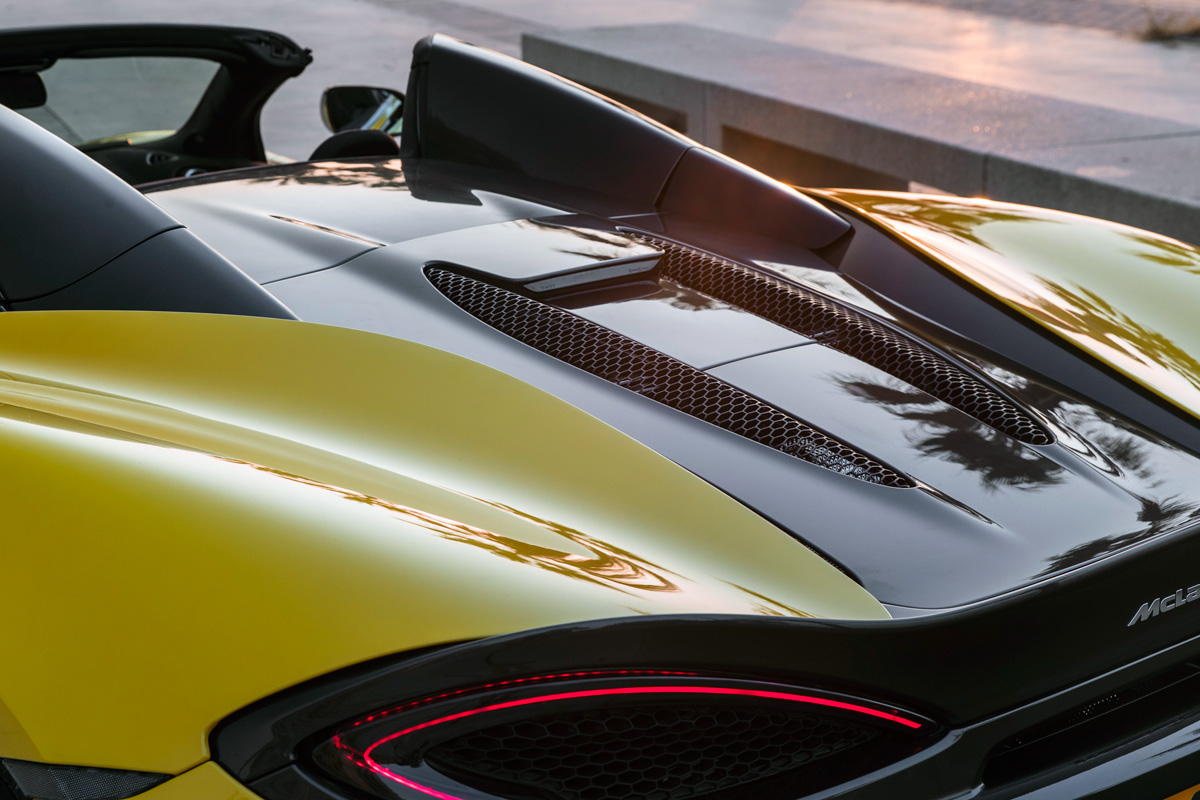 2020 McLaren 570S Spider:
Base Price: $208,800
As-Tested Price: $233,000
For more information: https://cars.mclaren.com/570s-spider