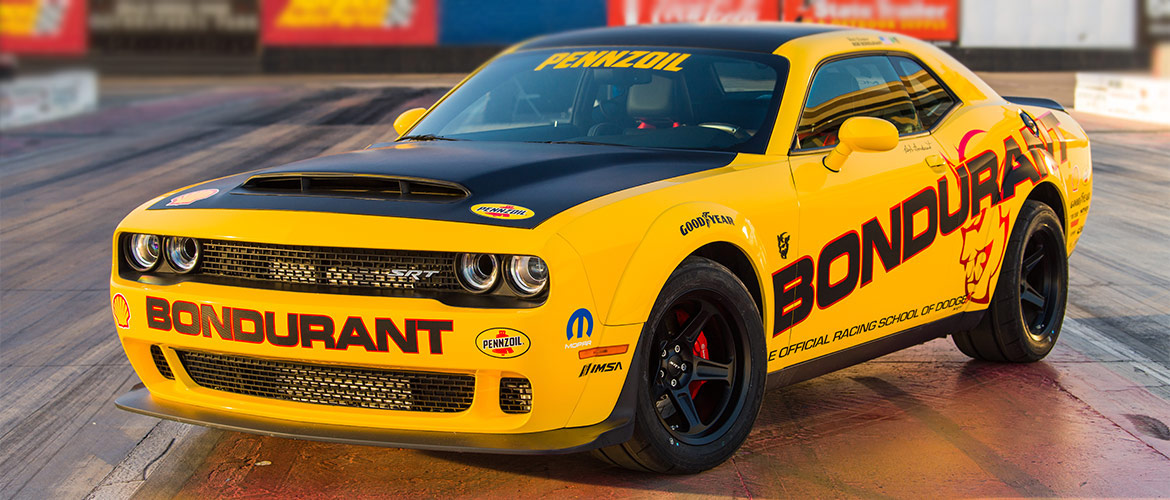 Ever wonder what it'd be like to take the 2018 Dodge Challenger SRT Demon to the drag strip and rip off a few 10 second quarter mile runs, with so much pull that you lift the front wheels off the ground at launch? Now you can, as the Bondurant Racing School has introduced an all-new 1/4 mile NHRA sanctioned drag strip just for that purpose!
That's right, Dodge and Bondurant announced today a new performance-packed one-day drag racing class, featuring the 840HP Demon, along with the 707HP Challenger Hellcat and Hellcat Widebody, and the 485HP Challenger 392.
Classroom instruction for the full-day school will last approximately two hours and will address the fundamental rules of drag racing, including proper launch, staging technique, reaction time, signals and safety pre- and post-checks. On-track instruction will be under the direction and supervision of a professional Bondurant instructor. Each student will get 22 single-lane runs, including a wet-box burnout, stage, 60-foot pass, half-pass and full-pass, in a variety of Challenger models.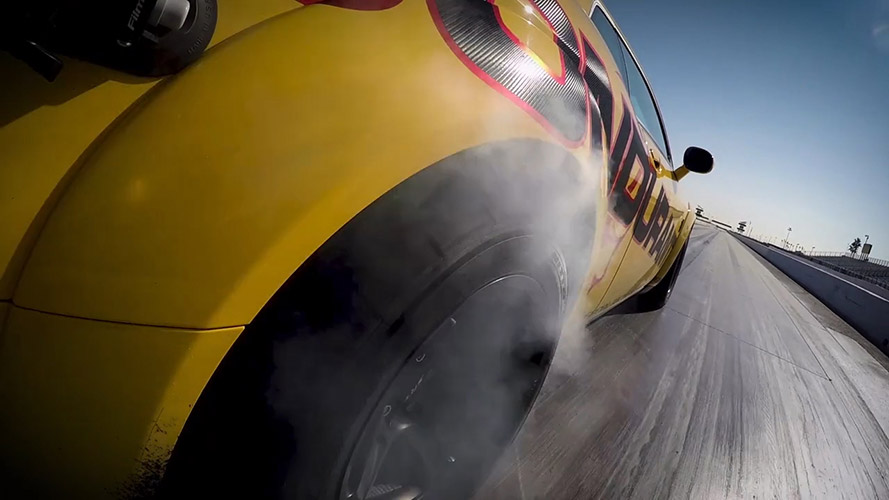 "We're thrilled to team up with Dodge on this exciting new Drag Racing program, featuring the wicked fast Dodge Challenger SRT Demon," said Jason Bondurant, vice president of Bondurant Racing School. "Our course will be led by our professional instructors who will give students the chance to experience first-hand the impressive capabilities of this audacious production drag car. It is especially fitting that we're launching this new course at the start of our Golden 50th Anniversary. It amplifies the message that the Bondurant Racing School is continuing to evolve and looks forward to the next 50 years of adrenaline-filled motorsports action."
Pre-registration for the "Dodge//SRT Bondurant Drag Racing School" begins January 12, with the first class starting March 9. Demon and SRT owners can register for the class through the Dodge//SRT concierge line, 800-998-1110, as their VINs will be verified. All others can register here.
Not a Dodge owner? No problem! The Bondurant Drag Racing School is open to all interested parties, with a single day class setting you back $1,999. Sure that's expensive, but not as expensive as the $85K price tag for a new Demon (assuming you can get your hands on one).
These classes are sure to fill up in a hurry, so if you're interested, don't delay!