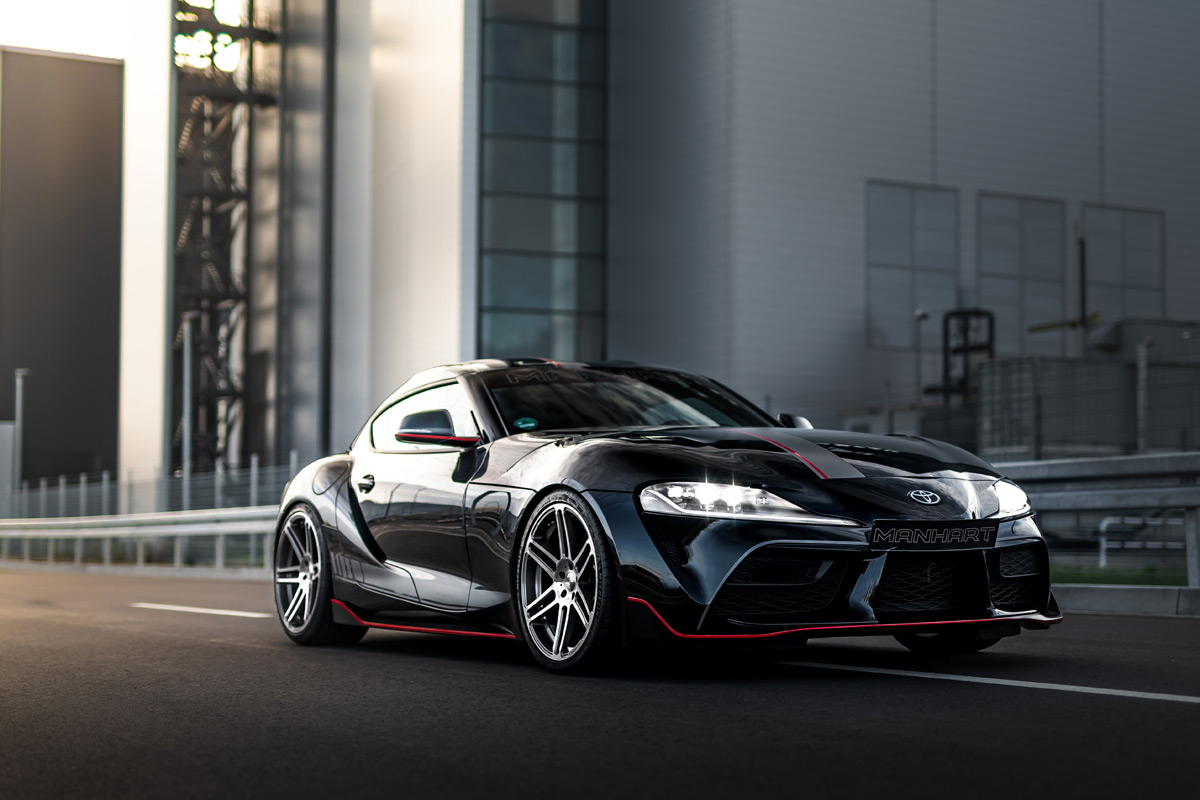 When Toyota announced that they were boosting output of the 2021 Supra from 335HP to 382HP, 2020 owners were justifiably pissed. But German automotive tuner MANHART has got you covered with their MANHART Supra GR 450 upgrade.
MANHART is already familiar with the platform, having released an upgrade for the BMW Z4 last year. And now they're delivering that same magic to the Supra, with an upgrade package that includes an engine upgrade program, suspension tweaks, new wheels, and a host of aesthetic modifications to the exterior and interior.
The turbocharged 3.0-liter V6 under the hood originally makes 335 horsepower and 365 lb-ft of torque, but with MANHART's MHtronik powerbox, a remapped ECU, and a new exhaust system, the Supra is said to produce 450 horsepower and 479 lb-ft of torque.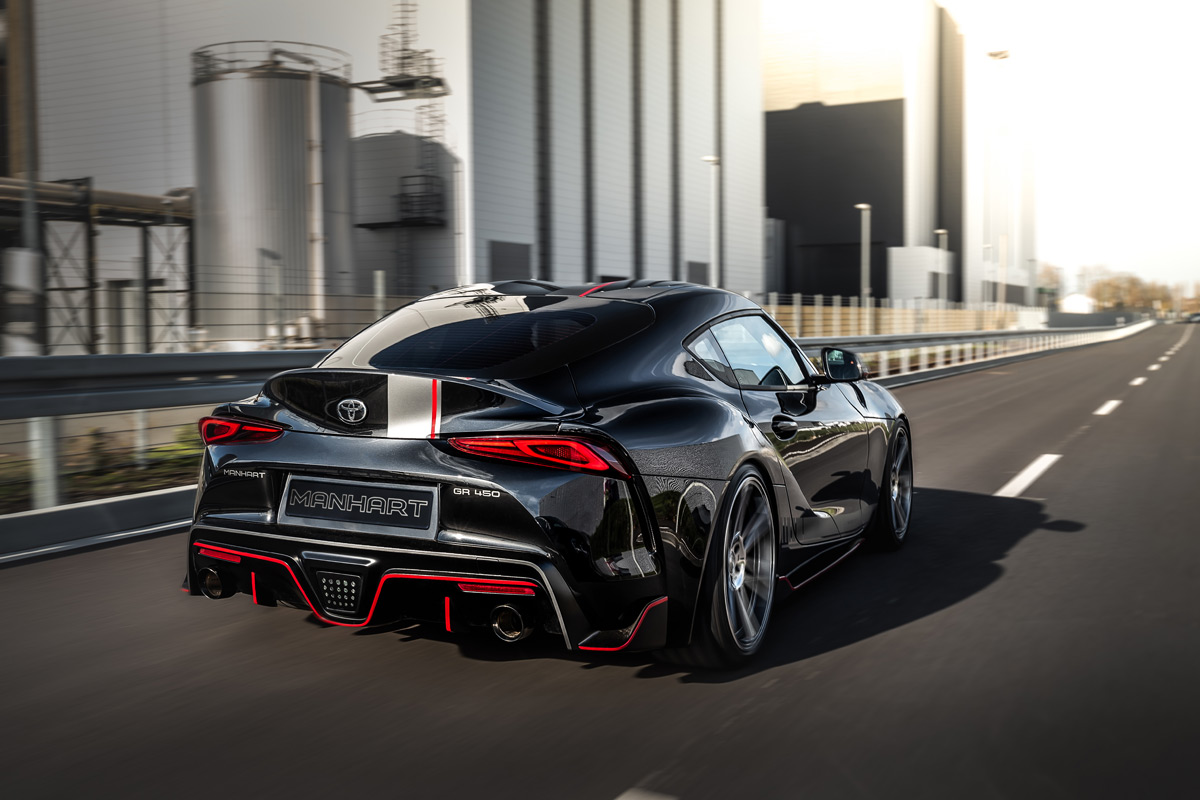 A new stainless steel exhaust system complete with valve control is available, as is a new set of downpipes and black quad-exhaust tailpipes, which come together to provide a more powerful sound from the engine.
On the suspension front, the MANHART Supra GR 450 is available with either lowering springs by H&R or a MANHART-tuned three-way coilover kit from KW Suspensions, to ensure lowering the center of gravity. Brakes remain stock, but they hide behind new Manhart Concave One wheels with a diamond polish. The front wheels are 9×20, while the rears are 10.5×20.
MANHART leaves the exterior well enough alone, save for a decorative grey and red vinyl racing stripe that runs the length of the vehicle. If you want an outlandish body kit, you'll need to go elsewhere for that.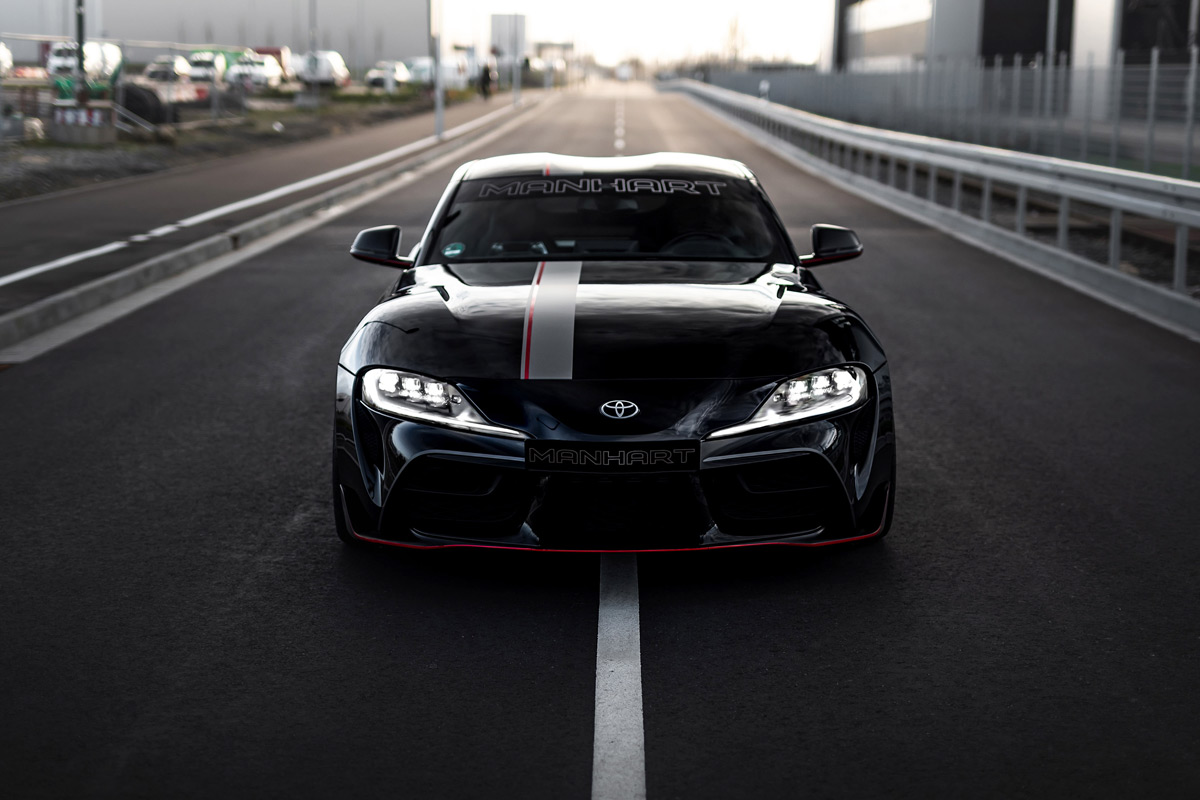 All of the pieces of the MANHART Supra GR 450 kit are sold separately, so if you're only interested in the extra power but want to leave the suspension and exhaust well enough alone, you can do that. Or you can go balls to the wall and order the complete kit. The only limitation is the size of your wallet.
If you're ready to take your Supra GR to the next level, contact MANHART to put together the package that best suits your needs.