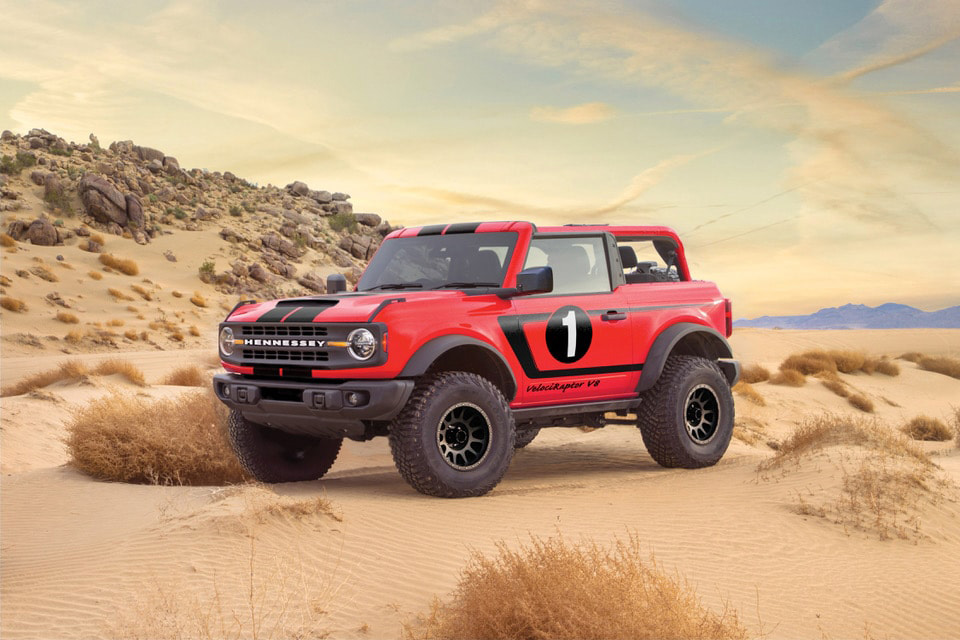 A few weeks ago, I got to see the Jeep Wrangler Rubicon 392 Concept in person at an FCA event, and it made me wonder why Ford wasn't offering a V8 variant of the 2021 Ford Bronco. Because lets face it, 310 horsepower isn't really anything to write home about.
Texas tuner Hennessey Performance Engineering saw an opportunity here, and thus the Hennessey VelociRaptor V8 Bronco was born. HPE will be taking the new Ford Bronco to the next level when it goes into production next year, dropping a supercharged Coyote 5.0-liter Ford V8 engine into the VelociRaptor V8 Bronco and mating it to a Ford 10-speed automatic transmission. The result is 750 horsepower of pure mayhem.
HPE expects the increased power and performance to drop the vehicle's 0-60 mph time to just 4.5 seconds. Other upgrades on the VelociRaptor V8 Bronco include a custom hood with scoop, larger wheels and tires, upgraded suspension system, custom Hennessey leather interior, VelociRaptor V8 racing livery graphics, upgraded stainless steel exhaust and more.
"Over the past 2 years we have built over 70 Gen 2 Ford Raptors for our customers by removing the EcoBoost V6 and replacing it with the same 750 HP supercharged 5.0 V8. I wanted to build the ultimate Ford Bronco for myself and for our customers," said company founder and CEO, John Hennessey. "The 2021 Bronco may be one of the most highly desired vehicles since the introduction of the Ford GT. We look forward to taking the new Bronco to the next level and beyond."
Here's the full list of specifications for the VelociRaptor V8 Bronco:
• New 2021 Ford Bronco (2D or 4D)
• 5.0L V8 Ford Engine
• Custom Hood with Scoop
• 10-Speed Ford Automatic Transmission
• Ford Wiring Harnesses & ECU
• 3.0 Liter Supercharger System
• Air-to-Water Intercooler
• High-Flow Air Induction
• Fuel Injector Upgrade
• Fuel System Upgrade
• Stainless Steel Cat-Back Exhaust
• VelociRaptor Front & Rear Bumpers with LED Lights
• Upgraded Aluminum Wheels
• Upgraded Off-Road Suspension System
• Upgraded Off-Road Tires
• VelociRaptor V8 Custom Interior
• Hennessey Exterior Badges
• Hennessey Custom Front Grille
• Hennessey Custom Livery
• VelociRaptor V8 Exterior Badges
• Hennessey Embroidered Headrests
• Limited Edition 1 of 24
• Serial Numbered Plaques
• Professional Installation
• HPE Engine Management Calibration
• Chassis Dyno Tuning & Road Testing
• 3 year/36,000 Mile Limited Warranty
Production will be limited to a total of 24 units for the 2021 model year. The VelociRaptor V8 Bronco will be available in both 2-door and 4-door configurations and will come with a 3 year / 36K mile warranty from Hennessey.
The complete cost including the new Bronco is $225,000 plus vehicle shipping costs. Yes, that's over 4X the price of a fully loaded Bronco! Still, given the amount of modifications done to the truck, not to mention the fact that it's covered by a warranty, it's not totally crazy. And who knows, given it's limited production numbers, the truck might actually be worth money someday to a collector. If you've been following auctions lately, you know that anything is possible when rich people are involved. 😀
The VelociRaptor V8 Bronco can be ordered directly from Hennessey or through authorized Hennessey / Ford dealers.
What do you think of the Hennessey VelociRaptor V8 Bronco?