Back in February, GMC announced the return of the Hummer in a Super Bowl teaser that had everyone talking, namely because it was about as far removed from the original gas-guzzling SUV as possible, reimagined as an environmentally friendly all-electric truck.
Now, after months and months of waiting, GMC pulled back the curtains and introduced the world to the Hummer EV, an all-electric "supertruck" that is built for a more modern, environmentally-conscious world. But as you'll see, just because it's a zero emissions vehicle doesn't mean that it's any less capable.
This bad boy is packing 1,000 horsepower, 11,500 lb-ft of torque, and a 0-60 time of 3 seconds. Suddenly, being green doesn't sound so bad, right? Giddy up! The video above shows does a great job of showcasing the Hummer EV and its features, so make sure to take a few minutes and check it out.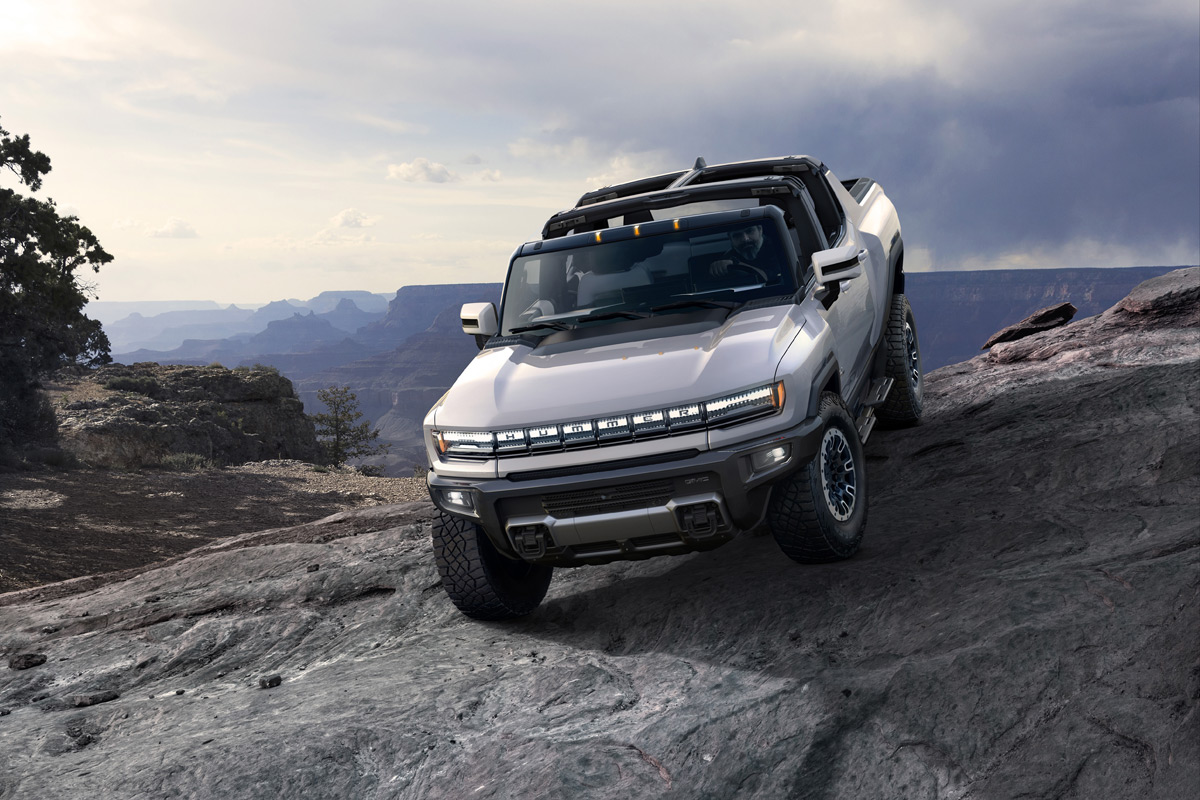 Using General Motors' all-new Ultium batteries and 3-motor Ultium Drive system should give the Hummer EV a best-in-class 1,000 horsepower (estimated) and combined axle torque of 11,500 lb-ft (estimated), enabling the Hummer EV to deliver unprecedented off-road capability and extraordinary on-road performance.
Speaking of performance, the GMC Hummer EV has a "Watts to Freedom" performance feature that launches the Hummer EV from 0-60 mph in approximately 3 seconds! While the name is kind of stupid, there's no disputing the monster power this sucker puts out. Don't do this too many times in a row though, or you'll likely be looking for a charging station sooner than later.
The GMC Hummer EV is designed to be the ultimate off-road EV supertruck, with a slew of all-new features developed to challenge tough obstacles and terrain. Highlights of available features include: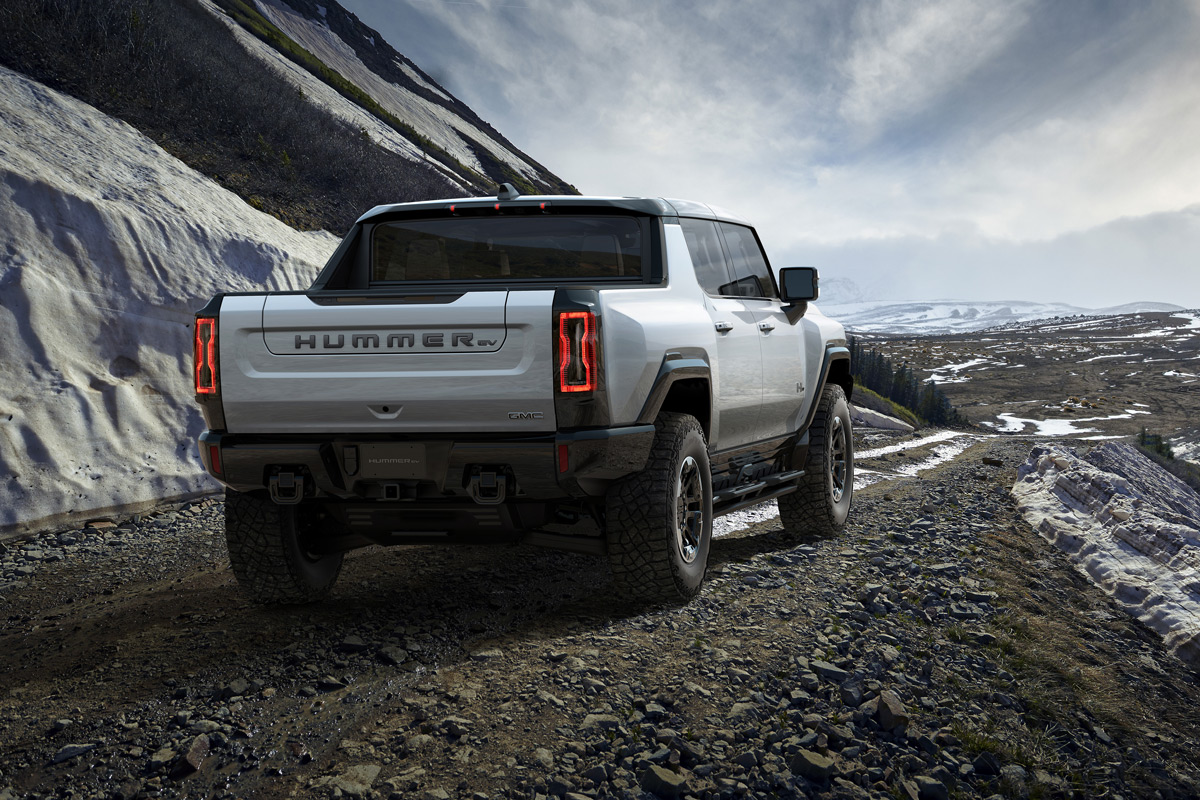 Segment-Exclusive 4 Wheel Steer featuring CrabWalk — a segment-exclusive feature that allows the rear wheels and front wheels to steer at the same angle at low speeds, enabling diagonal movement of the vehicle, for even greater maneuverability on challenging terrain.
Adaptive Air Suspension with available segment-leading, Extract Mode capability enables the suspension height to be raised approximately 6 inches (149 mm) to help the HUMMER EV negotiate extreme off-road situations such as clearing boulders or fording water.
35-inch-OD Goodyear Wrangler Territory MT tires offered standard; and the capability to accommodate 37-inch tires. They offer exceptional strength and flexibility to optimize maneuverability with the HUMMER EV's unprecedented off-road capability, including scaling 18-inch verticals and driving through water that is more than 2 feet deep.
Underbody armor, consisting of sturdy steel plates that are strategically located around the battery pack and more to help provide protection in extreme off-roading conditions.
UltraVision that includes new front and rear underbody cameras with live "virtual spotter" views to help drivers navigate obstacles and place wheels on and off the trail. The underbody cameras are packaged to help protect against damage and equipped with a wash function to help clear debris. HUMMER EV offers a best-in-class number of camera views, with up to 18 available from the vehicle to help increase awareness of surroundings.
Off-road widgets that display vehicle functions and terrain status through the infotainment and driver information screens. Examples include torque output, differential locker engagement, tire pressure, pitch and roll angles (including maximum values), a drift gauge (with maximum values), friction circle, torque vectoring and more.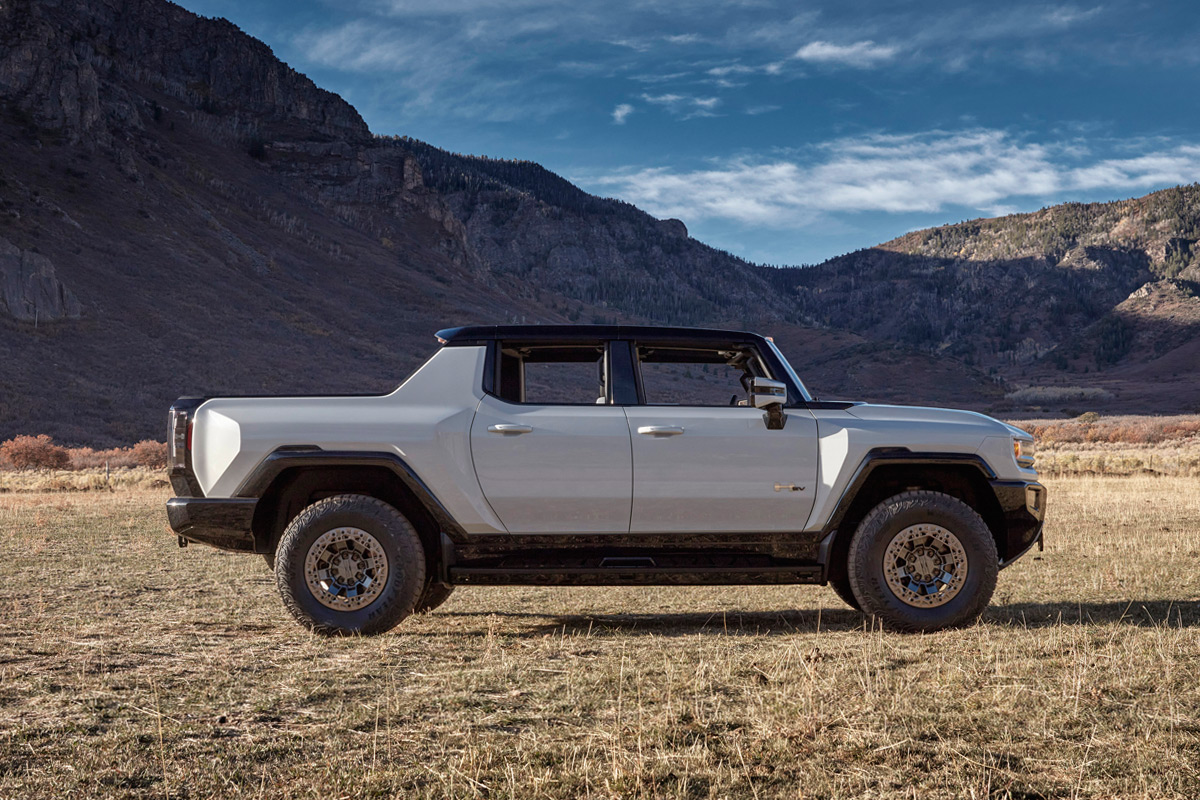 On paper, the Hummer EV sounds pretty great. 1,000 horsepower. 11,500 lb-ft of torque, a 0-60 time of 3 seconds, 350+ miles of range on a single charge, and an additional 100 miles of range with 10 minutes of fast charging. Plus it'll have the latest version of Super Cruise, GM's version of "self-driving" that still requires a driver but can overtake cars without driver interaction on more than 200,000 miles of compatible roads.
The exterior styling is also appropriately rugged looking, with the slick Infinity Roof and removable transparent Sky Panels adding another level of cool that you can't find in any other truck. Interior appointments are equally nice, delivering a premium look and feel, yet still capable enough to get dirty and handle what you throw at it.
If there's one drawback, it's the price. The Hummer EV will be available in four different trim levels, and the first one to hit dealerships (in Fall 2021) is the Hummer EV Edition 1. The price? A whopping $112,595. If you can wait till Fall 2022, you can get the Hummer EV3X for $99,995. In Spring 2023, the Hummer EV2X will be released, with a price tag of $89,995. And in Spring 2024, the "affordable" model, the Hummer EV2 will be released, with a starting price of $79,995.
That price tag keeps it out of reach but all but the well-heeled, while the Tesla Cybertruck has a more attainable starting price of $39,990, and even the top-of-the-line Tri Motor AWD model comes in at $69,990. Plus, you're getting better range (500+ miles), a faster 0-60 (2.9s), and a better charging network.
Yes, the two cars are distinctly different, and the Cybertruck doesn't have the off-road prowess of the Hummer… But honestly, how many people are really going off-roading in their $100K+ trucks? My guess, not too many.
It'll be interesting to see how people respond to the world's first all-electric supertruck. Will it simply be a novelty item for the ultra rich, or will it draw in buyers of other high-dollar pickup trucks like the Raptor and TRX as well? Only time will tell!
What do you guys think of the GMC Hummer EV all-electric supertruck?