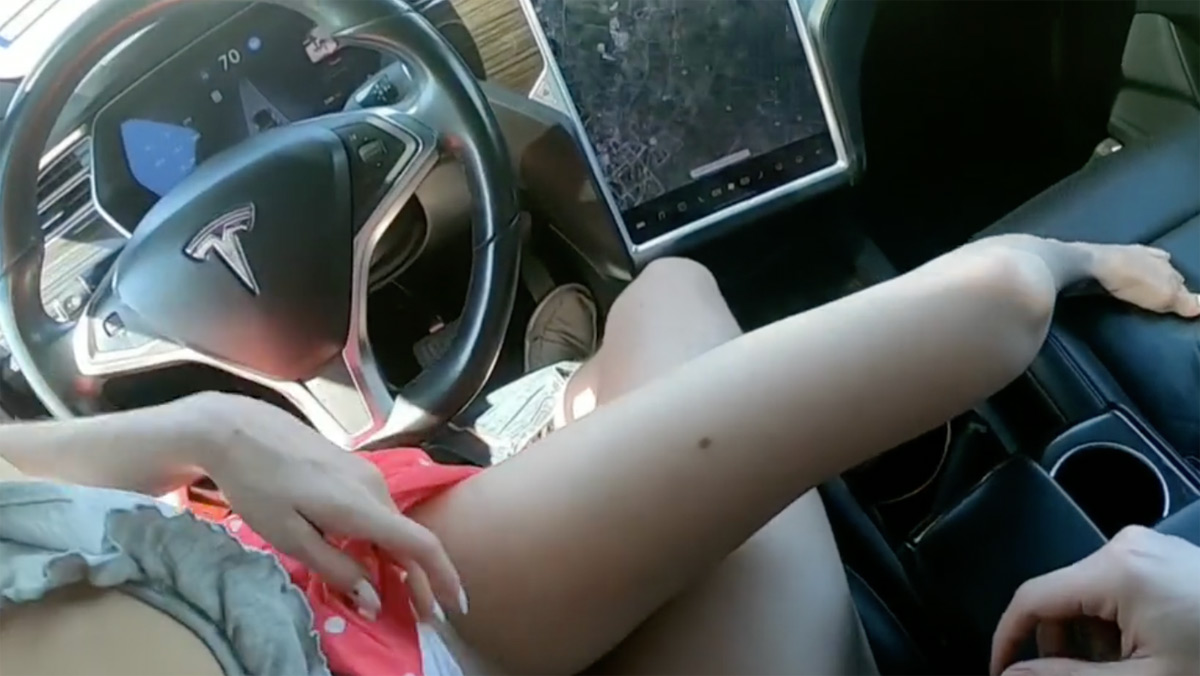 You knew it was only a matter of time before someone used Tesla's Autopilot feature so that they could get a little frisky while zipping down the 405. What we didn't expect was there being video of this incredibly dangerous act..
Last week, adult performer Taylor Jackson uploaded a video to PornHub showing her and her "Tinder date" having full-on sex in a Tesla (Model X?), the car happily driving down the highway at speed on Autopilot without a care in the world.
Imagine driving past this car on the road and seeing a buxom redhead riding the driver of the car as it barrels down the road! What's troubling is that Telsa's Autopilot is "not a self-driving system" and the feature "is intended for use with a fully attentive driver, who has their hands on the wheel and is prepared to take over at any time."
My Dad has a Tesla Model 3, and while the Autopilot feature is great, it's not without its faults, so you always need to keep alert to correct any mistakes the car may make. In this case, the driver had his hands full (with titties), and he clearly wasn't looking at the road ahead of him.
Naturally, it didn't take long for the video to go viral, making Tesla the #1 searched term on PornHub. And of course, it didn't take long for Elon Musk to hear about the incident, prompting him to post this Tweet:
Turns out there's more ways to use Autopilot than we imagined

— Elon Musk (@elonmusk) May 9, 2019
Yeah, not exactly the response most people were expecting from him, as other CEOs in similar situations would have talked about how unsafe this act was.. But not Elon! 🙂
A PornHub commenter puts it best: What a fucking day and age we live in where we can watch a man fuck some slut in a car that drives itself. brings a tear to my eye.
Something tells me this won't be the last Tesla Autopilot sex tape that we'll be seeing.