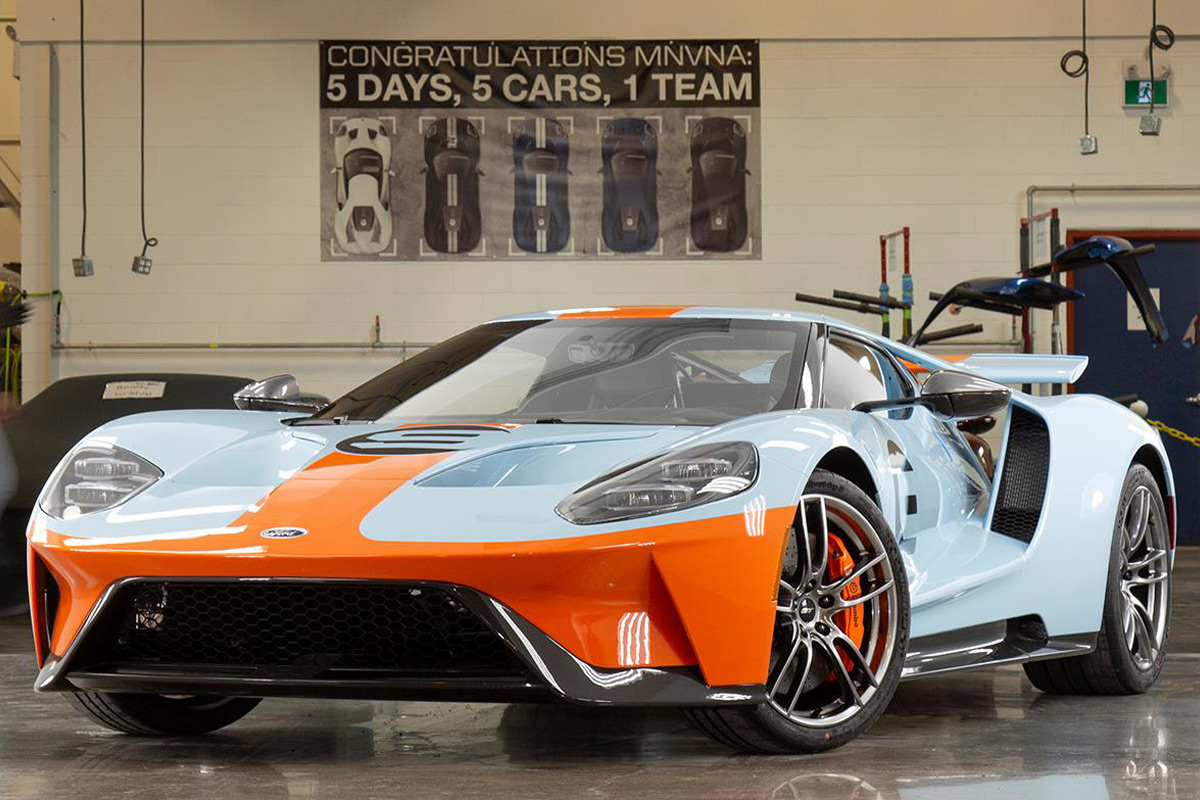 Ford will be auctioning off the very first 2019 Ford GT Heritage Edition (VIN 001) to roll off the assembly line at the Barrett-Jackson Collector Car Auction in Scottsdale, AZ on January 19, 2019, with all proceeds from the sale going to United Way of Southeastern Michigan.
The new 2019 Ford GT Heritage Edition wears the iconic Gulf Oil racing livery, paying tribute to the legendary 1968 Ford GT40 (chassis No. 1075), which took down Ferrari 50 years ago to make racing history at the 24 Hours of Le Mans.
"The 2019 Ford GT Heritage Edition instantly became one of the most anticipated cars in the world with its famous paint scheme," said Joe Hinrichs, Ford's president, Global Operations. "This car's amazing history should help the United Way for Southeastern Michigan raise a lot of money to advance their mission of helping make lives better in our communities."
Painted in the same famous baby-blue-and-orange scheme, the 2019 Ford GT Heritage Edition package features the No. 9 graphics on the hood and doors, as well as a ghosted image on the interior door panels. The exterior features exposed carbon fiber A-pillars and sports unique 20-inch one-piece forged aluminum wheels in high-gloss dark stainless with black lug nuts. Orange calipers and silver rearview mirror caps complete the look.
Inside, the seats, instrument panel, pillars, headliner and steering wheel are wrapped in Ebony Alcantara. Contrasting blue and orange stitching accentuates the seats and steering wheel, with a new seat embossment inspired by the original Le Mans-winning car, as well as clear and polished anodized paddle shifters. High-gloss dark stainless appliqués accent the instrument panel, door register bezels and x-brace to round out the interior.
Given the exclusivity of this Ford GT (Heritage Edition, VIN 001), it's expected to fetch quite a bit of money. The last time a Ford GT was auctioned off for charity, it sold for a whopping $2.5 million. Will this hammer for even more than that? We'll have to wait and see.