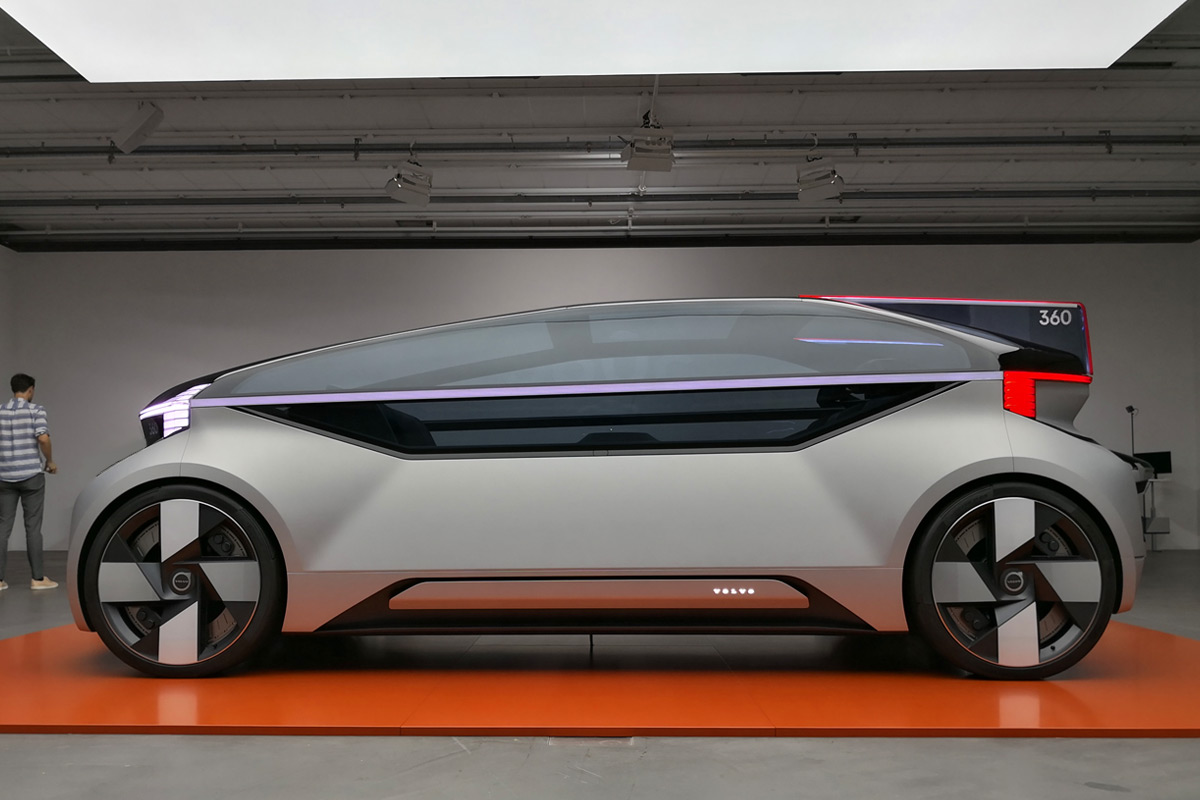 Self-driving cars are coming, there's no doubt about that. I myself have ridden in more than a few autonomous cars over the years, and the technology is MUCH closer than you think.
But with most of these concept, the approach is the same. You've got a car that you can switch into self-driving mode on a long trip, after which you can sit back and relax, letting the car deal with traffic and the monotony of a long drive, while you occupy yourself otherwise.
Volvo has a completely different vision for the future of passenger travel, reimagining the role and functionity of a self-driving vehicle like never before. Feast your eyes on the Volvo 360c autonomous concept; a bedroom, office, living room, or night club on wheels.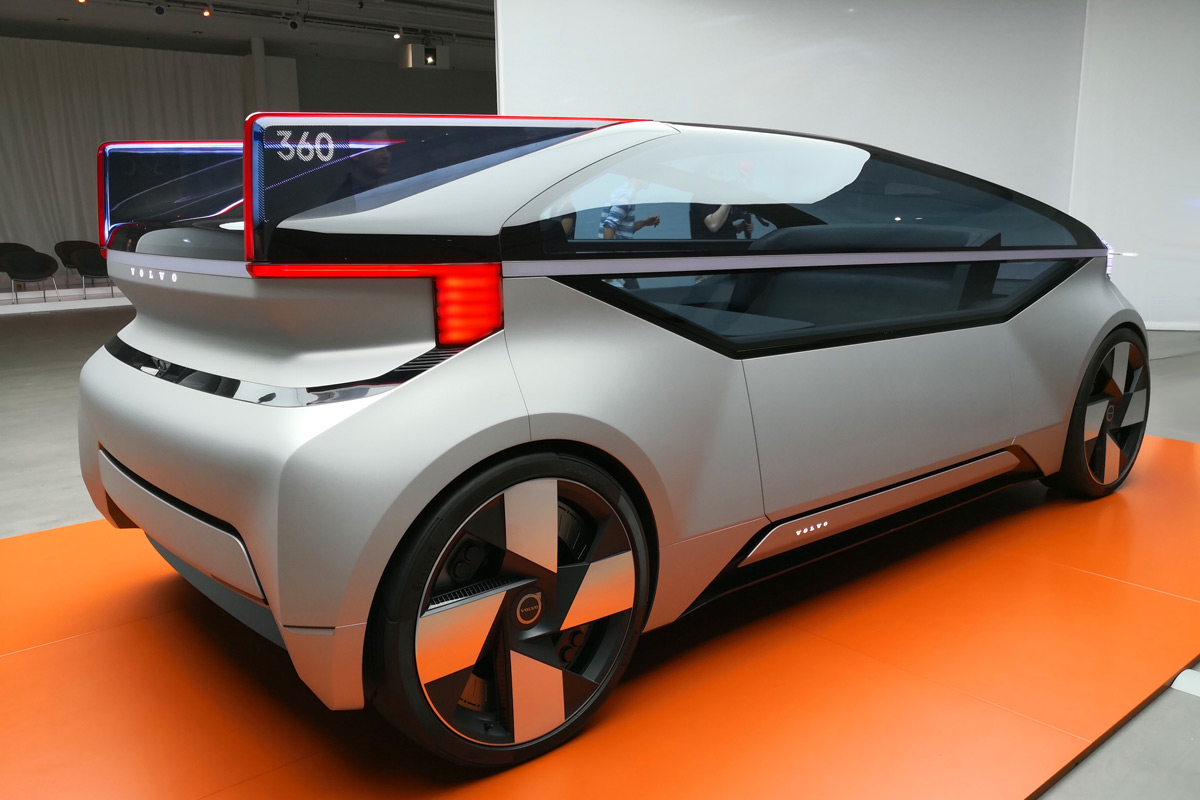 Sounds (and looks) pretty wild, right? To learn more about this unique vehicle, Volvo brought us out to their headquarters in Gothenburg, Sweden, where we got to speak with their design and product leaders and get a better understanding about how the Volvo 360c concept came to be, and how they see it playing a part in the the future.
"The 360c explores what becomes possible when we remove the human driver, using new freedoms in design and recapturing time – it's a glimpse at how autonomous drive technology will change the world as we know it. The possibilities are mind-boggling," said Mårten Levenstam, senior vice president of corporate strategy at Volvo Cars.
Volvo's concept presents four potential configurations depending on your needs – a sleeping environment, mobile office, living room and entertainment space – representing an attractive travel option that could rival air, bus and train providers, but with competitive advantages in comfort, convenience and privacy.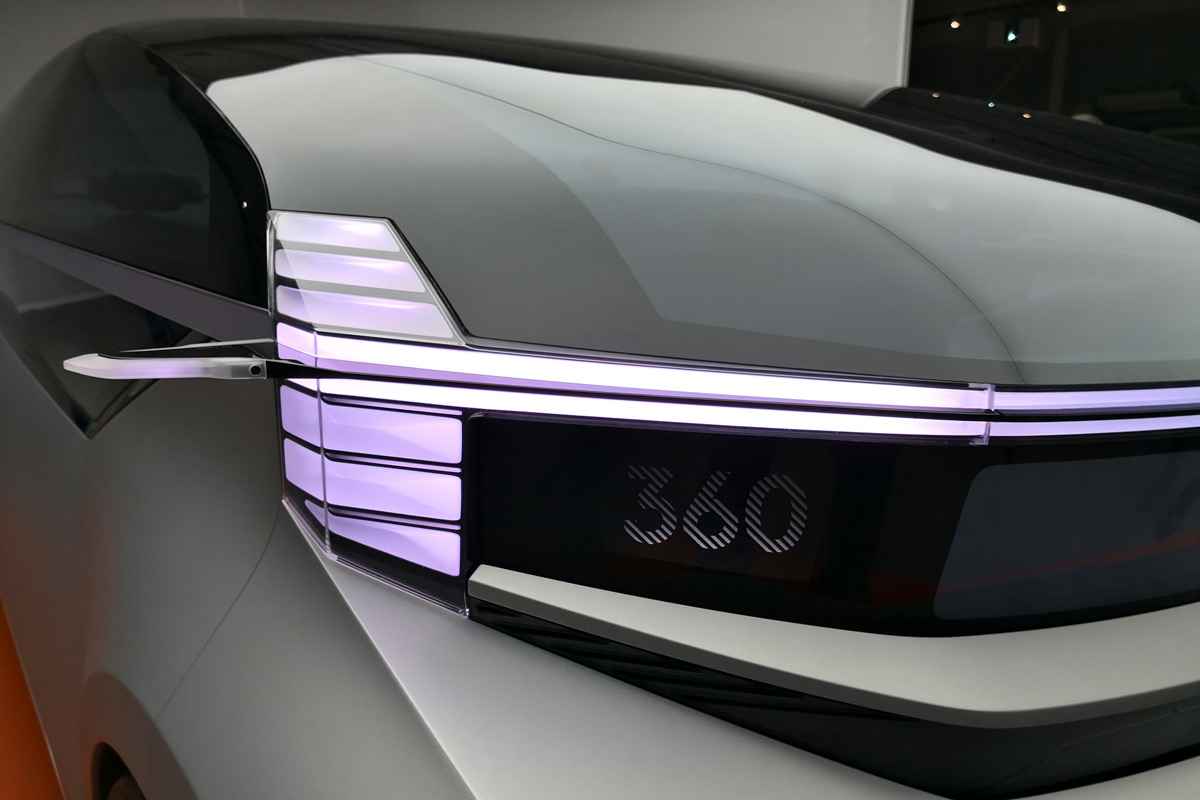 Lets start with the most interesting of the bunch, the futuristic sleeper car. Volvo is suggesting that the 360c could be a viable alternative to air travel for short-haul flights. Consider a flight from Philadelphia to Washington DC. On paper, the flight is just over an hour long. But when you factor in the time it takes to drive to the airport, park your car, shuttle to the airport, go through security, and then get a ride to your destination once you arrive, it's more like four hours or more, and it's anything but a relaxing experience.
Or, you could simply call for a 360c on your smartphone when you're good and ready to leave rather than operating on the airline's schedule, and enjoy first-class private cabin travel from door to door, without the nightmare of airport security, queuing, noisy and cramped planes. Travel time would be roughly the same (maybe even faster if that flight is delayed), and you would arrive feeling nice and refreshed. Which option sounds better to you?
I actually got to try out the sleeper configuration in a prototype for myself, and it was really cool. The seat fully reclines into a bed, with a safety blanket serving to keep you securely in place while you sleep in place of a standard seatbelt. Three spacious drawers hold everything you need (personal belongings, food for the trip, a pillow and blanket). There's even a sink where you can brush your teeth in the morning, and a table where you can eat breakfast. It's an interesting alternative to flying for sure!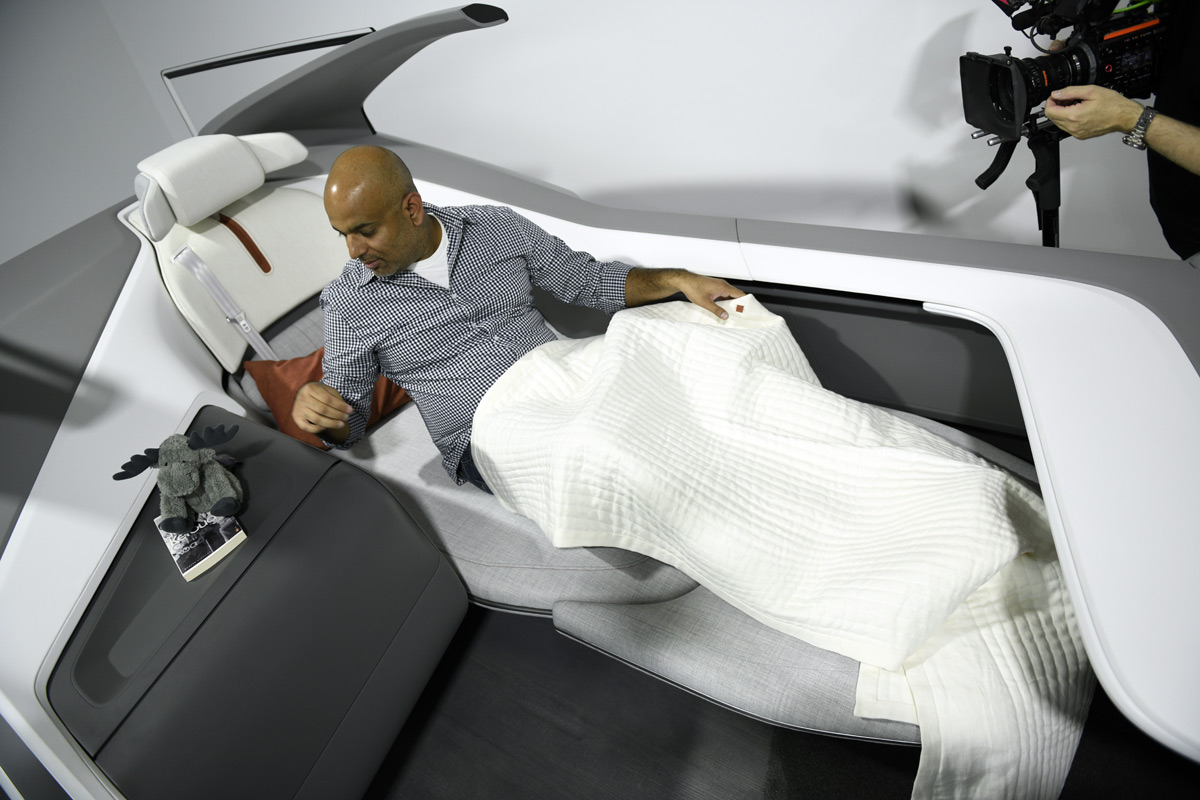 But that's not all. There's also a mobile office configuration that's ideal for those people with long commutes to work. Instead of wasting hours on end in bumper-to-bumper traffic, you can simply let the vehicle deal with the gridlock while you enjoy a fully-functional, connected, comfortable, mobile office from which to work. With seating for four, you could even use the vehicle to hold meetings in, with a display window that you can cast presentations to from your laptop or phone. Heck, there's even a coffee machine on board.
"People becoming less reliant on proximity to cities is just one example of the impact of removing the burden of unproductive travel time," said Levenstam. "The 360c driving office makes it viable for people to live at greater distances from crowded cities and use their time both in a more pleasant and more effective way."
Meanwhile, the living room configuration is how most people would utilize these vehicles, a comfortable environment that lets 1-4 people get from point A to point B, with a number of niceties to make your trip more enjoyable than a standard taxi. Touch panels let you control the temperature, there's a scent selector, reclining seats when you want to relax, and whatever entertainment you desire courtesy of the voice assistant. And since there's no driver, there's no awkward small talk that you need to make. Simply sit back, relax, and enjoy the ride.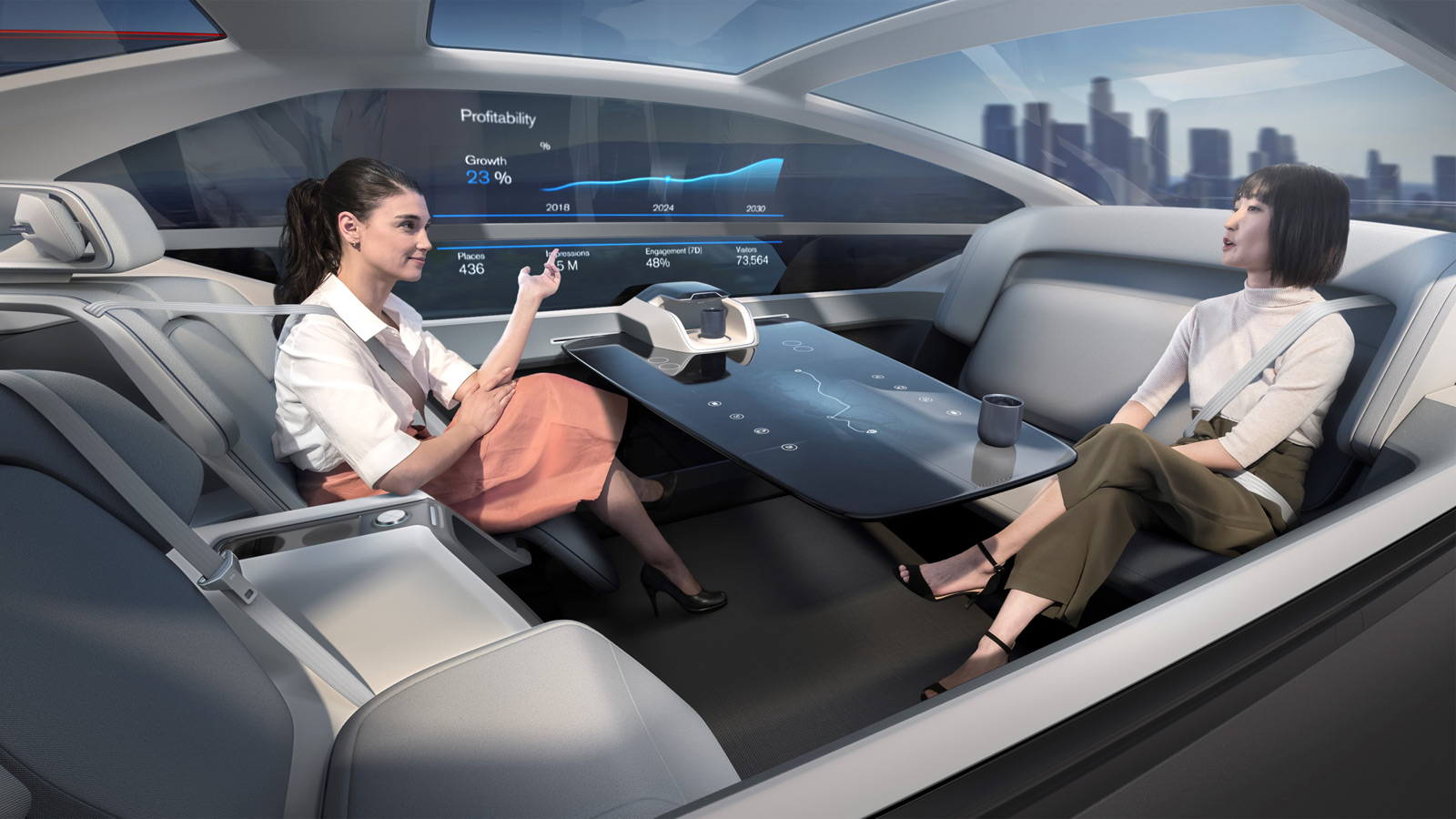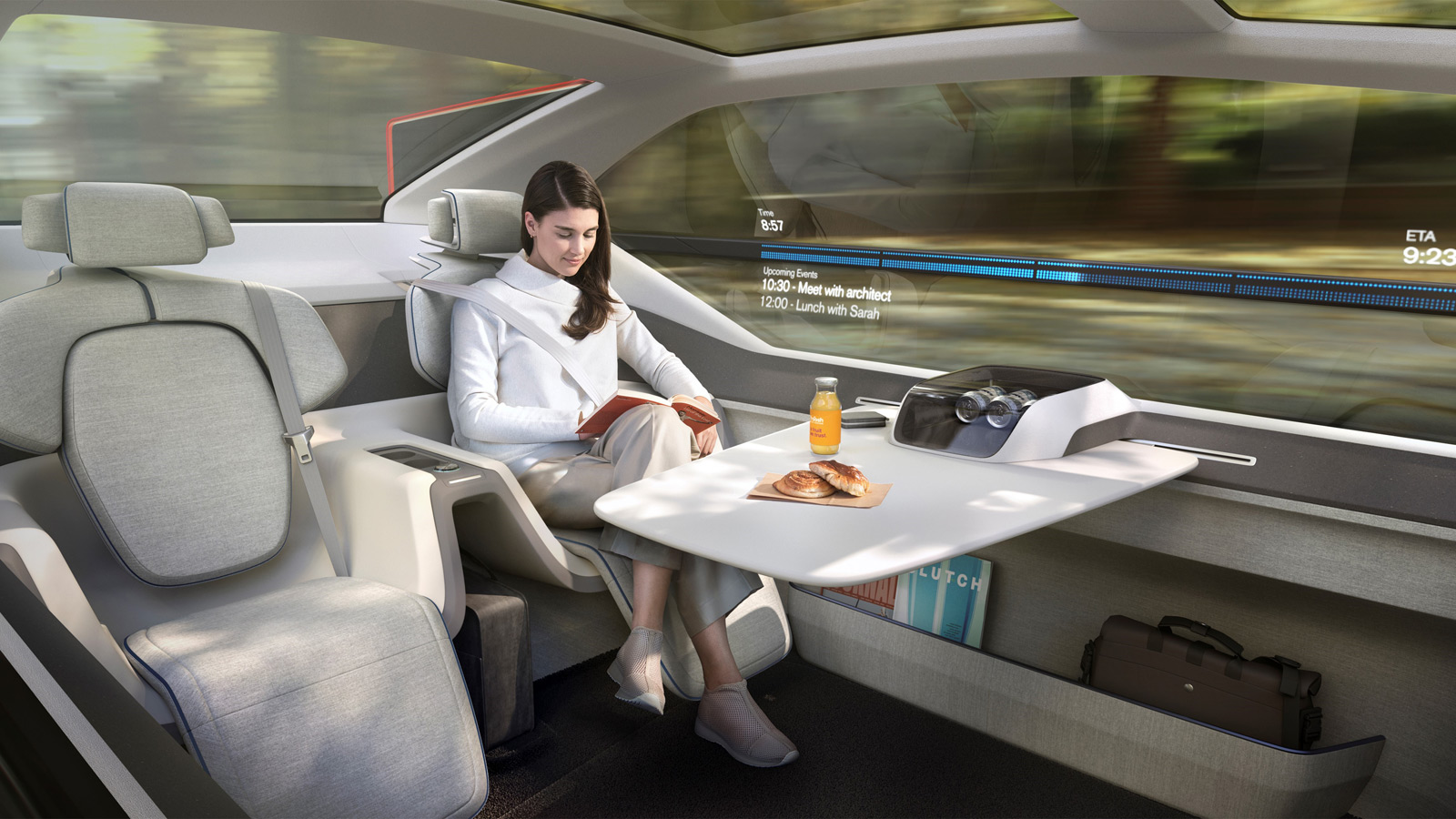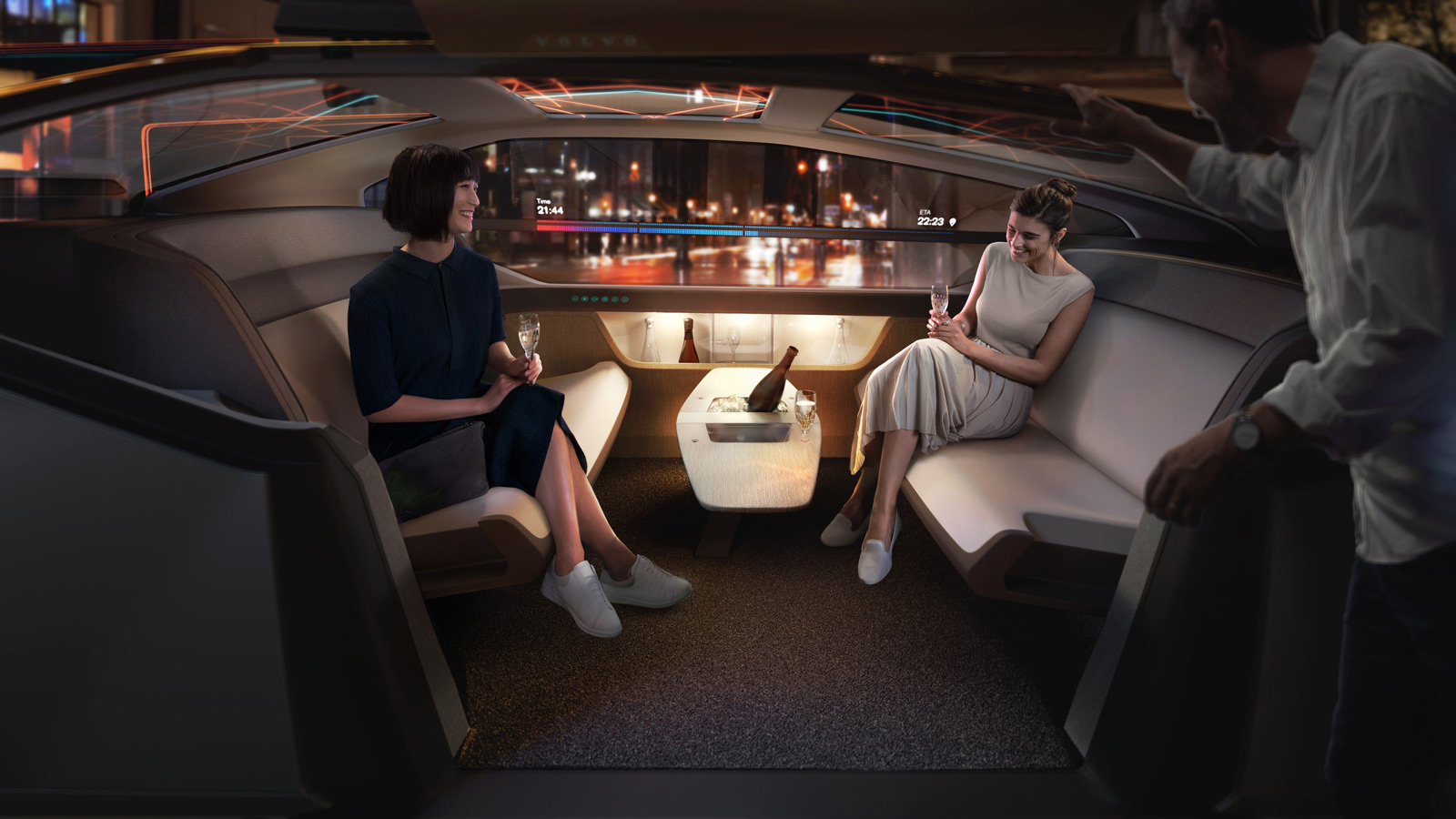 As you can see from these photos, the 360c is surprisingly roomy, despite being the same size as a Volvo XC90. But since there's no bulky engine up front (it's electric) or steering wheel or pedals to contend with, they've been able to recover a LOT of wasted space, which explains how they've managed to seat four people in comfort, along with a table, sink, etc.
Equally intriguing is Volvo's ideas on how to have the vehicle communicate with other drivers, cyclists and pedestrians and let them know its intentions. To accomplish this, the 360c emits audible and visual signals, which should be very effective. At least until you end up in a dense city with hundreds of these vehicles driving around simultaneously, at which point it's going to be a cacophony of sound effects and flashing lights.
"We strongly believe this communication method should be a universal standard, so all road users can communicate easily with any autonomous car, regardless of which maker built it," said Malin Ekholm, vice president at the Volvo Cars Safety Centre. "But it is also important that we do not instruct others what to do next, in order to avoid potential confusion. Our research shows this is the safest way for fully autonomous cars to communicate with others."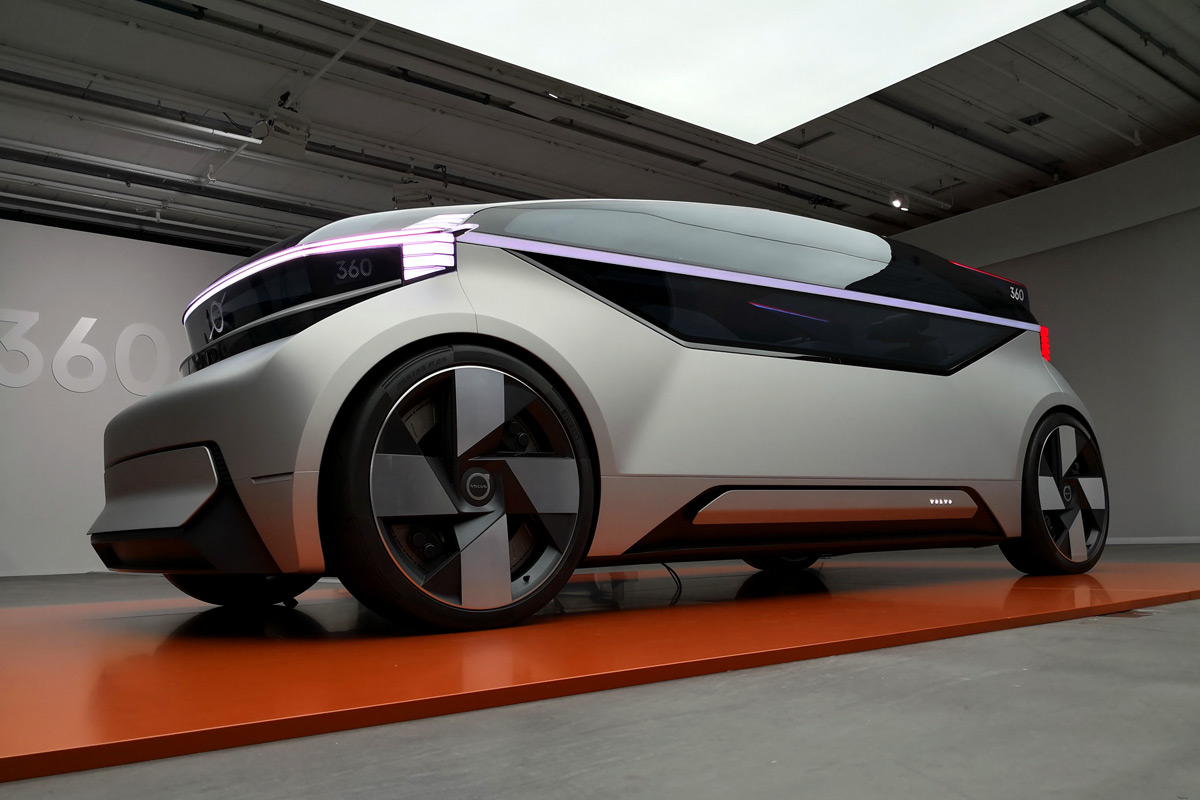 If you had your heart set on purchasing one of these vehicles, I've got some bad news for you. Volvo doesn't plan on selling them to individuals, nor is it looking to become the next Uber or Lyft. Instead, they see themselves more like Boeing, simply selling the vehicles to airlines or ride-sharing companies as needed, and letting them handle the logistics of operating such a fleet. And honestly, with traditional car ownership gradually giving way to ride-sharing and such, that business model makes perfect sense.
There's no question that the Volvo 360c concept has got us thinking about autonomous cars in an entirely new way, and that was exactly what Volvo set out to do. According to Levenstam, the car is "a conversation starter, with more ideas and answers to come as we learn more." We are probably still a good 5-10 years away from seeing a vehicle like this on the road, but I'm really excited for what the future holds, and you should be too!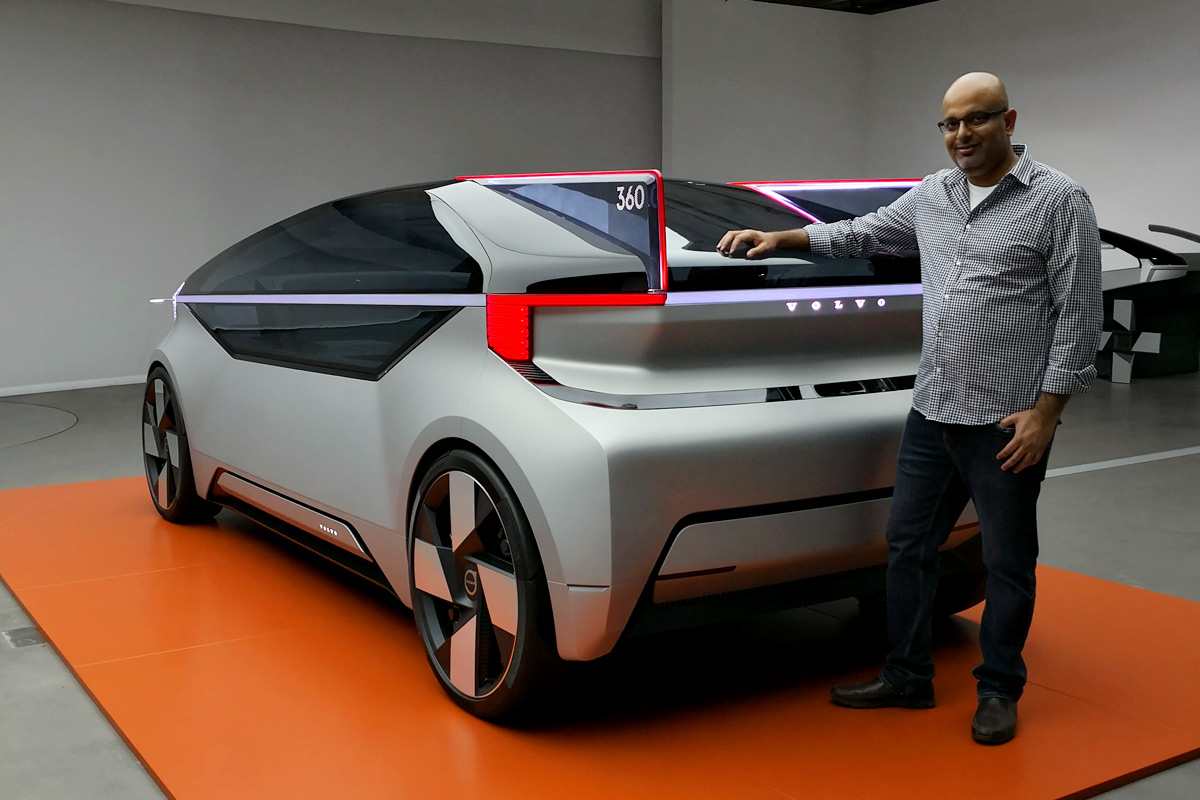 What do you think of the Volvo 360c autonomous concept?