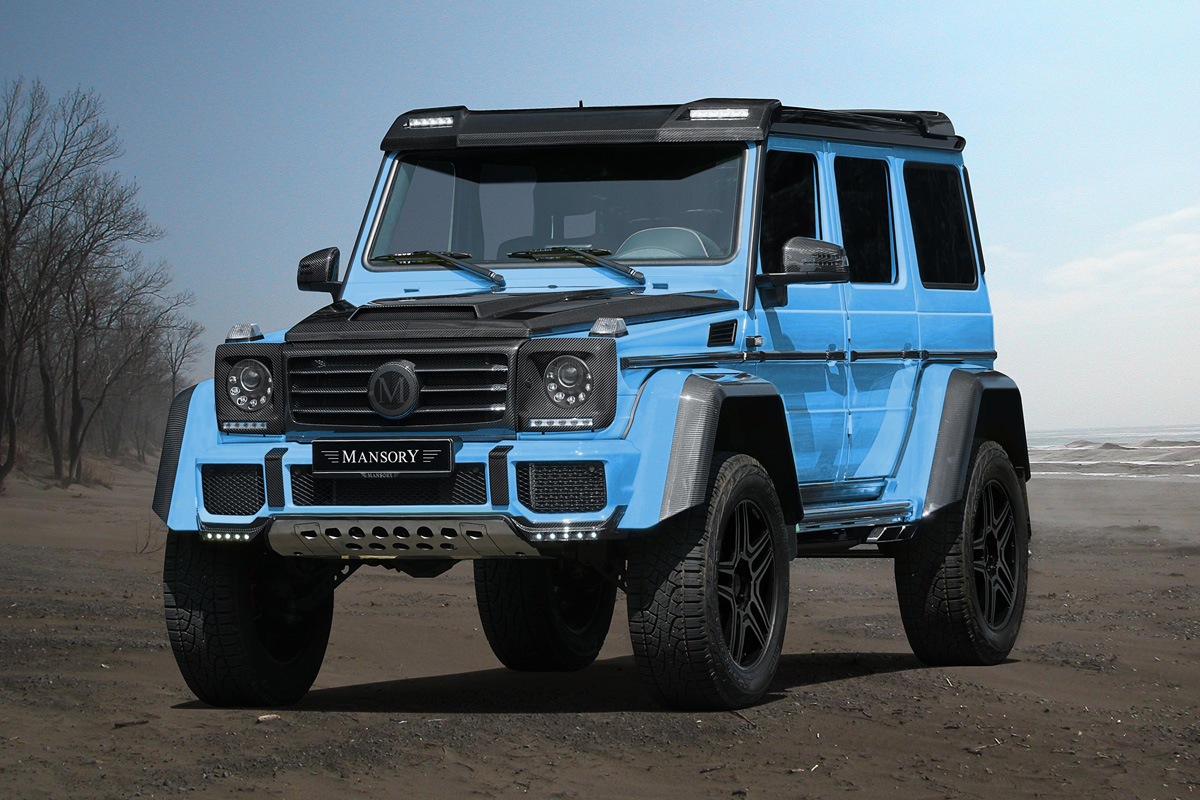 The Mercedes-Benz G500 4×4² is a mountain of a vehicle that's impossible to miss on the streets, even in its factory-standard version. The wide, flared wheel arches and imposing height of this portentous off-roader will easily put other more watered-down SUVs in their place.
But German tuning firm Mansory wanted to build an incomparable G-Class for their exclusive clientele for whom a "regular" G-Wagon wouldn't cut it, one decked out with carbon fiber upgrades, a top of the line interior finish, and a nice bump in power to boot. Meet the Mansory Mercedes-Benz G500 4×4².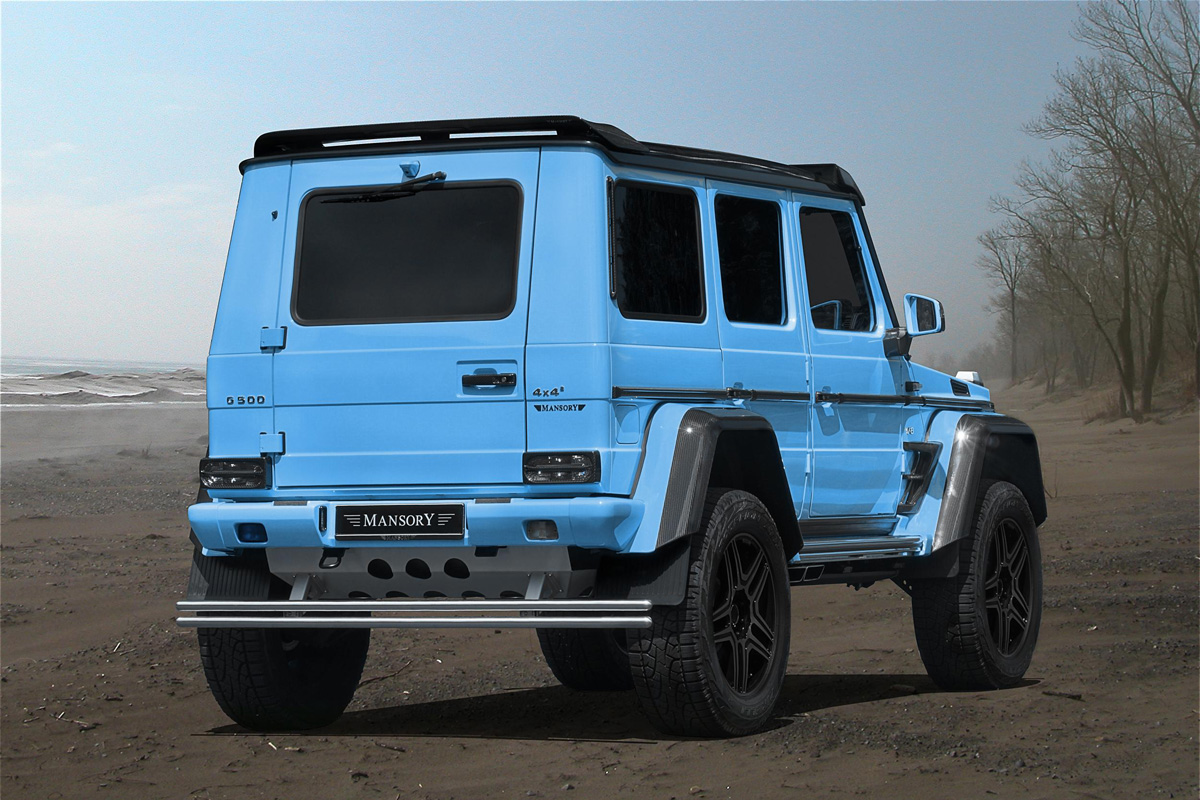 There's carbon fiber as far as the eye can see: a new front spoiler with prominent LED headlights and new hood made from visible carbon fiber shape the nose of the MANSORY 4×4². The flanks are adorned with air intakes on the front wheel arches, mirror housings, handles and trim, which are also made from visible carbon fiber. Even from a bird's eye view there is carbon aplenty on the roof and roof spoiler. The rear apron and panels have been redesigned to accommodate lighting units as the perfect way to round off the carbon cladding.
The interior was also entirely redone, and it's dripping with pure luxury. The sports steering wheel designed especially for the 4×4² features a carbon inlay and the aluminum pedals guarantee full control over the vehicle. Almost all the interior furnishing components have been masterfully created by hand from leather and cutting edge carbon fabric. The exclusive interior is topped off by logos, decorative stitching and beading to match the color of the vehicle.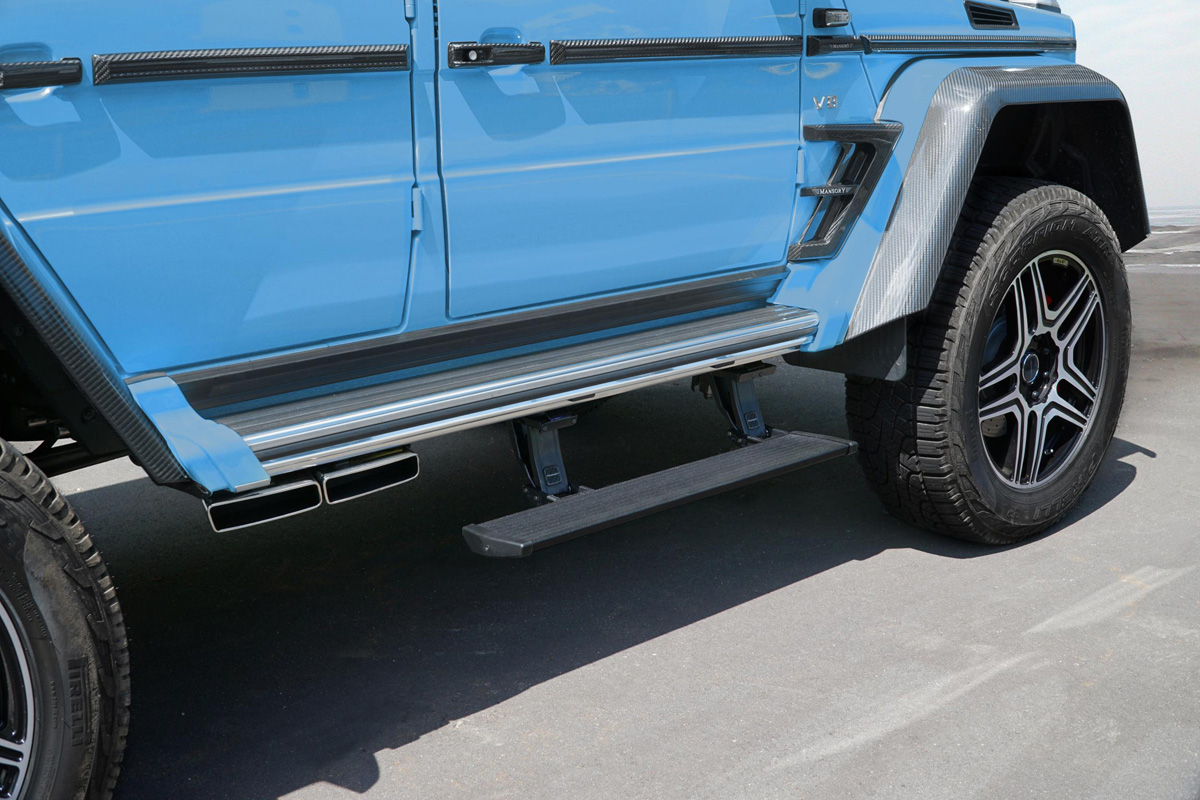 Beneath the hood, they installed their new Mansory Powerbox and combined it with a sports exhaust system that, together, increases the power from 416 horsepower to 478 horsepower. The vehicle also has an additional 74 lb-ft of torque. And the finishing touch is an automatically extending step to assist you in ascending to your 4WD throne.
Finished off in a "look at me" sky blue color, this Mansory Mercedes-Benz G500 4×4² is sure to break necks wherever it goes.