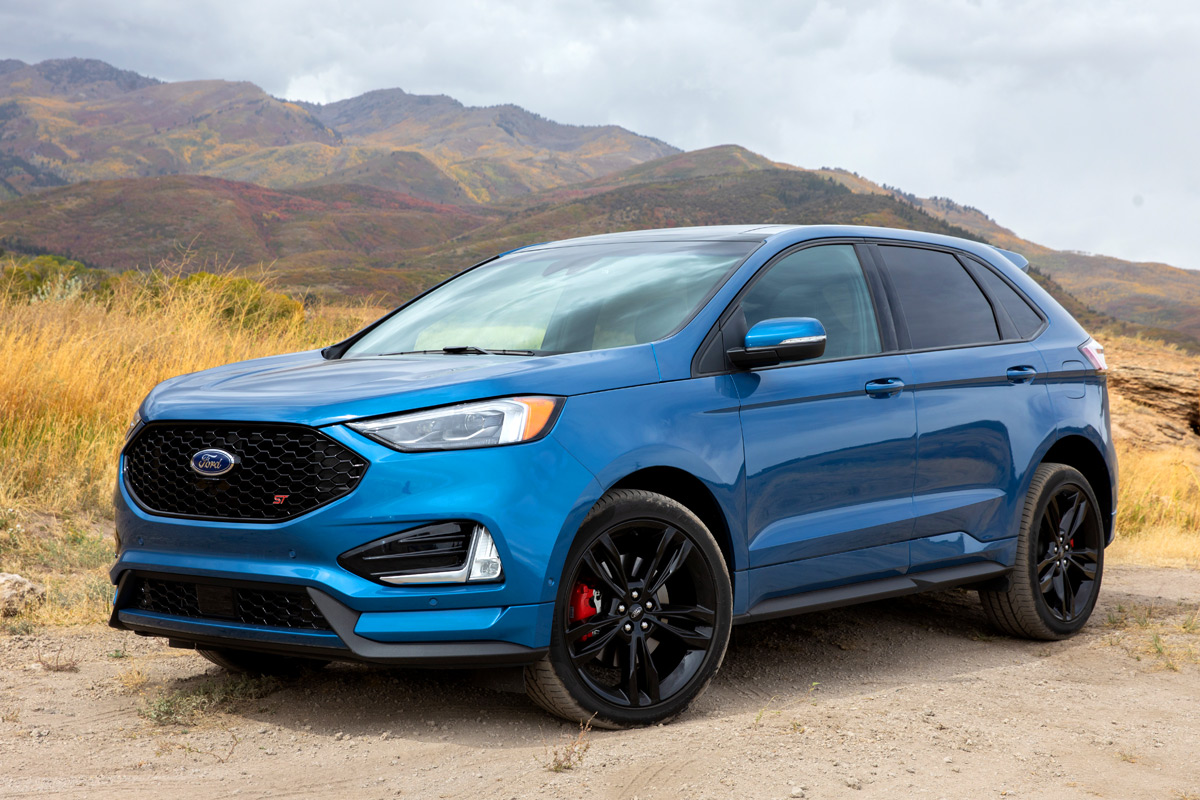 When Ford first announced plans for a 335-horsepower performance SUV that would wear the iconic ST badge, I was.. surprised, as I didn't see much of a market for a souped-up Ford Edge. Turns out, I was looking at it from the wrong perspective.
The majority of my friends with kids have SUVs or crossovers. According to them, it's a must, as they need the extra room to shuttle their kids (and their friends) around to soccer practice. While many of them are gearheads who would love to drive something fun like a Mustang GT or Focus RS, "life" forced them to choose something more practical.
Enter the new 2019 Ford Edge ST, a potent yet practical crossover SUV that delivers the best of both worlds, satisfying your need for speed while passing the wife test. The first SUV from Ford Performance, the Edge ST builds upon last year's Edge Sport, with a 2.7-liter twin turbo V6 that puts out 335 horsepower and 380 lb-ft of torque (an increase of 20HP and 30 lb-ft).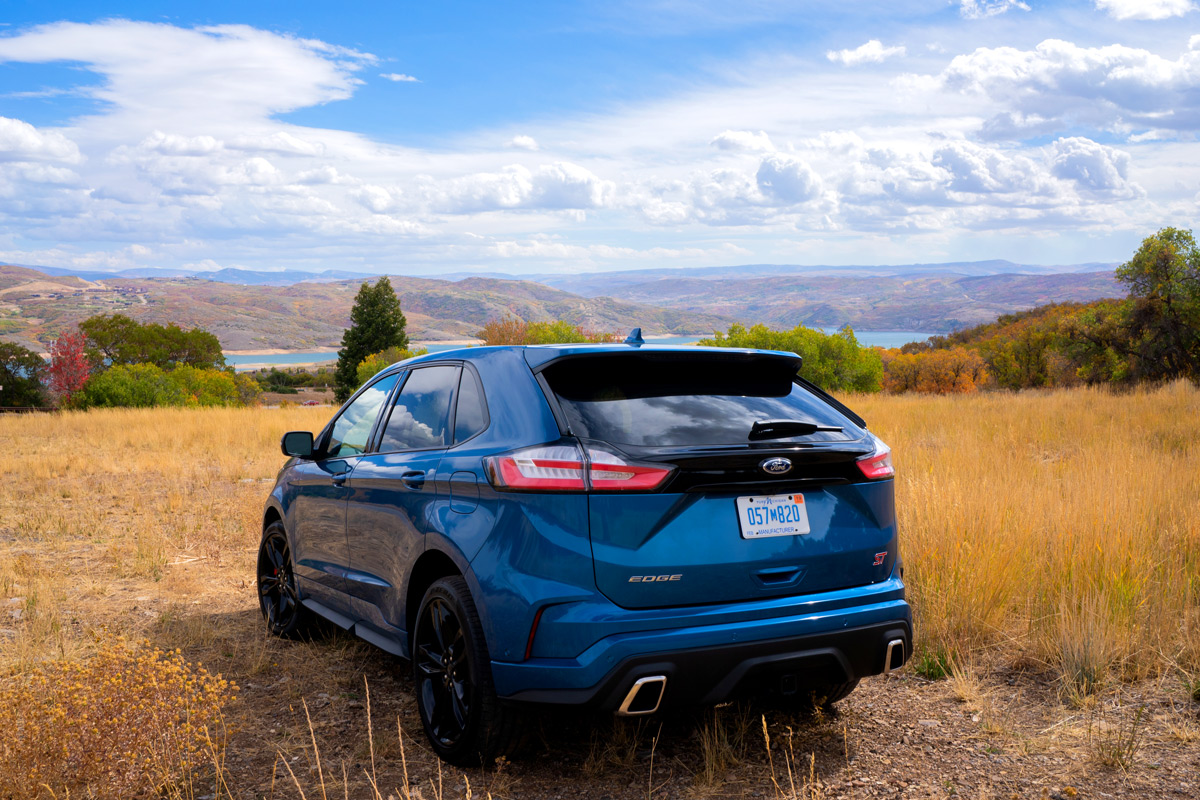 Coupled with a quick-shifting eight-speed transmission and a lower final drive ratio, the 2019 Edge ST rockets from 0-60 in 5.9 seconds, with a top speed of 130mph. That's actually quicker than the Fiesta ST or Focus ST, which is really impressive given its size. And if you're able to keep your foot out of it, the Edge ST returns a respectable 19 mpg / 26 mpg (city/hwy), thanks in part to Ford's Intelligent AWD with AWD Disconnect system.
Ford recently brought us out to Park City, Utah to test out the 2019 Ford Edge ST, setting us loose on some winding roads up through the mountains, giving us a chance to put the SUV's performance chops to the test. In a word.. impressive!
The '19 Ford Edge ST gets going in a hurry, and shifts through the eight-speed automatic are absolutely seamless. Acceleration is so smooth and linear, it's easy to think the car has a CVT. Switch into Sport mode, and the car is transformed even further, holding gears longer, with more aggressive shifts, and some added "noise" piped into the cabin.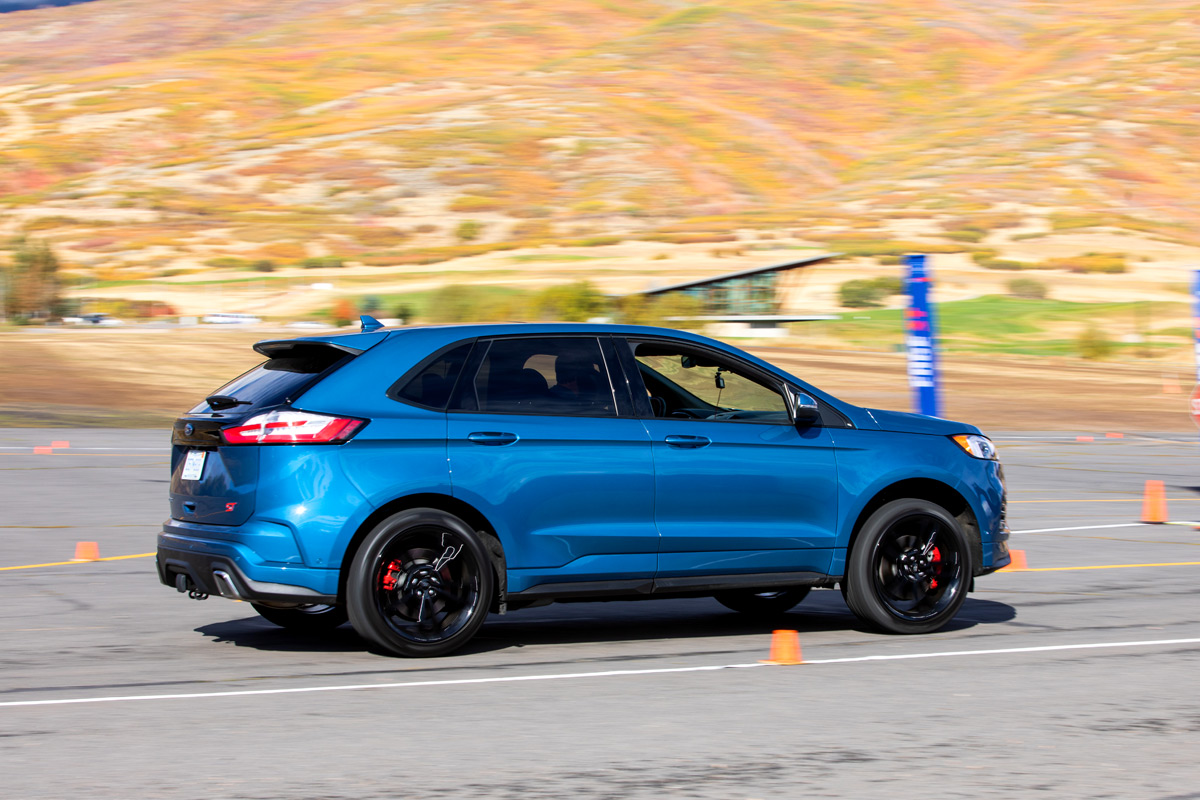 As you might expect, the Edge ST suspension is retuned, with new shocks, firmer springs, and a thicker sway bar all working together to improve the car's handling. The slow things down, the brakes get substantial upgrades as well. If that's not enough, there's even an optional ST performance brake package that takes things up another notch.
To show us just how capable the Edge ST is, Ford put together a tight autocross course for us to drive, where it performed incredibly well despite its larger size. Respect.
Visually, all 2019 Edge's gets new front and rear styling, with the ST getting a wide mesh grille for optimal cooling, deep side skirts and dual-exhaust outlets. Unique 21-inch wheels are available (20-inch wheels are standard), with gloss black treatment that perfectly highlight the red calipers behind them. Inside, there's an ST-specific instrument cluster, heavily bolstered seats to keep you in place, and gloss black and carbon fiber-style trim.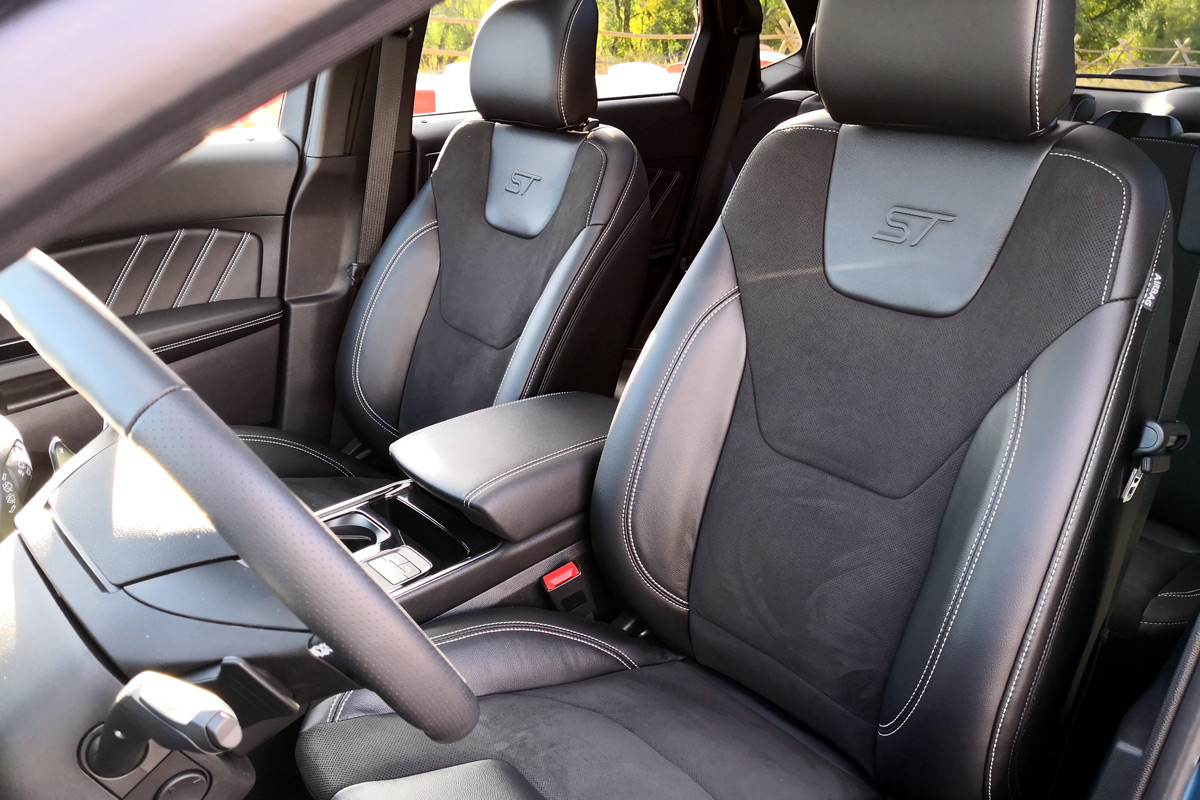 Technology has always been Ford's strong suit, and they deliver it in spades in the Edge ST. Ford's Co-Pilot360 safety technology package is standard, giving drivers forward collision warning with automatic emergency braking, blind-spot monitoring, a lane-centering system, auto high beams and a backup camera standard. And the Edge ST keeps you connected with things like Wi-Fi hotspot, Apple CarPlay / Android Auto, Amazon Alexa integration ("Alexa, start my car"), and more.
With a starting price of $43,350 (and a fully optioned model coming in at around $55K), the 2019 Ford Edge ST isn't exactly cheap. But there's really nothing else out there quite like it, and we think enthusiasts who have a growing family and want something a little edgier than the status quo will be drawn to the ST.
Overall, I think the 2019 Ford Edge ST is a fun yet practical performance vehicle that checks off all the boxes, and I think it's going to be a hot seller for the Blue Oval.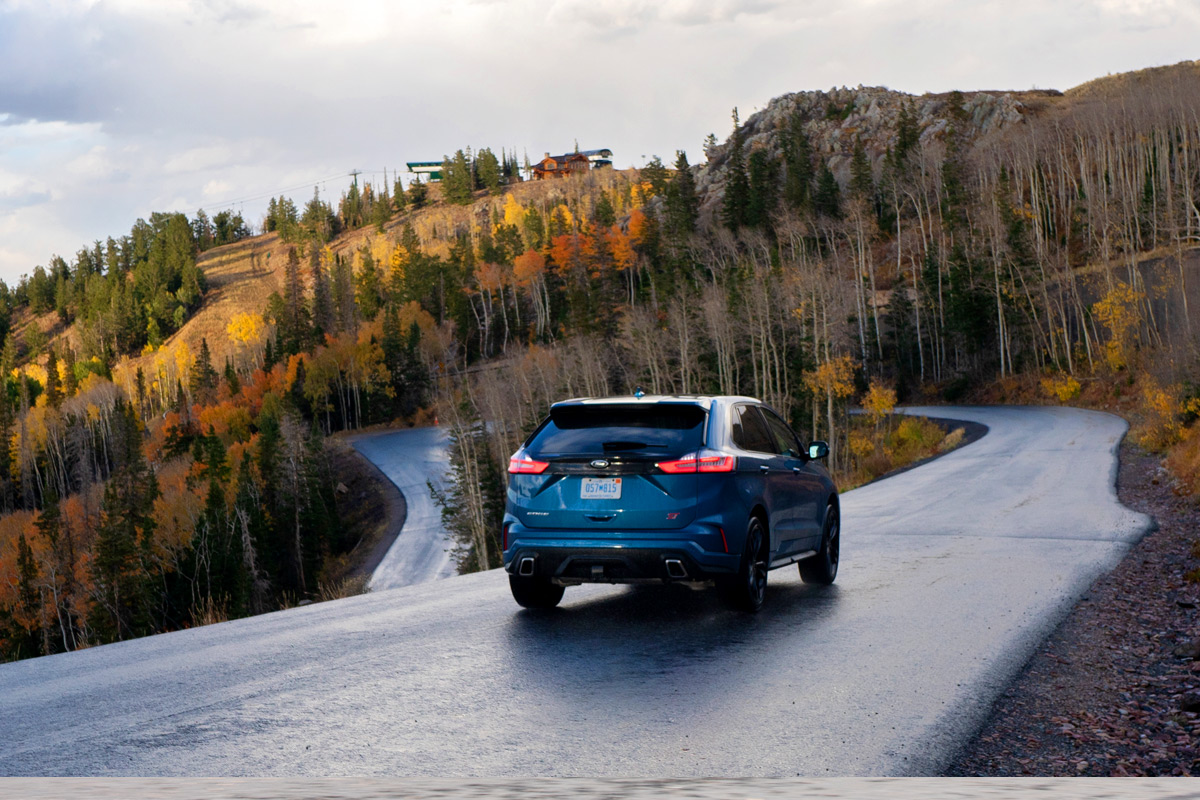 What do you think of the 2019 Ford Edge ST?