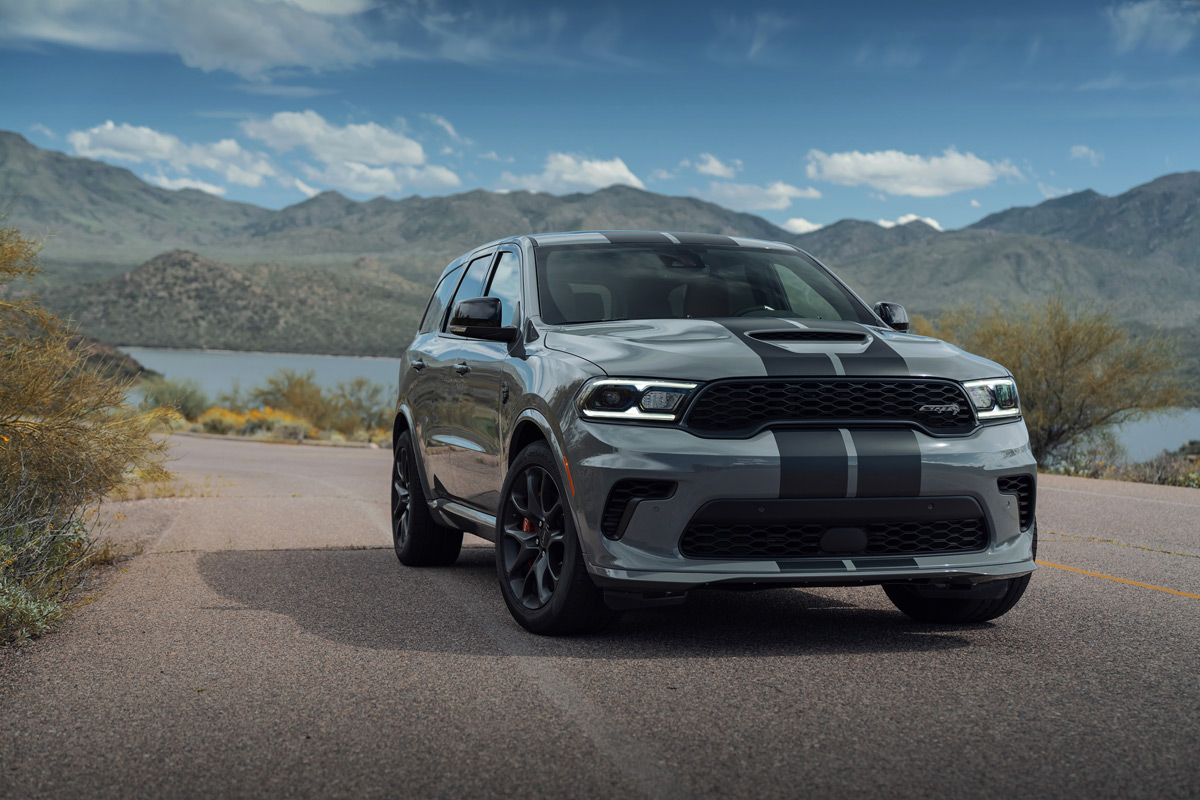 As we all know, Dodge loves to stuff massive motors in cars, even if makes absolutely no sense. Case in point, the 2021 Dodge Durango SRT Hellcat. This bad-ass SUV is powered by a supercharged 6.2-liter HEMI Hellcat V-8 engine that's paired with a quick-shifting TorqueFlite 8HP95 eight-speed automatic transmission, delivering 710 horsepower and 645 lb-ft of torque.
Now, does anyone really need an SUV that can rocket from 0-60 in 3.5 seconds, blaze though the quarter-mile in 11.5 seconds, and hit a top speed of 180 mph? Of course not. But it sure sounds like fun!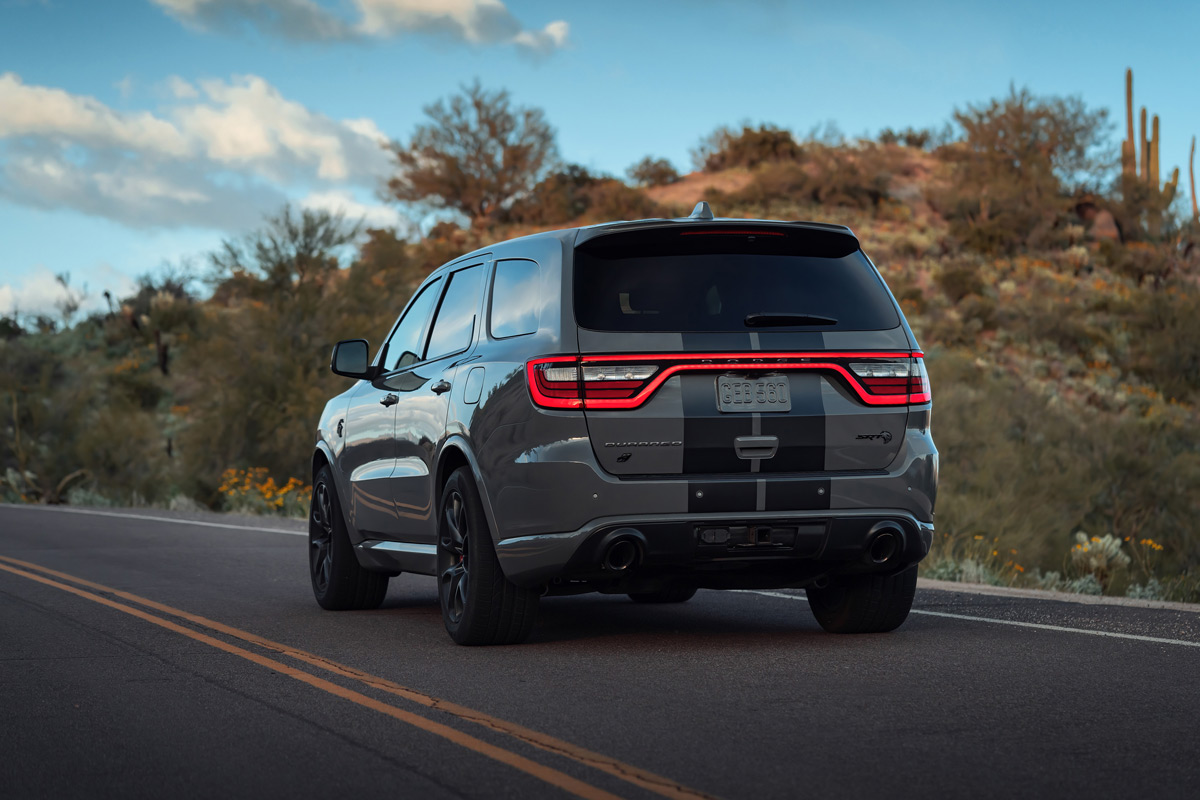 In addition to that massive engine, the Durango SRT Hellcat gets numerous performance improvements beginning with the new front fascia design, a new chin splitter, updated engine oil cooler duct, air guide and snorkel for cold air induction.
A new, unique rear spoiler creates an improved aerodynamic balance with the new front-end design, resulting in a massive increase in rear downforce of more than 400% (140 lbs. @ 180 mph). Yikes, I can't even imagine doing 180mph in an SUV!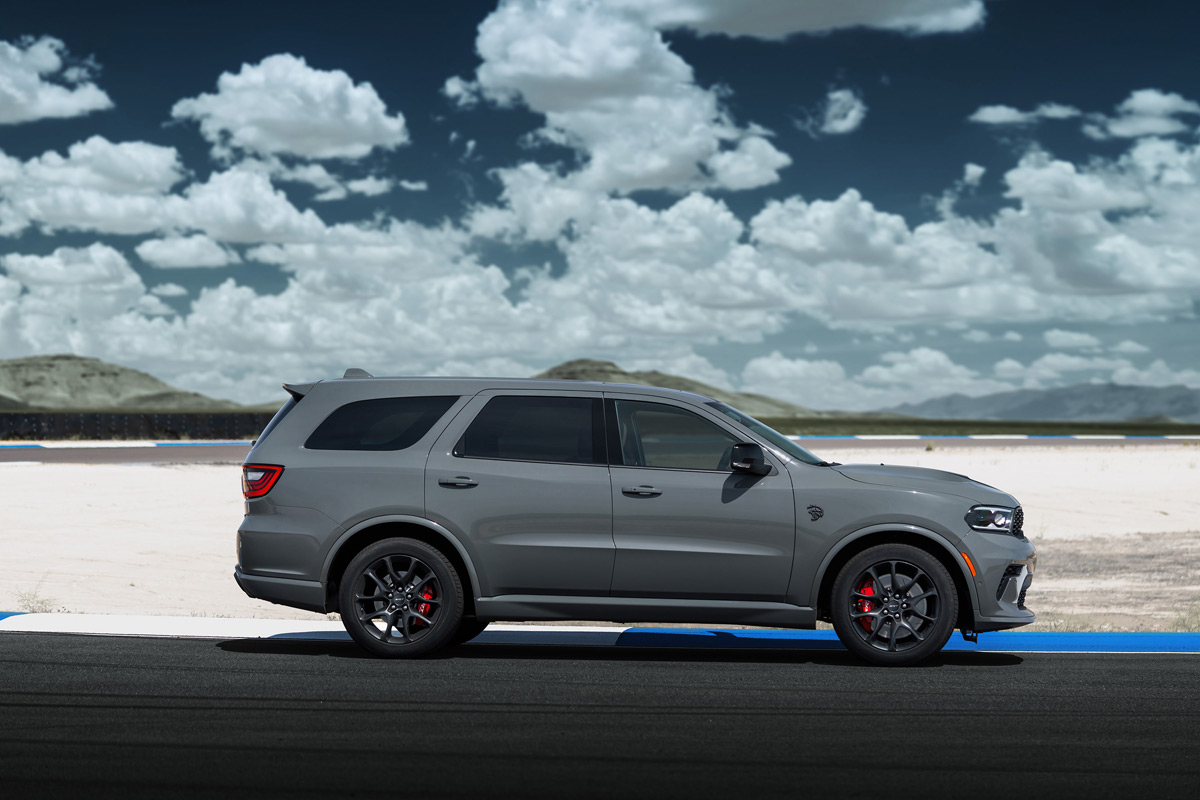 But that's not all. SRT engineers also upgraded the truck's suspension and added Brembo brakes, since it's going to take some serious stopping power to bring this beefy fellow down to a stop, especially if they decide to hit the track, as crazy as that sounds.
But hey, its up for the task. It delivered a road course lap time 1.5 seconds faster than the 2020 Durango SRT 392 on a 2.1-mile road course, equal to 9 car lengths after one lap. You've gotta love the insanity of that statement, it's what makes this company so great.
"The Brotherhood of Muscle includes families of all sizes and the Durango delivers Dodge performance as the Charger of the three-row SUV segment," said Tim Kuniskis, Global Head of Alfa Romeo and Head of Passenger Cars – Dodge, SRT, Chrysler and FIAT, FCA – North America. "And new for 2021, we have raised the bar even higher. The 710-horsepower Hellcat is the most powerful SUV ever. It's the last piece of the puzzle and, alongside the Charger and Challenger, completes the Dodge brand's performance lineup."
The Dodge Durango SRT Hellcat will only be built for the 2021 model year, so if you want one, race down to your local Dodge dealership and place your order.