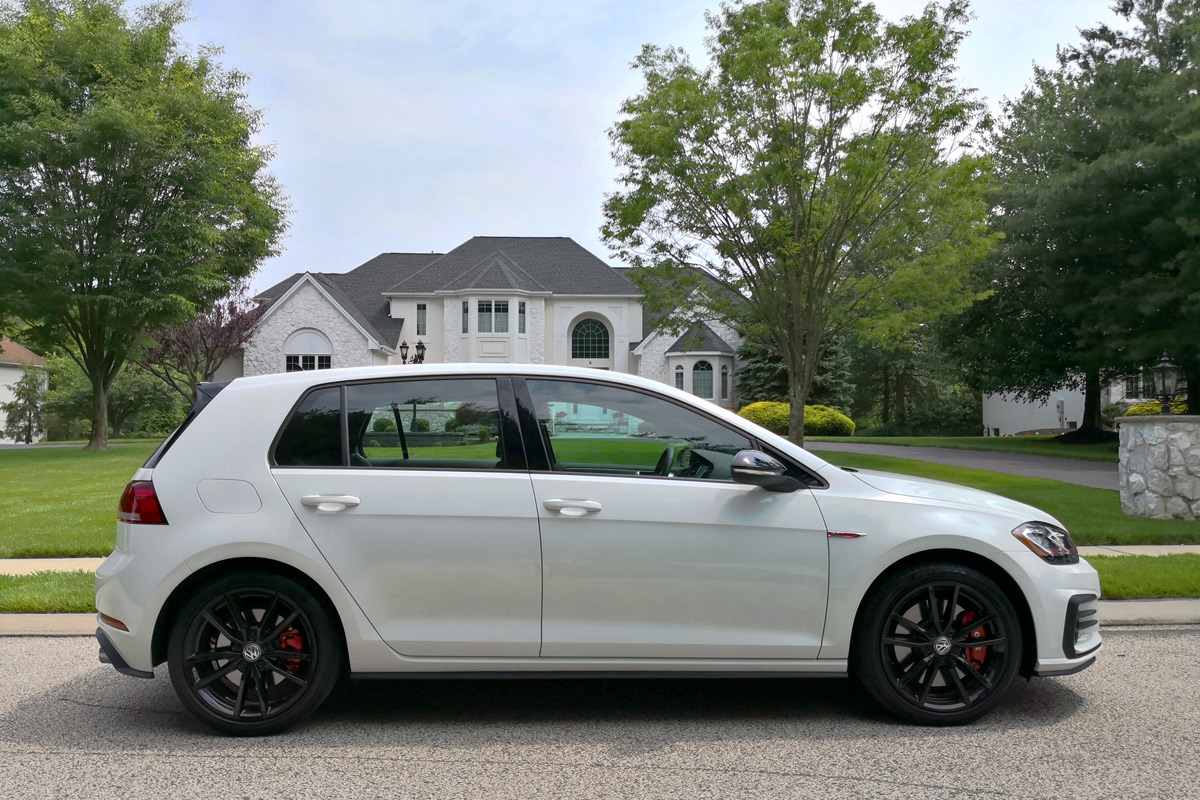 The Volkswagen Golf GTI is the definition of a hot hatch, offering a mix of refinement, style, power, and performance, and it's a favorite among "car guys". For 2019, the Golf GTI received a host of enhancements to make the car even better, along with a limited-production Rabbit Edition that slots between the S and SE trims and pays homage to GTI heritage. We spent a week with this gorgeous GTI Rabbit Edition you see above, and let me tell you, it was an absolute blast.
Available in four colors (Cornflower Blue, Urano Grey, Pure White and Deep Black Pearl), the 2019 Volkswagen Golf GTI Rabbit Edition features 18-inch gloss black wheels, a black rear spoiler, LED headlights with adaptive front-lighting, black mirror caps, Rabbit-badged seat tags, red-stitched floor mats, keyless access with push-button start, Front Assist, Blind Spot Monitor, and Rear Traffic Alert. The price? A very reasonable $29,790.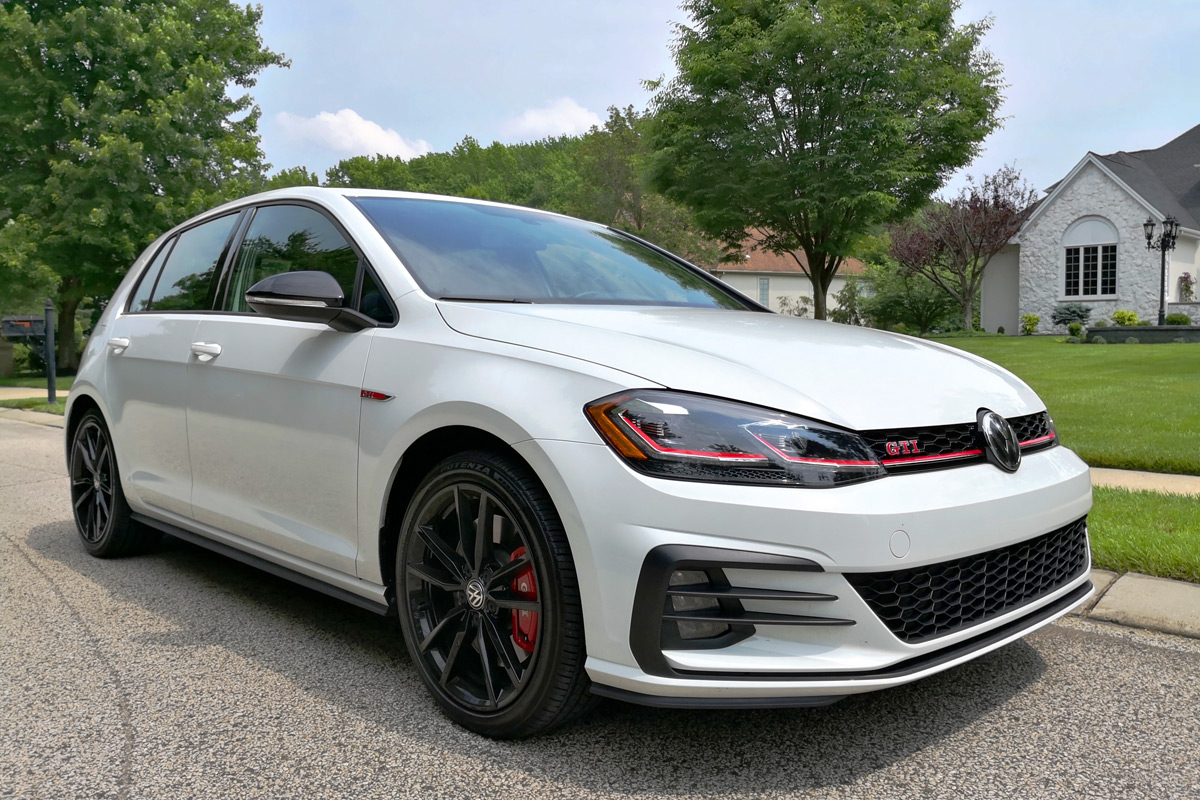 In addition, all 2019 GTI models now have 228 horsepower (an 8 horsepower increase from previous years), plus Golf R brakes and the VAQ mechanical differential. We hoped that the Digital Cockpit from the Golf R and new Jetta would make its way to the 2019 GTI as well, but it looks like we'll have to wait for the next generation Golf for that.
SE models get new standard equipment, including leather seating surfaces, plus an available Experience Package which offers Fender Premium Audio and dynamic chassis control. While the DCC would have been nice on the Rabbit Edition, especially given how bad New Jersey roads are, I found the ride quality to be just fine for a sporty car like this, firm without beating you up.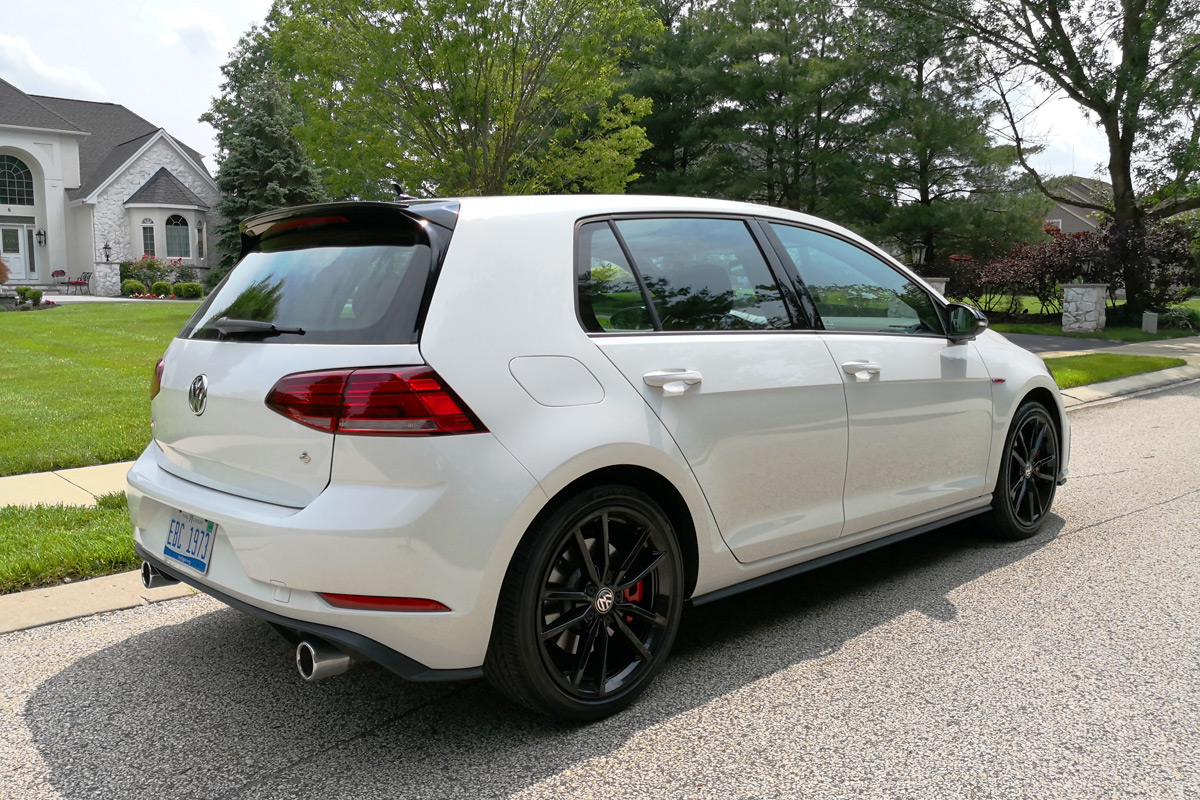 Exterior:
It's hard to believe, but the seventh-generation Golf was unveiled back in 2012, with a facelift in 2016 to keep the car looking fresh. Yet despite it's age, the GTI turned heads everywhere we went, sparking more than a few parking lot conversations from random strangers who wished they could be driving one but were instead regulated to SUV or minivan duty, "because kids". Ironically, I had similar experiences when we were testing out the Mazda Miata awhile back.
Personally, I think the GTI looks great, and even more so in the Rabbit Edition trim, which takes it a step further with slick 18″ black wheels (a HUGE improvement over the flying saucer wheels on regular GTI's), along with black mirror caps and a black rear spoiler. It's subtle, but on our Pure White car, it added some nice contrast that really popped. The one thing I didn't love was the red accents in the headlights, I thought they were a bit over the top, and I would have much preferred the headlights from earlier models.
Interior:
Despite it's small stature, the Golf GTI offers a decent amount of interior space, enough for me to fit comfortably in the driver's seat, something that's not always possible being 6'2″ tall. In fact, I might have had to move the seat up a bit, as it goes pretty far back. There's also a ton of cargo space (52.7 cubic feet with the rear seats folded), which can accommodate a full-size bicycle. Seriously, how crazy is that?
VW did a nice job with the GTI's interior, with red ambient lighting and illuminated door sills, the use of premium materials and soft-touch plastics, a GTI-specific instrument cluster, aluminum-look pedals, and a flat-bottomed steering wheel. The seats are also great, bolstered to keep you in place when doing some spirited driving on twisting mountain roads.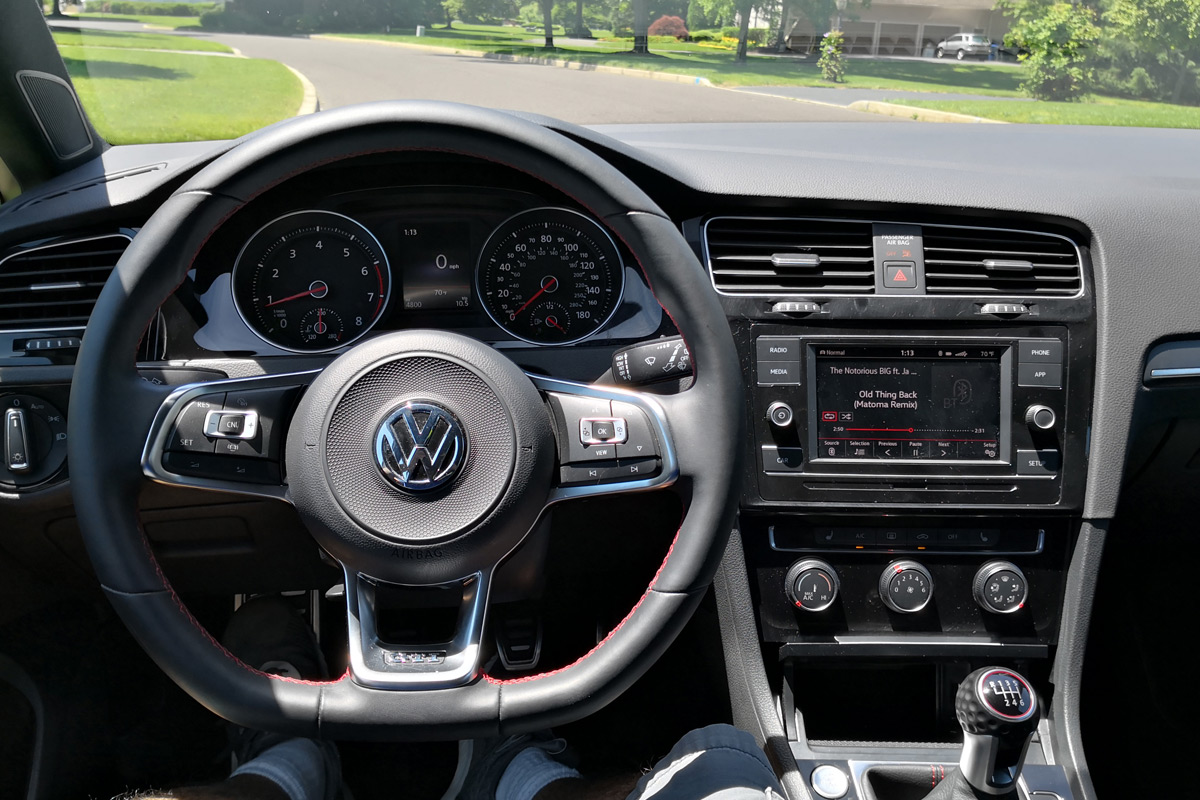 Performance:
Performance is the Golf GTI's bread and butter. While 228 horsepower and 258 lb-ft of torque might not sound like much, in a small car that weighs right around 3,000 pounds, it's plenty. The car has plenty of low-end torque, allowing you to accelerate from a stop quickly while the turbo spools up. And the limited-slip differential makes torque steer a non-issue. Handling is sharp, with quick moves around curves, and solid straight-line tracking.
While the 7-speed dual-clutch automatic is slightly quicker, I honestly can't imagine buying a GTI without the 6-speed manual transmission. The shifter is smooth, the clutch is nice and light, and the golf ball pattern on the shifter is cool, a subtle nod to it's namesake. And when you're driving it hard, you can hear a little "whoosh" in between shifts. At this price point, I can't think of a more fun hot hatch to drive.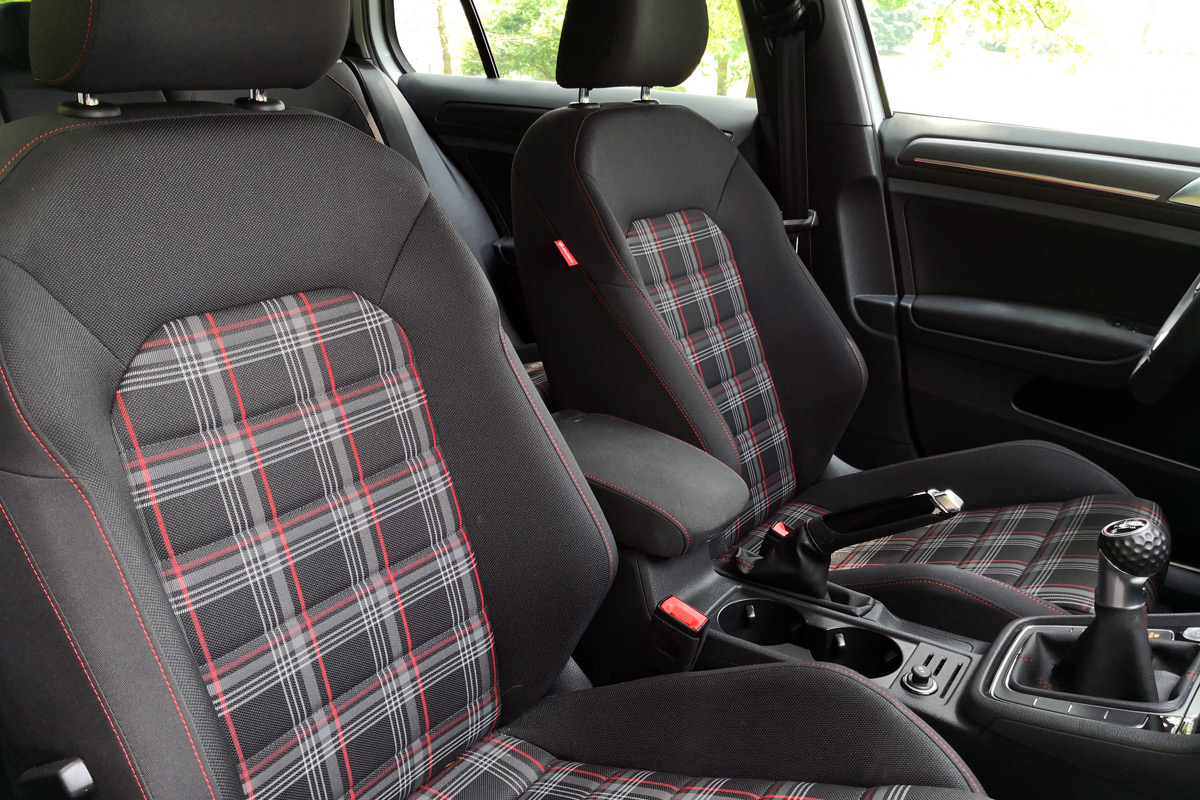 Comfort:
A luxury car, the 2019 Volkswagen Golf GTI Rabbit Edition is not. Come in with realistic expectations, and you don't be disappointed. The best way to describe this car is no frills. It's a driver's car that is focused on performance over everything else. The ride is firm, though not punishingly so like the Focus RS. For those of you who want something a little more softly sprung, the SE model with it's dynamic chassis control might be a better option.
You don't get a lot of bells and whistles with the Rabbit Edition. The seats are manual. There's no sunroof or automatic climate control. Cloth seats (with the iconic Clark plaid print) are standard. That said, you do get heated seats, a leather-wrapped steering wheel, Apple CarPlay and Android Auto, and basic safety equipment. If you want leather seats, Fender audio system, and more safety features, you have to pony up for the higher-end SE and Autobahn trims.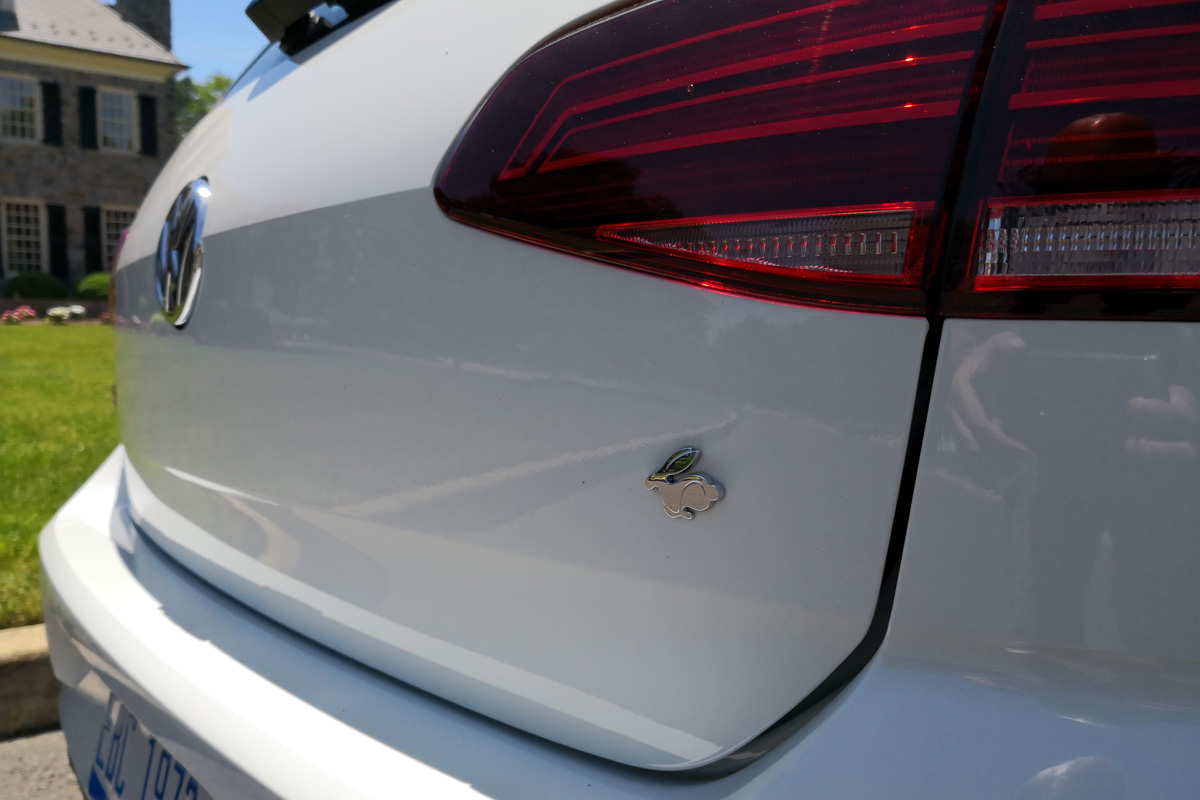 The Verdict:
If I were in the market for a new car today, the Volkswagen Golf GTI would honestly be on my short list. The car is an absolute blast to drive, it's nice and small (I don't get the fascination with bigger and bigger cars), and bang for the buck, it's hard to beat, sliding in just under the $30K mark. And with a six-year/72,000-mile warranty, you've got one less thing to worry about.
After spending a week with the GTI, I can see why it's been awarded more than a dozen awards since its 2015 redesign. While many modern cars have lost their soul, the GTI is a true drivers car, and I would highly recommend it to anyone looking to make their daily commute more exciting.