Yesterday, Porsche debuted the all-new 2017 Porsche Panamera in Berlin, which received a complete makeover for the first time since it was introduced back in 2009. The new Panamera gets new engines, a new design and new technologies.
As you can see, the 2017 Panamera builds on the car's original design, adding elements of the Porsche 911. "An observer will immediately recognize the coupé-like roof line, but it's much 'faster', even more dynamic and includes a new side window look that emphasizes the coupe-like side view even more," said Michael Mauer, Head of Style Porsche AG.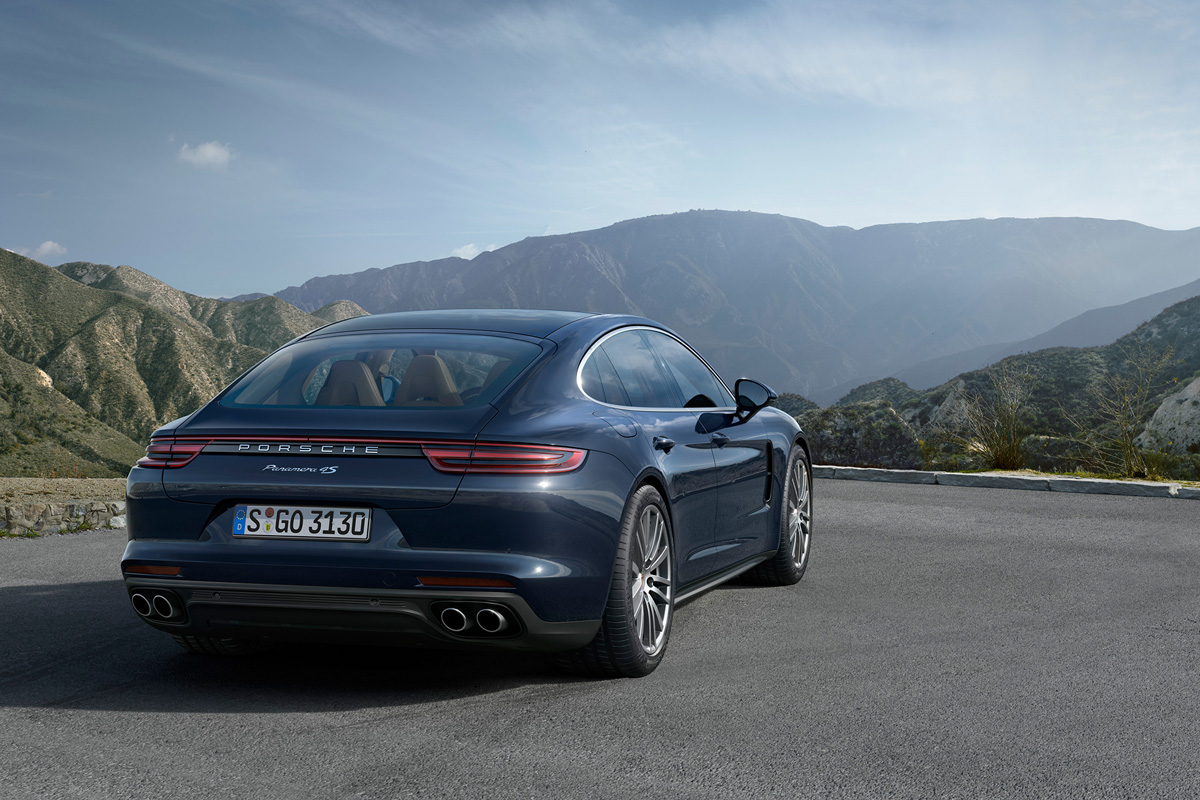 "The new Panamera can be identified as a Panamera at first glance, but also as the new Panamera. Its strengths have been reinforced, its weaknesses have been eradicated and above all its distinctive character has been preserved."
The Panamera will launch with two engines: the 550HP Panamera Turbo and the 440HP Panamera 4S.
The Panamera Turbo is powered by a 4.0-liter twin-turbo V8 that produces 550HP at 5,750 rpm and a maximum torque of 567 lb-ft between 1,960 and 4,500 rpm. It has 30HP more than the previous model, and its maximum torque has been increased by 51 lb-ft. The Panamera Turbo rockets from 0-60 mph in 3.6 seconds; with the Sport Chrono Package, this time drops to just 3.4 seconds. The Panamera Turbo can reach a top track speed of 190 mph, and has a weight of 4398 pounds.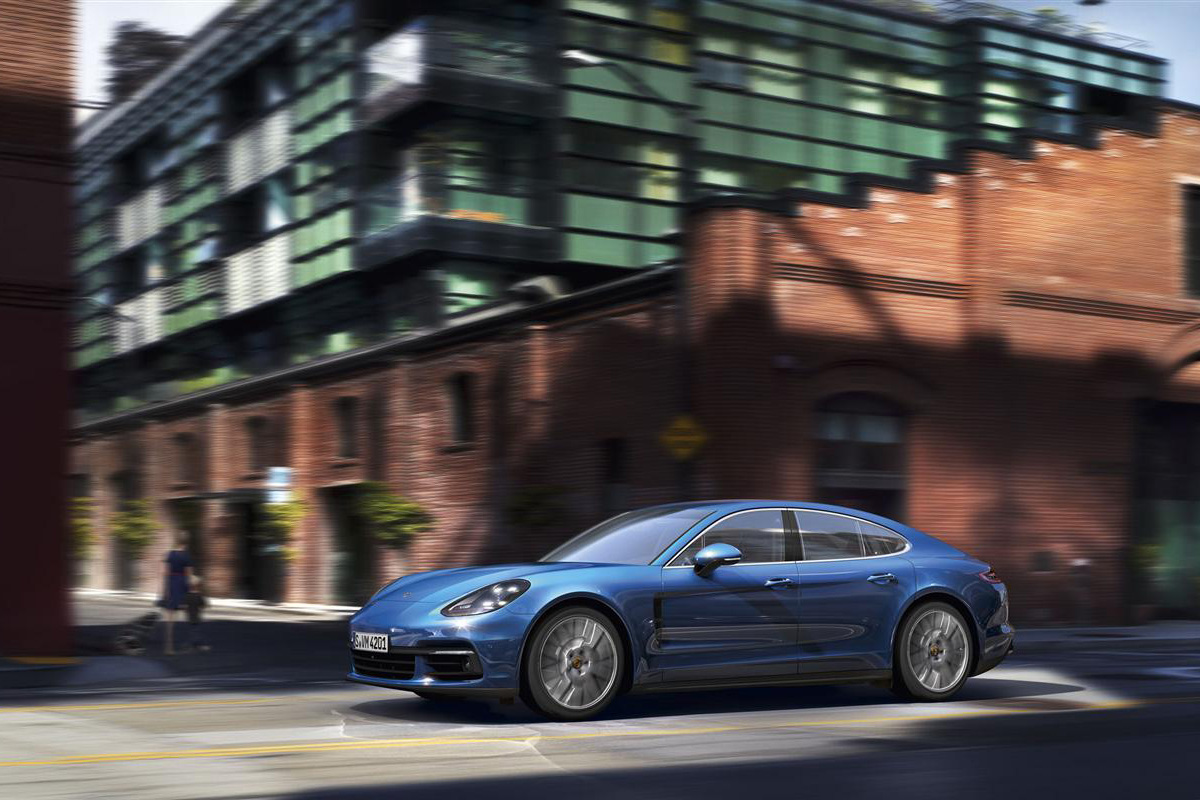 The 2.9-liter V6 twin-turbo engine of the Panamera 4S develops a maximum power of 440HP (20HP more than the previous model) at 5,650 rpm. Between 1,750 and 5,500 rpm, the new six-cylinder delivers 405 lb-ft (21 lb-ft more) to the wheels. The Panamera 4S can reach 60 mph in just 4.2 seconds (4.0 seconds with the Sport Chrono Package), and achieves a top track speed of 180 mph. Both models will be equipped with all-wheel drive as standard.
The new Panamera offers both the performance of a sports car and the comfort of a luxury sedan. To provide an even larger spread between supple ride comfort and agile handling, the Panamera now offers features such as the new three-chamber air suspension, rear axle steering and the new electronic 4D Chassis Control chassis management system. Many new assistance systems also enhance ride comfort as well as safety.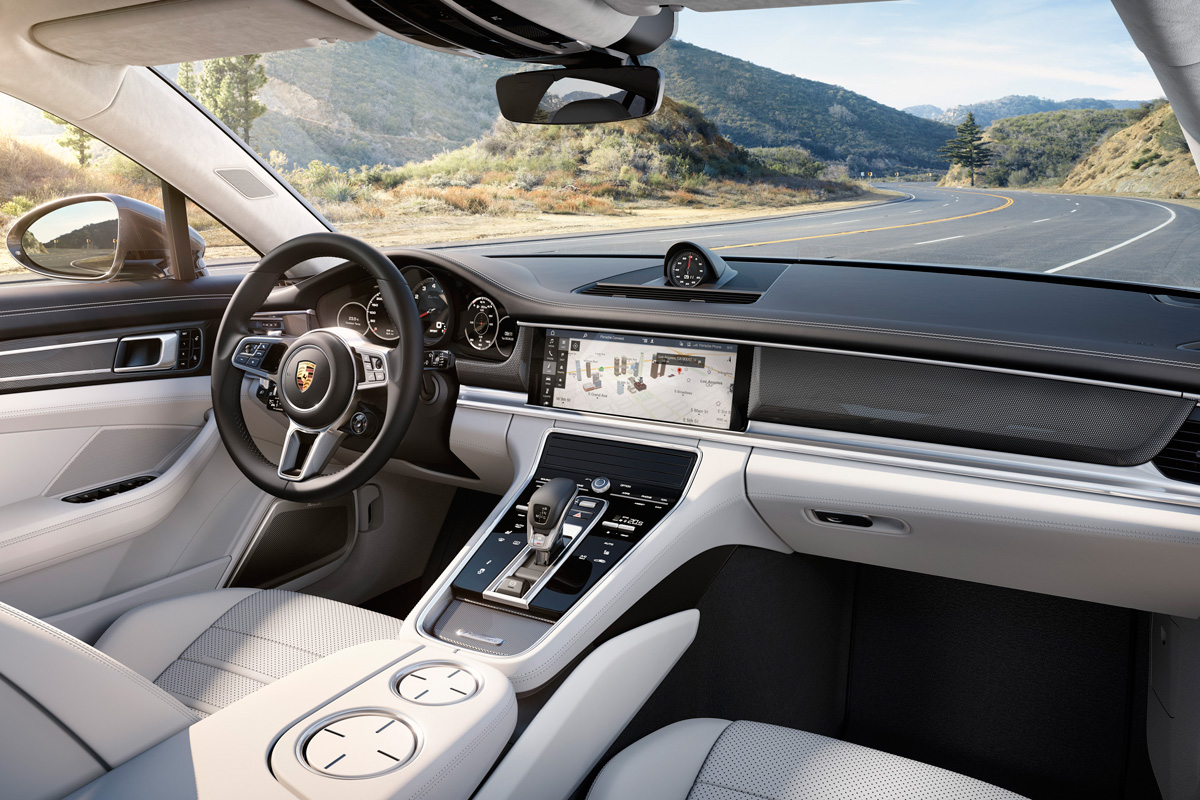 Porsche has also introduced a future-oriented display and control concept. The new Porsche Advanced Cockpit with its smartphone-like user interfaces and configurable LED screens impresses with its intuitive functionality. Furthermore, the new Porsche Communication Management (PCM 4.1) offers an entirely new range of connectivity by its intelligent digital functions and online services. In the new Panamera, Porsche Connect is being introduced in all models. It extends existing vehicle functions by adding digital services and apps such as those used to control certain vehicle functions remotely by smartphone – and others to make more efficient use of the driver's time on the go.
A genuine sports car with the comfort of a luxury sedan, without any compromises in everyday life. For sporty drivers – and their sporty passengers. See the first driving scenes of the new Panamera Turbo and Panamera 4S in this video:
The 2017 Porsche Panamera will make arrive at US dealers in January 2017. Pricing for the Panamera 4S starts at $99,900, while the Panamera Turbo starts at $146,900, not including the $1,050 delivery, processing and handling fee.