Porsche Cayenne TechArt Powerkits
TechArt and Porsche go together like Mercedes-Benz and Brabus. Naturally, TechArt is back at it again modifying some P-Cars. The latest upgrade options come in the form of power bumps for the Porsche Macan and Porsche Cayenne.
While both the Macan and the Cayenne are already pretty powerful cars to begin with, in nearly any form, the TechArt Powerkits add a considerable amount of horsepower to nearly any variant of the crossover SUVs.
Here's the rundown.
If you get a Cayenne Diesel with the 3.0-liter V6, TechArt can add an extra 28hp and 29 lb-ft of twist. Similar upgrades can be had for the V8 Cayenne S Diesel, bumping it up to 420hp, from 285hp.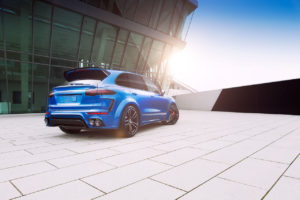 Although the story remains the same with the similarly equipped Macan models, the serious power bumps occur with the top-spec Macan Turbo and Cayenne Turbo. The Macan Turbo can benefit from up to an additional 80hp and 73 lb-ft of torque, yielding 480hp. But the Cayenne Turbo, that can top 720hp with the proper TechArt PowerKit. How about that, a Porsche Cayenne Turbo with nearly as much power as a Ferrari F12 tdf.
All of these power upgrades come thanks to TechArt's diligent history of aggressively modifying Porsche engine control mappings. Other changes include uprated TechArt turbochargers, custom exhaust manifolds, specialized oil- and coolant lines, high-flow air filters, and more.
Should you want to treat your new Porsche Macan or Cayenne to a nice gift, TechArt is sure to make sure all of the bases are covered. But you will have to pay as pricing ranges greatly.
The top Powerkit for the Porsche Macan Turbo costs 3,900.00 EUR while the top kit for the Cayenne Turbo can cost up to a whopping 24,500.00 EUR, costing the same as a new Volkswagen Golf.
If you even wanted to know what the TechArt upgrades sound like, check out the video below.
---
Porsche Macan TechArt Powerkits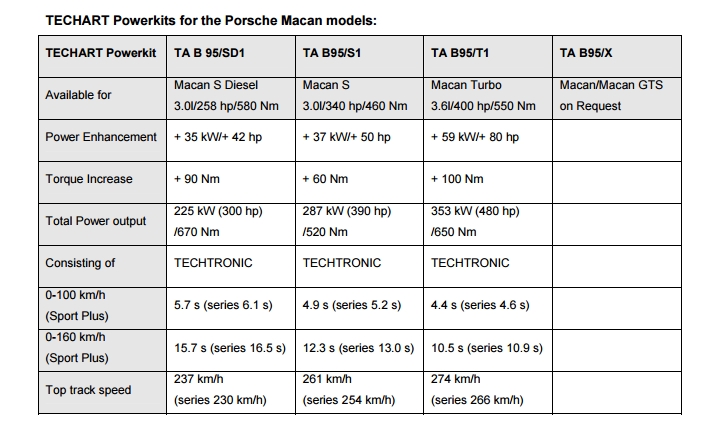 ---
– By: Chris Chin
Source: TechArt