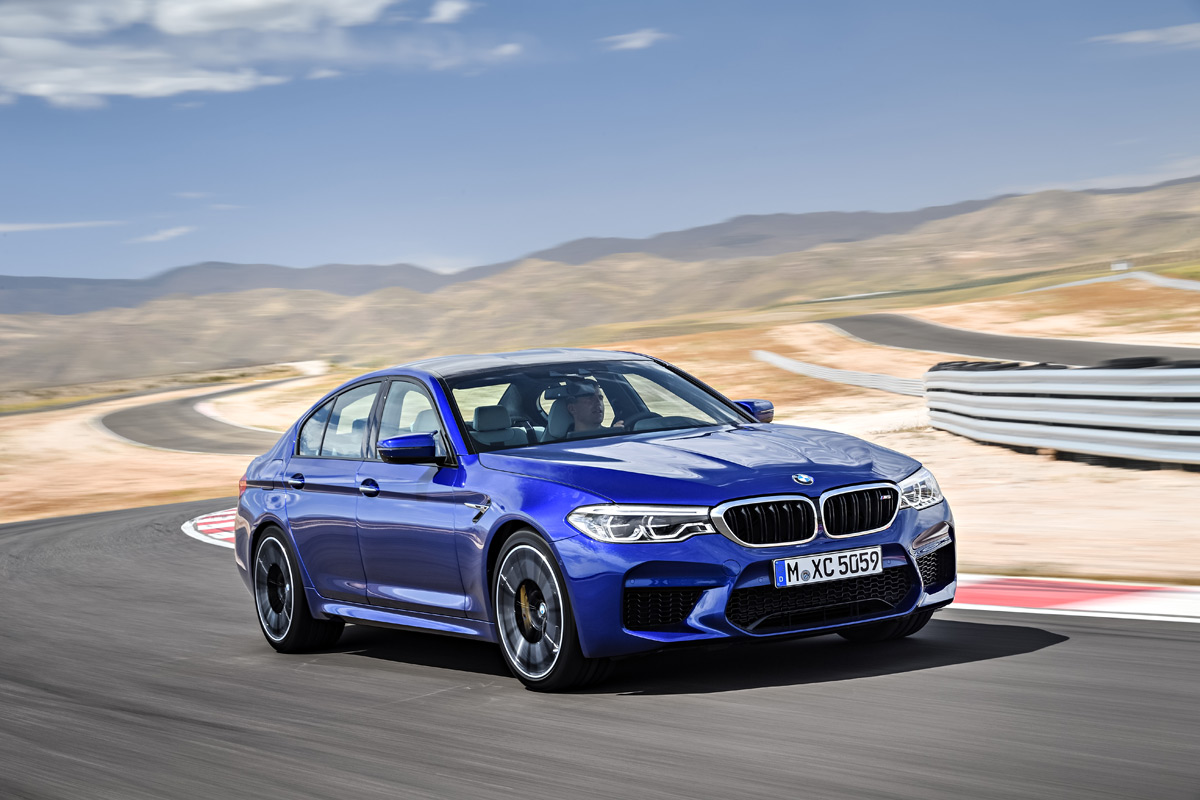 BMW introduced the seventh-generation BMW 5-Series last year to rave reviews. But the model that we were most excited to get behind the wheel of was noticeably absent.. until now.
Feast your eyes on the all-new 2018 BMW M5, the quickest, most technologically advanced M yet. Sporting a 4.4-liter V8 engine that puts out 600HP and 553 lb-ft of torque, the new M5 rockets from 0-60 in a lightning-quick 3.2 seconds, on it's way to a top speed of 189MPH (with the optional M Driver's Package).
But the biggest news of all? This M5 comes with all-wheel drive. Now before you get too worked up about it, BMW promises that their M xDrive system won't disappoint. After reading the technical specs on it, I'd have to agree. You see, the M-specific all-wheel-drive system primarily sends most of its power to the rear wheels, only diverting some to the front when its needed. If you want to hang the tail out a bit, there's a 4WD Sport model that allows for some slip before reeling it back in.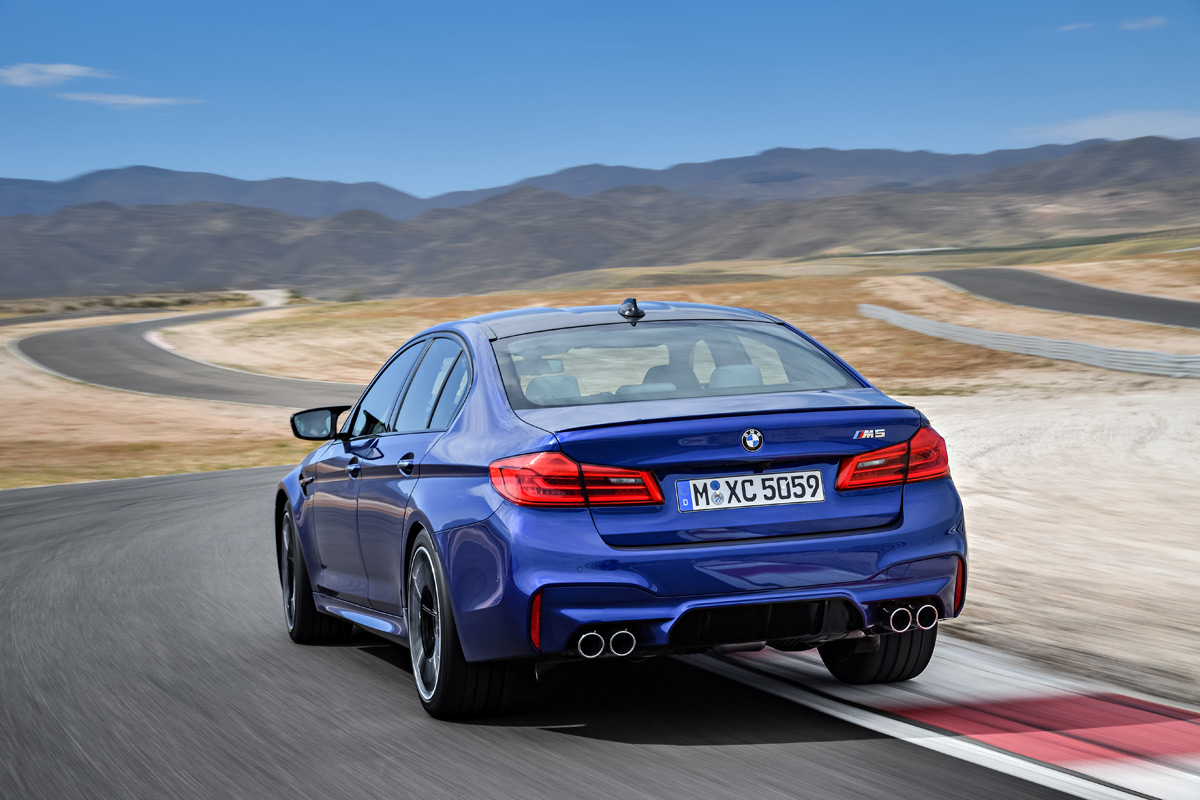 There's even a trick 2WD mode, which disconnects the front axle entirely and allows you to send all 600HP to the rear tires so you do some nasty burnouts.
In another surprising move, BMW dropped the old dual-clutch transmission in favor of a traditional 8-speed automatic transmission. And those of you who want to row your own gears are out of luck, as the auto is the only option for the M5. The gearbox does offers three shift mapping selections for different driving scenarios, if that's of any consolation to you.
As you can see from these photos, the exterior of the M5 has been given the standard M treatment, with an M-specific aggressive front bumper with large intakes, aerodynamic side view mirrors, a sculpted aluminum hood, a carbon fiber roof, a rear bumper with an integrated diffuser, and four tailpipes for its sport exhaust system. 19-inch polished wheels are standard, with 20-inch wheels with ceramic brakes optional.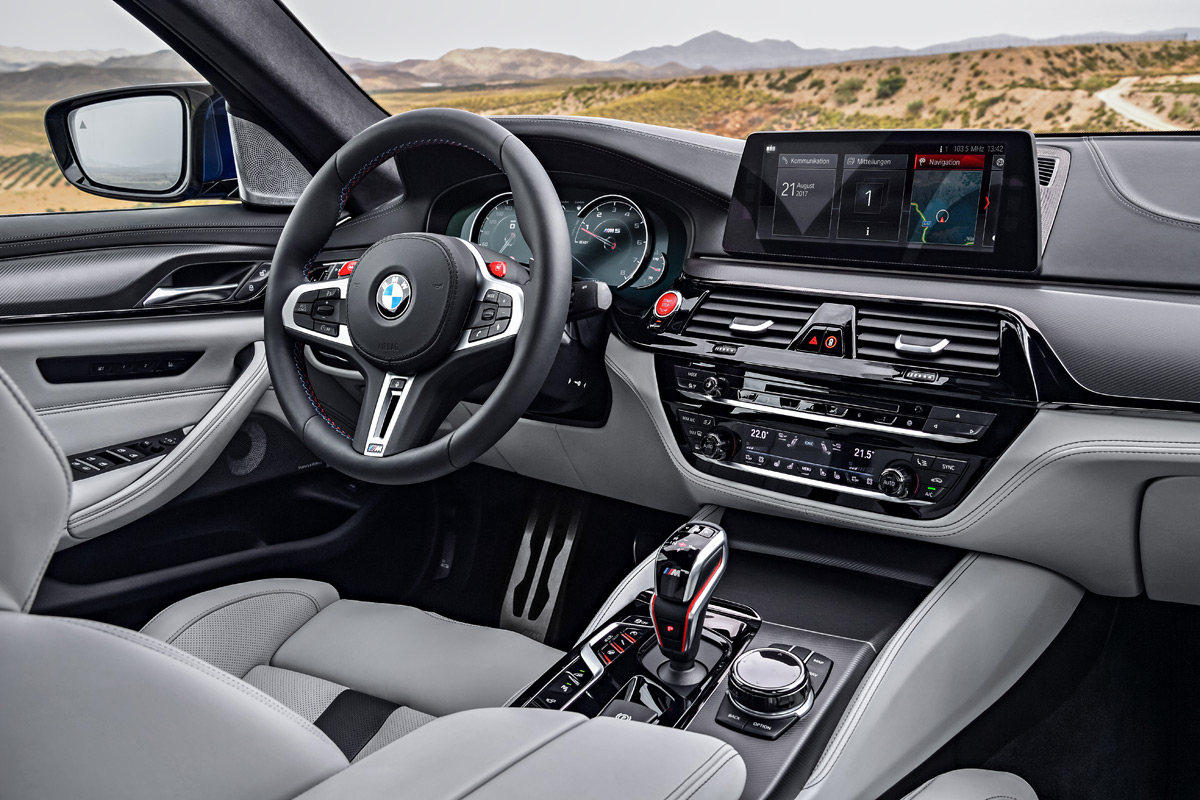 Inside, you're greeted by a sea of leather, a bespoke M multifunction sport steering wheel with red M Drive Buttons, supportive Merino leather sports seats, and exclusive aluminum trim.
While the 2018 M5 is a pretty big departure from what we've come to expect, early reports have been very favorable. We can't wait to get behind the wheel of one and see for ourselves. Pricing will be announced closer to the launch date in spring 2018.
This slideshow requires JavaScript.