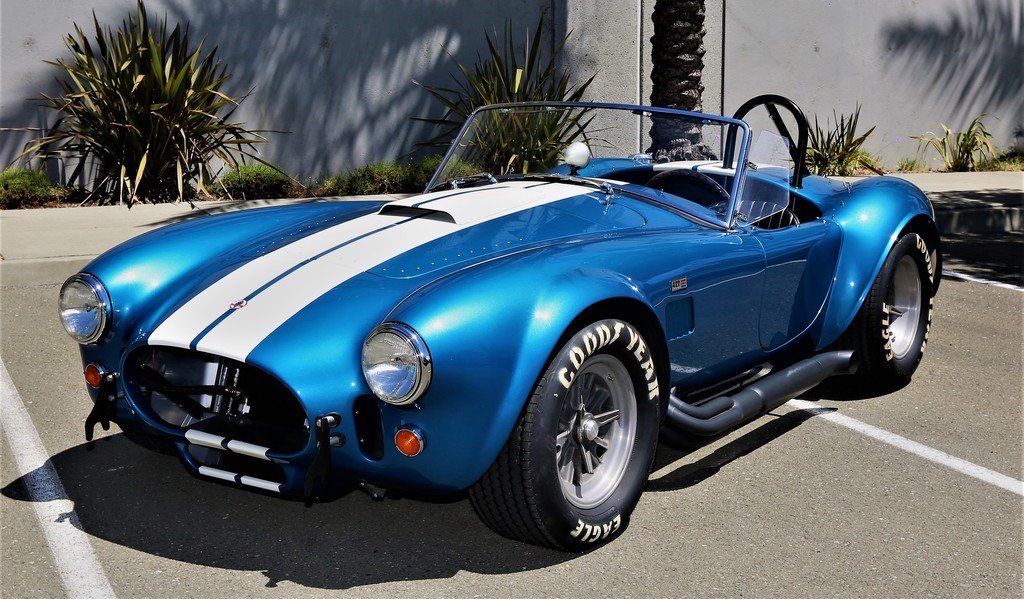 Carroll Shelby International and DenBeste Motorsports have announced that production of the highly anticipated 427 Shelby Cobra Competition racecar is going full throttle with 3 cars finished and 4 more in process. The authentic turnkey racecars will represent the final cars available from the original Competition big block Cobra series that started in 1965. Identical to the handful of original roadsters manufactured in the 1960s, these racecars are built to order in California, as Carroll Shelby did 50 years ago.
"When Carroll Shelby and Ford designed the big block Cobra, they planned to race the car. However, Ford asked Shelby American to shift directions and take over the struggling Ford GT program. Only a handful of the ultimate big block Shelby Cobras were built. We're finishing that run of Competition cars with a Shelby 427 Cobra that's so perfect that each gets an original CSX3000 series serial number. This is a rare opportunity to own a new, original Competition Shelby Cobra," said Bill DenBeste, CEO of DenBeste Motorsports, who oversees production.
The program was announced by the Carroll Hall Shelby Trust and DenBeste Motorsports in 2014. Since then, DenBeste Motorsports has refined the production process and taken customer orders worldwide.
The Shelby 427 Cobra Competition program has a well-documented history. In 1964, Shelby American and Ford developed a new evolution of the existing small block Cobra. It featured an entirely new suspension and a stronger frame to accommodate more power from a 427 NASCAR based big block engine. The Cobras were so different they were assigned a new VIN series, beginning with CSX3000.
"The first 100 big block Cobras were supposed to be competition versions for FIA series racing," said Joe Conway, Co-CEO of Carroll Shelby International, CEO of Shelby American, Board member of the Carroll Shelby Foundation and Co-Trustee of the Carroll Hall Shelby Trust. "Not enough were completed by the time that the FIA inspection team arrived, so Shelby stopped production of the cars."
In 2014, the Carroll Hall Shelby Trust and DenBeste Motorsports agreed to finish the remainder of the series as pure racecars built to the FIA GT class specs. Each competition chassis Cobra features a hand rolled aluminum body prepared by Cobra restorer Drew Serb and an original style interior. The engine is a period correct cast-iron Ford side oiler 427 with medium riser cylinder heads connected to a correct 4-speed gearbox with an authentic swept forward shifter. The Shelby features Raydyot mirrors, Girling brakes and other original parts sourced with the guidance of Shelby Cobra expert Mike McCluskey.
The authentic Shelby Cobras have an official CSX 3000 series VIN and Shelby MSO. Each Cobra is submitted to the Shelby American Automobile Club Registry, as well as the official Shelby American Registry administered by Carroll Shelby International.
Those interested in one of the remaining Shelby 427 Competition Cobras can contact DenBeste Motorsports at (800) 838-1477. Additional information is available here.