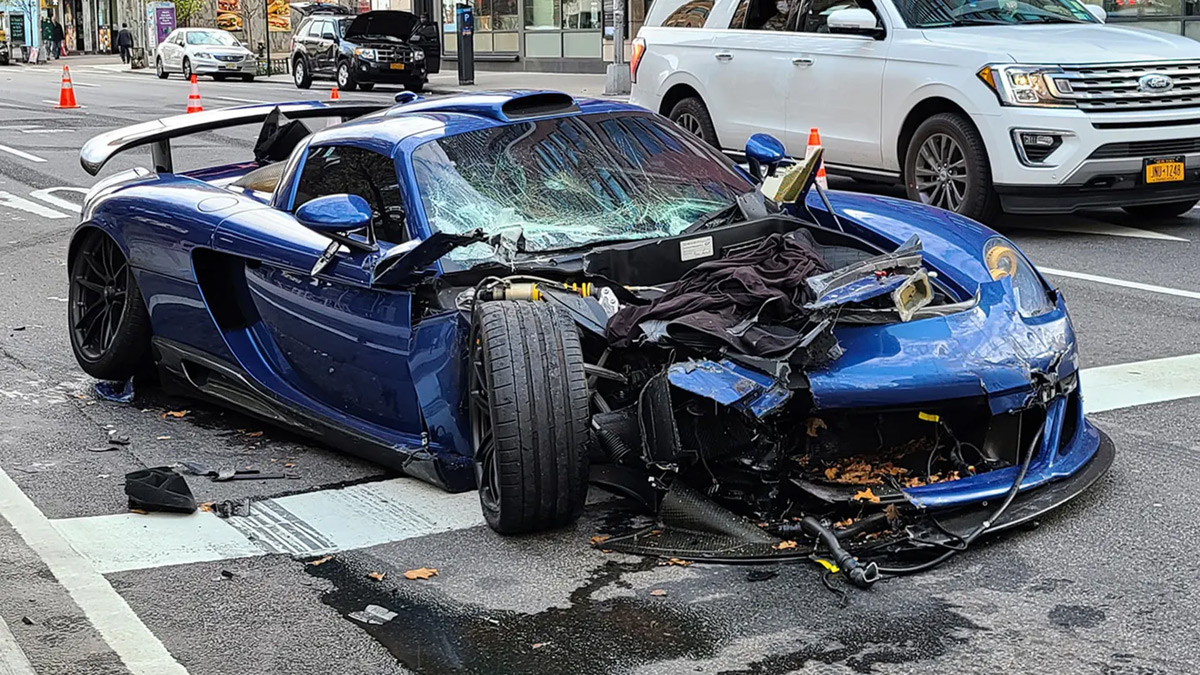 Yesterday morning, social media lit up like Christmas with footage from a crazy accident in Midtown Manhattan involving an ultra-rare Gemballa Mirage GT belonging to none other than Ben Chen (BC on Instagram).
Initially, people were claiming that the car was stolen, with some joy riders going crazy on the empty streets of Manhattan (you know, on account of the stay-at-home order from Cuomo). But then video footage came out showing Ben Chen getting out of the wrecked car all wobbly, and the story started to come together.
Here's the chain of events. On Tuesday, April 7, 2020 at approximately 7:30am, officers responded to a motor vehicle collision in the vicinity of West 44 Street and 11 Avenue. Upon arrival officers observed a 33-year-old male operator and sole occupant of a 2014 Porsche Gemballa Mirage GT conscious and alert.
Further investigation revealed that the operator of vehicle #1 struck the rear of a parked unoccupied vehicle #2 and fled southbound on 11 Avenue in his Porsche The motorist proceeded to strike vehicles #3,4 and 5 that were also parked and unoccupied in the vicinity of West 44th Street where his vehicle came to a rest.
Ben Chen, 33, was taken into custody at the scene and charged with operating a motor vehicle impaired by drugs and reckless driving. How he didn't get charged for leaving the scene of an accident is beyond me, but he's got enough to deal with as it is.
It's probably lucky that the streets were as empty as they were, or he could have killed someone out there. Still, it's probably time that they take his license away, as this isn't the first high-dollar supercar he's wrecked, including a 2013 McLaren 12C S​pider, a 2010 Lamborghini Murciélago LP670-4 SV (manual), and unconfirmed reports about a Bugatti Veyron 16.4 Super Sport, a Mansory-tuned Mercedes SLR McLaren, an Audi R8.
You can see what's left of the poor $800K Gemballa Mirage GT here:
Here's hoping that the judge throws the book at him this time around, instead of buying his way out of trouble like most rich people do.