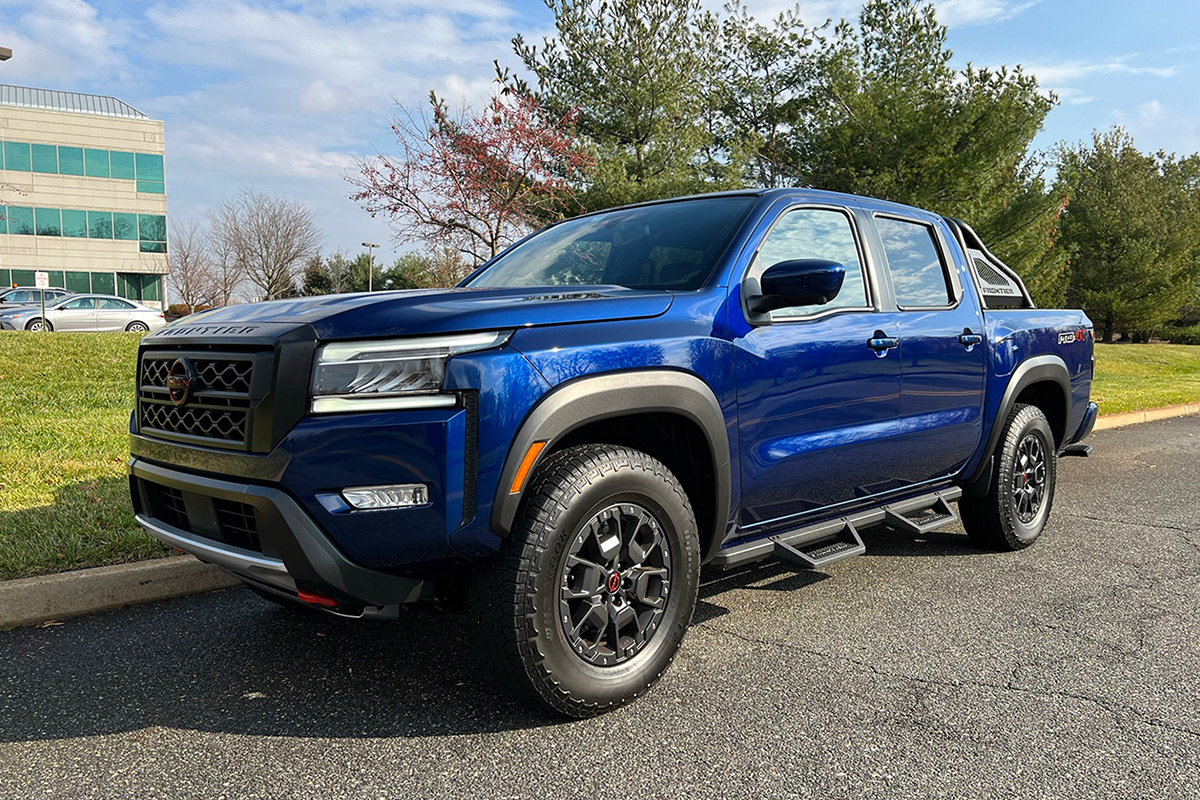 It's hard to believe, but last-generation Nissan Frontier came out way back in 2005, making it an absolute dinosaur in the midsize truck space, and anything but competitive. So when they announced that they were introducing an all-new Frontier for 2022, we were overjoyed. And after spending a week with it, I can tell you that Nissan really knocked it out of the park with this one, delivering a very competitive truck for the segment.
As you can see, the all-new 2022 Nissan Frontier features aggressive, modern styling that is a marked improvement from the outgoing truck. It features a powerful front end with a massive grille and chiseled hood, framed by new precision interlocking headlights. A wide, elevated stance and massive vertical fenders evoke durability and strength, accentuated by a high eye-point and high shoulder bodysides – where natural light and shadows meet.
Out back, precision lighting features a machined, structural look, with the lamps appearing to clamp to the body sides. Muscular rear fenders combine with the rear bumper for an athletic, uncompromising stance. And if that's not enough for you, our PRO-4X model came with the Sport Bar, Off-Road Style Step Rails, and other goodies to add to its rough and tumble look.
Featuring the same wheelbase as the previous model (126.0 inches), the Frontier remains the "right-sized" pickup, precisely agile for a weekend of off-road adventure or a workweek in the city. While we appreciate the fact that they kept the size of the truck the same, that's due in part to the fact that Nissan opted to use a modified version of the old truck's frame. So much for "all-new", right? But Nissan apparently seems to feel like if it ain't broke, don't fix it.
This seems to be an ongoing trend with Nissan and Infiniti, updating cars like the new Z, Q50 and Pathfinder with some new sheet metal, bigger powerplants, and other updates, but leaving the bones of the car much the same. Unfortunately, they'll never be able to compete on a level playing field when being hindered by an outdated base.
Regardless, Nissan has really improved upon the old truck on all fronts. Under the hood, you'll find a 3.8-liter direct injection V6 engine that puts out 310 horsepower and 281 lb-ft of torque, mated to a 9-speed automatic transmission. It's a peppy engine that delivers some nice power at full throttle, while offering a respectable 18 mpg city and 24 mpg highway. I'll take this smooth-revving, naturally aspirated engine over a twitchy, turbocharged powerplant any day.
Click here to read the rest of my review of the 2022 Nissan Frontier PRO-4X.