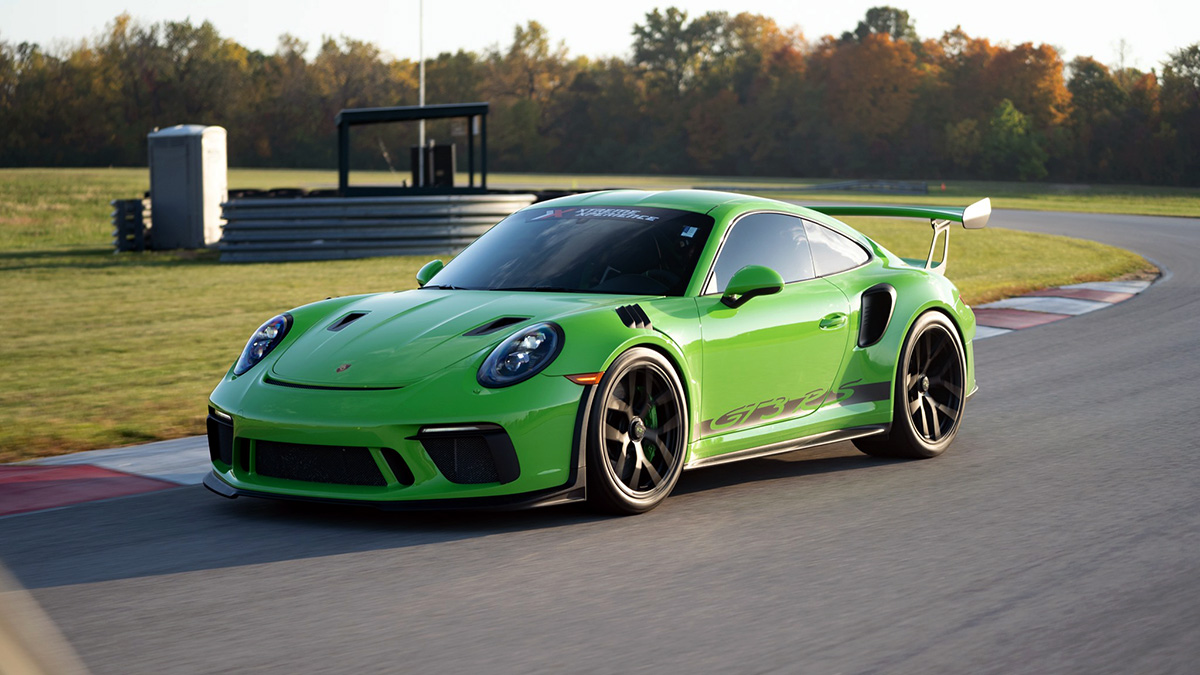 Xtreme Xperience, a leading U.S.-based supercar racing company, announces today the launch of its 2021 event dates, as well as a new market and the addition of three new supercars to its fleet. I did an event with them a few years ago, and it was a ton of fun. Hopefully I can make it back there this year and check out some of the new exotic cars!
Xtreme Xperience has added three new highly anticipated vehicles to its world-class fleet of supercars with the Porsche 911 GT3 RS, Mercedes-AMG GT R and Dodge Charger Hellcat Widebody. While driving experience start at $199, the high-speed Charger Hellcat ride-along experience is available for as little as $69, giving passengers an opportunity to enjoy 707 horsepower and sub four second 0-60 MPH speeds at an attractive price. Xtreme Xperience sessions include the option to select a specific supercar, learn racing techniques from pro instructors, and perform three or four fast-paced and exhilarating laps on a variety of real racetracks.
In addition, the company announced its entry into the northern North Carolina market, with a new location in the Raleigh/Durham area. Starting October 2021, drivers can enjoy the exhilaration of a supercar at the North Carolina Center for Automotive Research (NCCAR), a product research, testing, and automotive development center with 11 turns and a 2,800-foot long straightaway.
"We're thrilled to open our 2021 schedule and provide drivers and riders with an amazing driving experience, offering everything from the allure of a Ferrari or Lamborghini to the precision of a Porsche 911 GT3 RS to the unbridled fury of a Dodge Hellcat Widebody," said Adam Olalde, CEO of Xtreme Xperience.
Xtreme Xperience 2021 event dates include:
February 26-28 in New Orleans at the NOLA Motorsports Park
March 5-7 in Dallas-Fort Worth at the Texas Motor Speedway
March 12-14 in Austin at the Driveway Austin
March 19-21 in Memphis at the Memphis International Speedway
March 26-28 in Houston at MSR Houston
March 26-28 in Charlotte at the Charlotte Motor Speedway
April 16-18 in Atlanta at the Atlanta Motorsports Park
April 23-25 in Palm Beach at the Palm Beach Intl. Raceway
April 30 – May 2 in Chicago at the Autobahn Country Club
May 7-9 in Miami at the Homestead Miami Speedway
May 7-9 in D.C. / Richmond at the Dominion Raceway
May 14-16 in Philadelphia / Southern New Jersey at the New Jersey Motorsports Park
June 4-6 in New Hampshire at the New Hampshire Motor Speedway
June 11-13 in Colorado Springs at the Pikes Peak Intl. Raceway
June 11-13 in Pittsburgh at the Pittsburgh International Race Complex
June 18-20 in Central Michigan at the Michigan International Speedway
June 18-20 in Kansas City at the Kansas Speedway
June 25-27 in St. Louis at the World Wide Technology Raceway
July 9-11 in NYC / Northern New Jersey at the Raceway Park Englishtown
July 9-10 in Oklahoma at the Hallett Motor Racing Circuit
July 16-18 in the Poconos at The Poconos Raceway
July 16-18 in Milwaukee, at the Milwaukee Mile
July 23-25 in Chicago at the Autobahn Country Club
July 30-August 1 in Bowling Green at the National Corvette Museum
August 6-8 in Indianapolis at the Putnam Park Road Course
August 13-15 in Cleveland at the Nelson Ledges Road Course
August 20-22 in D.C. / Richmond at the Dominion Raceway
August 27-29 in Salt Lake City at the Utah Motorsports Campus
August 27-29 in Philadelphia / Southern New Jersey at the New Jersey Motorsports Park
September 10-12 in Detroit at M1 Concourse
September 17-19 in Seattle at Pacific Raceways
September 24-26 in New Hampshire at New Hampshire Motor Speedway
September 24-26 in Omaha at Raceway Park of the Midlands
October 8-10 in Chicago at Autobahn Country Club
October 8-10 in the Poconos at Pocono Raceway
October 15-17 in NYC / Northern New Jersey at Raceway Park Englishtown
October 22-24 in Houston at MSR Houston
October 22-24 in Phoenix at Wild Horse Pass
October 29-31 in Raleigh at North Carolina Center for Automotive Research (NCCAR)
November 5-7 in Charlotte at Charlotte Motor Speedway
November 5-7 in Austin at Driveway Austin
November 12-14 in Dallas-Fort Worth at Texas Motor Speedway
November 12-14 in Atlanta at Atlanta Motorsports Park, and
November 19-21 in Talladega at Talladega Gran Prix Raceway
December 3-5 in Phoenix at Wildhorse Pass Motorsports Park
"In today's socially distant world, we're honored to offer our customers a safe and adventurous opportunity outside of the house," said Olalde. "At Xtreme Xperience, we hold to strict COVID-19 procedures including disinfecting cars between every drive, mask wearing, fresh headcovers for guests, and social distancing measures. It's the perfect outdoors activity for a once-in-a-lifetime thrill."