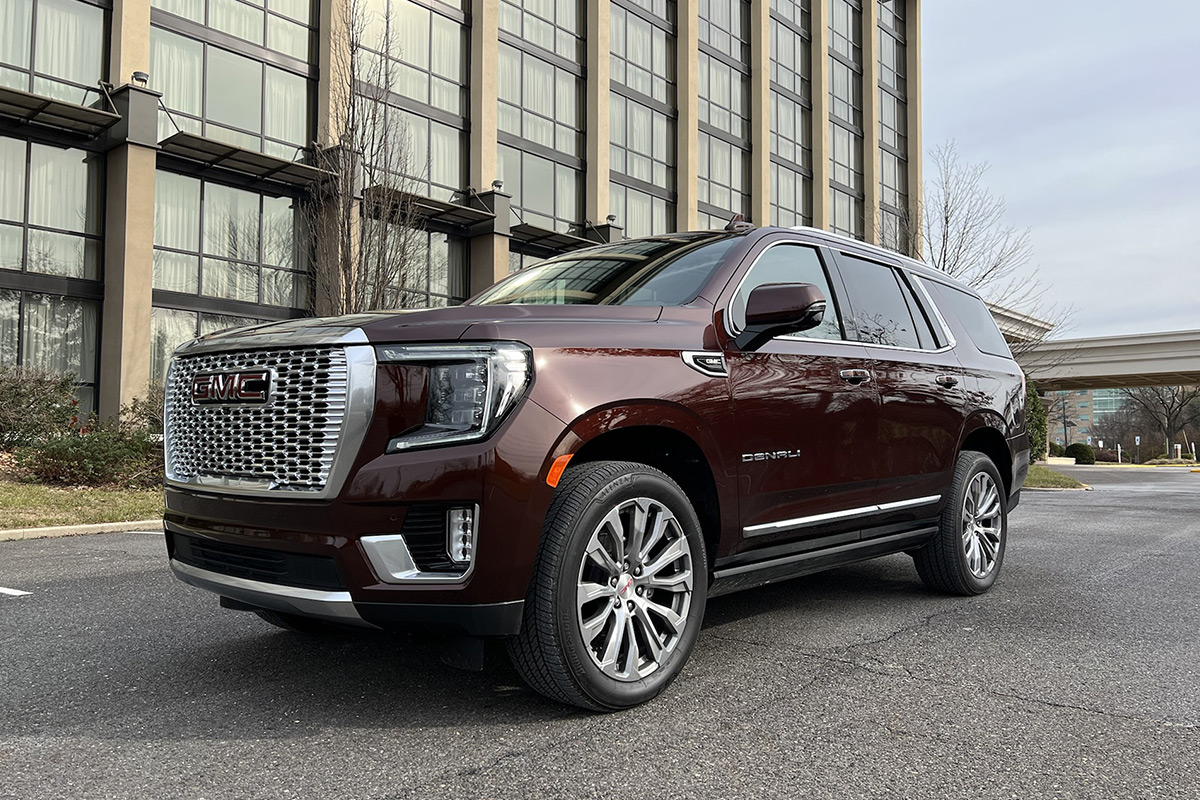 There's no question about it, the 2021 Cadillac Escalade that I recently drove was the epitome of style and luxury, and it turned heads everywhere I went. But with a price tag of ~$110K (as tested), it's a bit too expensive for most families. Enter the 2022 GMC Yukon Denali, which offers 95% of the same driving experience at a fraction of the price!
It's true, the 2021 Cadillac Escalade, Chevy Tahoe / Suburban, and GMC Yukon / XL all ride on the same platform, have the same 420-horsepower, 460-lb-ft 6.2-liter V-8 engine and 10-speed automatic transmission, and available air suspension, 22-inch rims, etc. Sure, there are some notable exceptions (eg. Super Cruise vs. adaptive cruise control, 38-inch curved OLED display), but only you can decide if those features are worth the premium price of the Caddy.
Like I said, I really liked the Cadillac Escalade that I had last spring. But if I were in the market for a 7-passenger luxury SUV, I don't know that I could in good conscience drop an extra $25K for the Caddy over the Yukon Denali, given just how similar these two vehicles are. Yes, the Escalade looks better inside and out and has some fancier tech, but I could also buy Billy, my fictional son, a Chevy Bolt with the money I saved on the Yukon.
The all-new GMC Yukon was introduced last year, and we were immediately taken by the bold exterior design, which looks way better than the Chevrolet Tahoe and Suburban in my opinion. Spring for the Denali trim (which accounts for nearly 60% of all Yukon sales), and you get a much more upscale interior, along with plenty of exterior bling to stand out from the crowd. Denali's highly reflective Galvano chrome grille is hard to miss, and the dual exhaust system, chrome accents, and premium wheels add even more visual sizzle.
Ride quality is also greatly improved over the previous-gen Yukon, thanks to a new multilink independent rear suspension, which replaces the rear solid axle. Available four-corner Air Ride Adaptive Suspension offers ride-height adjustments of up to 4 inches total, as well as an automatic self-leveling feature. In addition, Magnetic Ride Control dampening uses sensors to continually read the road and alter the damping rate of the shocks almost instantly. The result is an incredibly smooth ride that rivals a luxury vehicle.
Click here to read the rest of my review of the 2022 GMC Yukon Denali.