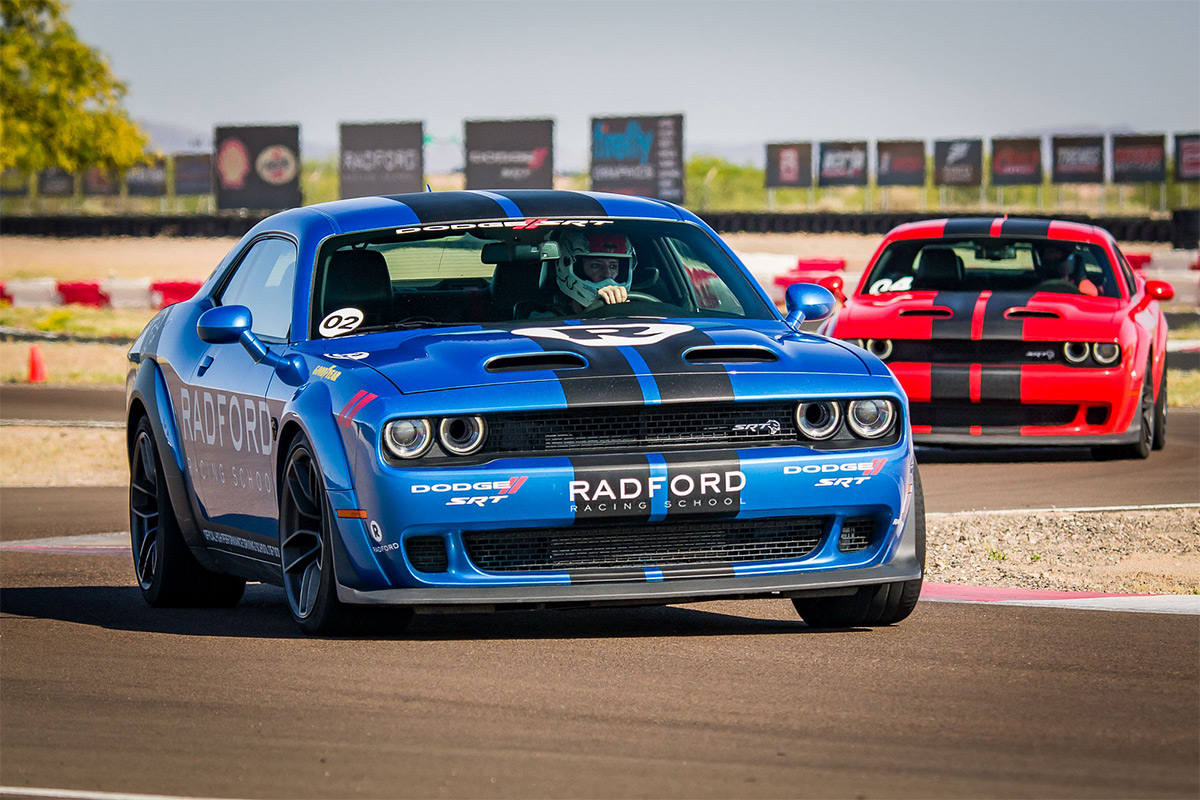 Radford Racing School (formerly known as Bondurant High Performance Driving School) announced today that it has signed an agreement with Dodge//SRT to extend the brand's sponsorship, which names Radford as the Official High Performance Driving School of Dodge//SRT.
The extended agreement includes a fleet of more than 85 Dodge//SRT vehicles to be used at the school, including the Dodge Challenger SRT Hellcat, Dodge Charger SRT Hellcat, and Dodge Durango SRT Hellcat.
Joint marketing opportunities and Dodge//SRT experiences at select racetracks across the country are also part of the sponsorship. With the purchase of a new Dodge//SRT vehicle, owners receive a day at Radford Racing School that includes professional driver training — the Dodge SRT Experience course — to learn how to optimize their experience behind the wheel.
Dodge//SRT has been the official vehicle sponsor of Radford Racing School since 2015.
"Dodge is in our DNA," said Mike Kessler, Radford Racing School's general manager. "There's simply no better way to describe our relationship. Dodge is an icon of American performance with their line of SRT vehicles, and we couldn't be more honored to showcase the capabilities of these cars every day on our track. Every student who takes one of our courses is simply blown away by the handling, power, and technology that's engineered into every SRT vehicle. This is the best place on the planet to experience what these cars are made of, on our legendary racetrack and with our world-class team of instructors."
"Our sponsorship extension with Radford Racing School builds on Dodge's longstanding performance-centered philosophy," said Tim Kuniskis, Dodge Brand Chief Executive Officer. "The school is the perfect proving ground for our SRT vehicles. We're excited to build on our relationship with the Radford Racing School team and bring the Dodge//SRT experience to new members of the Brotherhood of Muscle."
Radford Racing School also features the Dodge Viper ACR for qualified multi-day high-performance courses and Dodge Demons for drag racing classes. The school's robust lineup of performance driving and racing courses featuring Dodge vehicles and professional driver instruction includes Performance Driving, Drag Racing, Advanced Road Racing, Teen Driving, and Special Operations programs.
I did a one-day Bondurant refresher course a few years ago, where we spent most of the day behind the wheel of Dodge Challengers, and it was a blast. With that much power on tap, you've got to be extra careful compared to regular cars, which only adds to the learning experience. Congrats to these two companies for extending their partnership, and hopefully I can make it back out there one day!